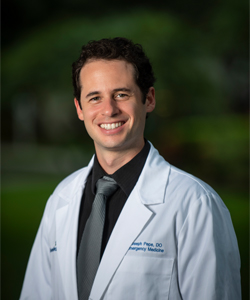 Meet Joe Pepe
Part Time Instructor, Physician Assistant Medicine
Phone: (813) 257-3071
Email: jpepe@ut.edu
Address: 401 W. Kennedy Blvd. Tampa, FL 33606
Mailbox: 11F
Building: GHS Room: 314

---
Education
2011 Northeastern University, B.S.
2015 Lake Erie College of Osteopathic Medicine, DO
Courses Taught
Applied Patient Care Skills
Career Specialties
Dr. Joe Pepe is a board-certified emergency physician. His academic interest is in translating didactic learning to clinical practice through cases, problem-based learning and clinical simulation.
Professional and Community Activities
Pepe is a fellow of the American Academy of Emergency Medicine (AAEM) and is currently a member of the national ethics committee and clinical practice committee. Locally, he currently serves on the peer review committee for the Division of Emergency Medicine at AdventHealth Tampa. He is a governor on the Hillsborough County Osteopathic Medical Society Board of Directors. Previously, he has held positions as assistant EMS medical director in Warwick, RI, as well as paramedic field training officer for Professional Ambulance in Cambridge, MA. At Professional Ambulance, he was an instructor at the Center for Medical Education, Development, Improvement, and Clinical Simulation.
Pepe has published case reports in the WestJEM Clinical Practice and Cases in Emergency Medicine as well as authored an article on ultrasound-guided nerve blocks in StatPearls. He has served as a peer reviewer for the British Medical Journal.
Speaking engagements have included a number of national and local conferences including the American College of Osteopathic Emergency Physicians and the Rhode Island Chapter of the American College of Emergency Physicians.
Honors and Awards
C. Stephen Szlatenyi, MD Memorial Award, Kent Hospital Emergency Medicine Residency Program
Silver Award for Community Service, Lake Erie College of Osteopathic Medicine
Special Citation for Exceptional Volunteer Service, American Red Cross