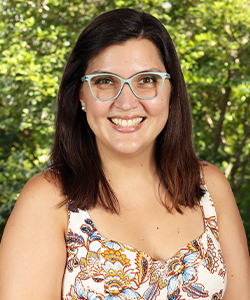 Meet Amanda I. Osuna
Assistant Professor, Criminology and Criminal Justice
Phone: (813) 257-3822
Email: aosuna@ut.edu
Address: 401 W. Kennedy Blvd. Tampa, FL 33606
Mailbox: 100F
Building: KBB Room: 208

---
Education
2015 University of Central Florida, B.S.
2018 Florida Atlantic University, M.S.
2023 Michigan State University, Ph.D.
Courses Taught
Introduction to Criminology
Introduction to Criminal Justice
Career Specialties
Amanda Osuna's research qualitatively focuses on using vulnerability and trust frameworks to understand victimization experiences and experiences of institutional betrayal. She also focuses on how vulnerabilities might be compounded because of one's identities and intersectionality which may lead to an increased potential for harm.
Professional and Community Activities
Osuna's recent studies have been published in Youth Justice: An International Journal; International Journal of Migration, Health, and Social Care; Crime & Delinquency; and the Journal of Social Issues.
She is currently the managing editor for the Journal of Trust Research. She is also a mentoring coordinator for the Division of Feminist Criminology at the American Society of Criminology.
She volunteers her time with a local food pantry.
Honors and Awards
2023 Dissertation Completion Fellowship (College of Social Science at Michigan State University)
2022 Exceptional Mentor Award (Office of Cultural and Academic Transition at Michigan State University)