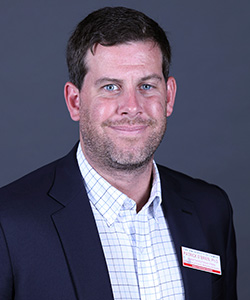 Meet G. Patrick O'Brien
Assistant Teaching Professor, History
Email: gobrien@ut.edu
Address: 401 W. Kennedy Blvd. Tampa, FL 33606
Mailbox: 100F
Building: KBB Room: 204

---
Education
2011 Providence College, B.A.
2012 McGill University, M.A.
2019 University of South Carolina, Ph.D
Courses Taught
The United States to 1877
Revolutionary America
Career Specialties
G. Patrick O'Brien is a historian of the American Revolution who studies British-sympathizing women and families, their experience as exiles in Nova Scotia and their return to United States in the late 18th century.
Professional and Community Activities
Dedicated to reaching a broad audience, O'Brien has worked closely with scholars in the United States and Canada. His first peer-reviewed article, "'Gilded Misery': The Robie Women in Loyalist Exile and Repatriation, 1775-1790," was published in the Spring 2020 issue of Acadiensis: Journal of the History of the Atlantic Region. A second article, "'Her Duty to You and Her Love to Her Child': Flora Lee of Marblehead and the Resistance of Enslaved Women during the Revolutionary Era," explores one black loyalist woman's fight to preserve kinship ties during the turmoil of war and is currently under review. O'Brien is also working on a manuscript proposal titled, "Unknown and Unlamented: The Exile and Repatriation of a Loyalist Family in the Era of the American Revolution." His work has also appeared in "The Conversation," "The Journal of the American Revolution," and as a part of the Canadian Historical Association's "Teaching/Learning Blog."
O'Brien has presented his research at regional, national and international conferences, including at the 2022 Conrad E. Wright Research Conference, the 2022 Atlantic Canada Studies Conference, 2021 Consortium of the Revolutionary Era, the 2019 meeting of the American Historical Association, and the 2019 meeting of L'Association Française d'Études Canadiennes. During a summer fellowship with the Newport Historical Society, O'Brien worked on public-facing history projects exploring revolutionary French occupation and a historic house museum. He has also worked closely with teachers at the secondary level, including teachers at the Massachusetts Historical Society's 2022 and 2018 Teachers' Workshops, at the National Park Service's Plenary on Considering the Revolution during the National Council on Public History's 2022 Annual Meeting, and at the Coastal Heritage Society of Savannah's 2018 Revolutionary Perspectives Series.
Honors and Awards
The 2022 Keith Armistead Carr Fellowship from the Society of the Cincinnati
The 2018-19 Russell J. and Dorothy S. Bilinski Dissertation Completion Fellowship from the University of South Carolina College of Arts and Sciences
The 2017-18 University of South Carolina History Department Award for Excellence in Teaching Assistantship
The 2017 W.B.H. Dowse Research Fellowship from the Massachusetts Historical Society
The 2016 Buchanan-Burnham Fellowship from the Newport Historical Society