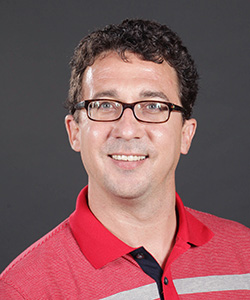 Meet Kyle McIntosh
Associate Professor, English
Phone: (813) 257-3017
Email: kmcintosh@ut.edu
Address: 401 W. Kennedy Blvd. Tampa, FL 33606
Mailbox: R
Building: PH Room: 415

---
Education
1994 Indiana University, B.A.
2004 IUPUI, M.A.
2014 Purdue University, Ph.D.
Courses Taught
Writing and Inquiry
Writing and Research
Academic Writing for Multilingual Students
Advanced English Grammar
Approaches to TESOL
TESOL Practicum
Career Specialties
Kyle McIntosh's research focuses on second language writing and assessment, English for academic purposes, intercultural rhetoric and the politics of English as a global language.
Professional and Community Activities
McIntosh has published in the Journal of Second Language Writing, Journal of English for Academic Purposes, International Multilingual Research Journal, Asian Journal of English Language Teaching and Critical Inquiry in Language Studies.
His new edited book, Applied Linguistics and Language Teaching in the Neo-nationalist Era (2020, Palgrave), explores how resurgent nationalism across the globe demands re-examination of many of the theories and practices in those two related fields. He also co-edited, with Carolina Paelez-Morales and Tony Silva, the volume Graduate Studies in Second Language Writing (2015, Parlor Press) and co-authored, with April Ginther, the chapter "Language Testing and Assessment" in the Palgrave Handbook of Applied Linguistics Research Methodology (2018).
Honors and Awards
Learning Enrichment Grant, 2018-2019 (Re/Frame film series)
Learning Enrichment Grant, 2019-2020; 2020-2021 (Critical reading and information literacy textbook)