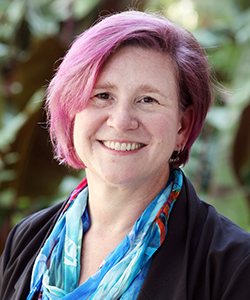 Meet Heather Mason, PhD
Dana Professor, Biology
Phone: (813) 257-3801
Email: hmasonjones@ut.edu
Address: 401 W. Kennedy Blvd. Tampa, FL 33606
Mailbox: U
Building: CB Room: 145

---
Education
1990 Smith College, B.A.
1997 Tufts University, Ph.D.
Courses Taught
Marine Ecology
Behavioral Biology
General Biology 1
Senior Seminar
Topics in Research
Career Specialties
Heather Masonjones is a marine ecologist and physiologist working in shallow coastal ecosystems. Her research lab investigates the links between the environment and the physiology, ecology and evolution of organisms. She employs syngnathid fishes (seahorses, pipefishes, seadragons, pipehorses) as a model system to investigate these relationships, with her focus to use the information collected to improve management recommendations for these animals and their habitats. Because the typical ecosystems of the syngnathids her research lab studies are critical for human health and well-being (seagrass beds, mangroves, shallow coastal areas), her work informs questions of ecosystem function and resilience in the backdrop of a changing climate. Because of the role-reversed parental strategy of males carrying offspring until their birth, she also uses this model system to identify and investigate potential differences in selection acting on males and females over their lifespans.
She has worked with the dwarf seahorse (Hippocampus zosterae) and the gulf pipefish (Syngnathus scovelli) since her early work at Tufts University (Ph.D. in biology awarded in 1997), but expanded her research program to include seahorses in the Bahamas in 2004, focusing on their mating behavior, population dynamics and habitat associations. The "secret seahorses" of Eleuthera are her primary research model since 2013, because they offer a unique opportunity to study a pristine and dense population of animals to understand seahorses on a global scale. Given the CITES Appendix II listing of all seahorses and their decreasing numbers worldwide due to overfishing and habitat loss, this population represents a valuable and unique biological resource for the Bahamas.
Professional and Community Activities
She is a member of the IUCN Specialist Group for Seahorses, Pipefish and Sticklebacks (since
2014), and was co-chair of the 3rd Syngnathid Biology Conference (SyngBio2017), held at UT in May 2017, continuing on the advisory board for the next meeting of syngnathid fish professionals at SyngBio2021 in Guangzhou, China. She is also actively advising NOAA on the ongoing process to evaluate the conservation status of the dwarf seahorse (H. zosterae) under the Endangered Species Act in the United States.
Her position at The University of Tampa reflects her deep commitment to education at all levels. During her career, she has actively invested in developing curricula for K-12 education in addition to curriculum development at the undergraduate level focused on the importance of inquiry learning in the classroom. As part of that role, she serves on UT's Undergraduate Research and Inquiry Committee, providing leadership in this critical area of undergraduate education. The vast majority of her research has been conducted with undergraduates as research colleagues, co-authoring papers with them and supporting their development as scientists. She also works with Bahamian students (grades 1-12 and undergraduates), engaging them in research and conservation of the unique ecosystems of Eleuthera.
Honors and Awards
Dana Professor of Biology
Louise Loy Hunter Distinguished Faculty Award for 2017-2018
College of Natural and Health Sciences, Undergraduate Research and Mentoring Award 2017-2018
College of Natural and Health Sciences, Outstanding Scholar Award 2016-2017
College of Natural and Health Sciences, Outstanding Service Award 2011
College of Liberal Art & Sciences, Student Engagement Award 2007
Selected Publications (also see link to Google Scholar Page):
O'Brien, DA, ML Taylor, HD Masonjones, PH Boersch-Supan, OR O'Shea (2020). Drivers of Octopus briareus Robson abundance and density in a saltwater Bahamian lake: A 30-year comparison. Journal of Experimental Marine Biology and Ecology. 528: 151377. https://doi.org/10.1016/j.jembe.2020.151377.
Masonjones, H.D., Rose, E. & Masonjones, M.C. (2019). Techniques used to increase recapture rates of dwarf seahorses (Hippocampus zosterae) in Tampa Bay: implications for population estimates and movement patterns. Gulf and Caribbean Research, 30: 10-19. DOI: https://doi.org/10.18785/gcr.3001.04
Rose, E., Simmonds, M.*, Boyles, A*. & Masonjones, H.D. (2019). Seasonal and spatial variation in the reproductive biology of the dwarf seahorse (Hippocampus zosterae). Journal of Fish Biology, 2019: 1-10. DOI: https://doi.org/10.1111/jfb.13975
Masonjones, H.D., Rose, E., Elson, J*, Roberts, B*, Curtis-Quick, J. (2019). High density, early maturing, and morphometrically unique Hippocampus erectus population makes a Bahamian pond a priority site for conservation. Endangered Species Research, 39: 35-49. DOI: https://doi.org/10.3354/esr00949
Masonjones, H.D. & Rose, R. (2019). When more is not merrier: Using wild population dynamics to understand the effect of density on ex situ seahorse mating behaviors. PLoS ONE 14(7): e0218069. DOI: https://doi.org/10.1371/journal.pone.0218069
Masonjones, H.D, Hayashida-Boyles, A.* & Pollom, R. (2017). Hippocampus zosterae. The IUCN Red List of Threatened Species 2017: e.T10089A46910143. http://dx.doi.org/10.2305/IUCN.UK.2017-3.RLTS.T10089A46910143.en.
Rose, E., Masonjones, H.D., Jones, A.G. (2016) A DNA-based assessment of the phylogenetic position of a morphologically distinct, anchialine-lake-restricted seahorse. Journal of Heredity. 107(6): 553:558. https://academic.oup.com/jhered/article/107/6/553/2622900
Masonjones, S.R.*, Masonjones, H.D., Malone, M.C., Williams, A.H., Beemer, M.M., Waggett, R.J. (2014) Styrofoam-and-Velcro: an alternative to ball-and-stick models. Journal of Microbiology & Biology Education. 15(2): 295-296. http://www.asmscience.org/content/journal/jmbe/10.1128/jmbe.v15i2.651
Masonjones, S.R.*, Masonjones, H.D., Malone, M.C., Williams, A.H., Beemer, M.M., Waggett, R.J. (2014) Molecular twister: a game for exploring solution chemistry. Journal of Microbiology & Biology Education. 15(1): 43-44. http://www.asmscience.org/content/journal/jmbe/10.1128/jmbe.v15i1.652
Williams, A.H., Malone, M.C., Masonjones, H.D., Waggett, R.J. (2014) Super Bowl & Sickle Cell – Hook & Model! Journal of Microbiology & Biology Education. 15(1): 41-42. https://www.ncbi.nlm.nih.gov/pmc/articles/PMC4004742/
Skowronek, J Friesen, B, Masonjones, H (2011). Developing a statistically valid AND practically useful student evaluation instrument. International Journal of the Scholarship of Teaching and Learning. 1:1-17. https://digitalcommons.georgiasouthern.edu/ij-sotl/vol5/iss1/11/
Masonjones, H.D., Rose, E.*, McRae, L.K., Dixson, D.L.* (2010). An examination of the population dynamics of syngnathid fishes within Tampa Bay, Florida, USA. Current Zoology. 56(1): 118133. http://www.actazool.org/temp/%7B8EB2A2CC-4C02-429F-9B29ACFABEABFD7B%7D.pdf
* Undergraduate co-authors