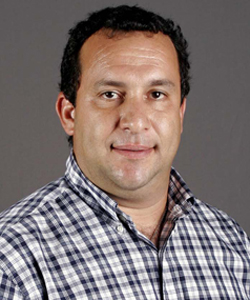 Meet Speros Margetis
Professor, Finance
Phone: (813) 257-3285
Email: smargetis@ut.edu
Address: 401 W. Kennedy Blvd. Tampa, FL 33606
Mailbox: O
Building: JS Room: 343

---
Education
1993 University of Florida, B.S.
1997 University of South Florida, MBA
2004 University of South Florida, Ph.D.
Courses Taught
Financial Markets, Institutions, and Money
Financial Strategy for Technology Intensive Companies
Money and Capital Markets
International Finance
Principles of Finance
Career Specialties
Speros Margetis, SAP Certified Business Associate, is a professor of finance at The University of Tampa. He has been with The University of Tampa since 2002. His research interests include private equity, corporate finance and international finance. He has published in a variety of journals including the Journal of Private Equity, Journal of Financial Education, Journal of Instructional Techniques in Finance, Multinational Financial Management Journal, Journal of Finance Case Research and Managerial Finance.

Margetis teaches a variety of courses including new venture capital and alternative investment strategies, international finance and applied corporate finance using SAP. Margetis combines his knowledge of finance and technical expertise in SAP ERP to provide students and businesses the ability to use real time information to maximize the value of the enterprise. Current research and consulting provides insight into enhancing the firm's return on the investment into an enterprise resource platform, specifically SAP ERP. Understanding business models and how value is created by the enterprise is essential in utilizing the capabilities of SAP to capture efficiencies in business processes.
Margetis has also completed several programs at the Massachusetts Institute of Technology including the Entrepreneurship Development Program, Fundamentals of Finance for the Technical Executive and Developing and Managing a Successful Technology and Product Strategy. Margetis is actively involved in The University of Tampa's Entrepreneurship program helping students evaluate business model and strategic choices impact on new venture sustainability. Margetis has developed a strong relationship with the private equity community in Tampa which has led to internships and employment opportunities for students at The University of Tampa.
Professional and Community Activities
Margetis is a member of the Southern Finance Association, America's SAP Users Group (ASUG) and is a board member of the Academy of Economics and Finance.