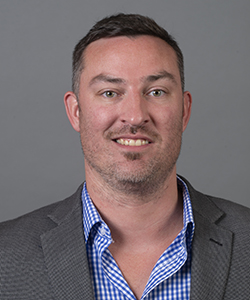 Meet Devin Lunt
Assistant Professor, Marketing
Phone: (813) 257-3209
Email: dlunt@ut.edu
Address: 401 W. Kennedy Blvd. Tampa, FL 33606
Mailbox: O
Building: JS Room: 249

---
Education
2010 Texas Tech University, BBA
2011 St. Mary's University, MBA
2016 University of Texas-Arlington, Ph.D.
Courses Taught
Principles of Marketing
Marketing Management
Customer Value
Career Specialties
Devin Lunt specializes in consumer behavior, customer decision making and nonprofit marketing.
Professional and Community Activities
His research focuses on customer decision making, specifically those decision making processes that lead to suboptimal or biased decisions. Though most of his research takes place in the nonprofit domain and focuses on appeals for help, he also works in the areas of branding and advertising. His interest in researching in nonprofit domains comes from a background working with underprivileged children for over a decade, and is reflected in his work that attempts to understand the mechanisms by which individual donors decide whether to give aid to a cause.