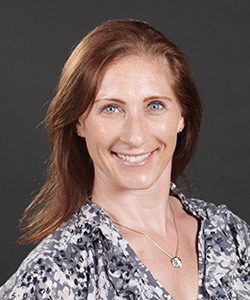 Meet Susannah LeMarquand
Dance Program Director/Assistant Professor, Dance
Phone: (813) 257-6322
Email: slemarquand@ut.edu
Address: 401 W. Kennedy Blvd. Tampa, FL 33606
Mailbox: 125F
Building: FCA Room: 300

---
Education
2001 The University of Tampa, B.A.
2009 New York University, M.A.
2016 Jacksonville University, MFA
Courses Taught
Applied Dance Fundamentals I,II,III
Teaching Methods
Teaching Methods for Community and Diverse Populations
Dance Anatomy, Kinesiology, and Injury Prevention
Senior Capstone
Dance in World Cultures
Intermediate Jazz
Intermediate Modern
Career Specialties
A graduate of The University of Tampa, Susannah was honored to help create the dance major curriculum, based on brain-compatible dance education. Her scholarship and research focuses in the field of dance pedagogy, and choreography in the world of commercial dance. Her choreographic research has recently delved in to the embodiment practices of higher education students during performance. Susannah directs the UT Student Dance Happenings, mentoring students in their own choreographic processes, and the Spring Dance Concerts which give students the opportunity to work with profesional choreographers of national/international/regional status.
Professional and Community Activities
Susannah has performed and choreographed professionally for Royal Caribbean Cruise Lines, Busch Gardens Tampa, Norwegian Cruise Lines, Silver Seas Cruise Lines, Zoo Tampa (formerly Lowry Park Zoo) and multiple Florida-based production companies and directors. She is currently a resident choreographer for Busch Gardens Tampa. Susannah is often requested as a master teacher throughout Florida, and serves as an adjudicator for The Florida Dance Performance Assessment. Susannah is a professional member of National Dance Education Organization and Florida Dance Education Organization.