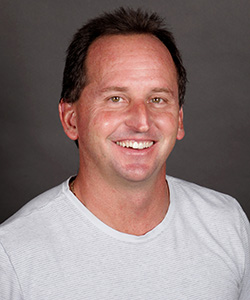 Meet Stephen Kucera
Associate Professor, Biology
Phone: (813) 842-3528
Email: skucera@ut.edu
Address: 401 W. Kennedy Blvd. Tampa, FL 33606
Mailbox: 3F
Building: SC Room: 215

---
Education
1987 State University of New York at Binghamton, B.S.
1993 University of New Mexico, Ph.D.
Courses Taught
Introductory Biology
Evolution
Genetics
Molecular Genetics
Career Specialties
Stephen Kucera's work focuses on evolutionary and human genetics.
Professional and Community Activities
Stephen Kucera earned his Ph.D. in evolutionary genetics and studied genetics of the timing of insect life cycles in seasonal environments. He has also worked on inherited forms of Alzheimer's, Parkinson's and other neurodegenerative disorders in families that show rare Mendelian patterns of inheritance with a research group at the Mayo clinic in Jacksonville. Currently, he is studying a large, extended family that has three children with Down syndrome to determine whether there is a genetic component to the unusually high incidence of Down in this family
Honors and Awards
Kucera was the recipient of the 2002 Joyce Keller Service Award and the 1997 Tampa Alpha Alumni Award.