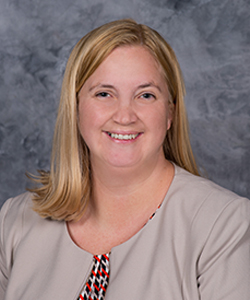 Meet Mary Keener
Associate Professor, Accounting
Phone: (813) 257-3667
Email: mkeener@ut.edu
Address: 401 W. Kennedy Blvd. Tampa, FL 33606
Mailbox: O
Building: JS Room: 273

---
Education
1999 University of Toledo, B.E.
2000 Kent State University, M.S.
2007 Kent State University, Ph.D.
Courses Taught
Financial Accounting Information
Managerial Accounting
Federal Tax Accounting I
Intermediate Accounting II
Contemporary Issues in Accounting (formerly called Financial Accounting Theory)
Career Specialties
Mary Keener's research interests are in the areas of value relevance, restructuring charges, and analyst forecast accuracy and bias. Keener also plans to conduct pedagogical research on the best methods for teaching intermediate accounting students.
Professional and Community Activities
Keener serves as the faculty advisor for Beta Alpha Psi at The University of Tampa. Keener is a member of the American Accounting Association, and she has presented papers at several regional and national AAA conferences. Also, Keener is a member of the Cimino Elementary PTA and The Village Family Foundation. She served as a board member for The Village Family Foundation from May 2012 till May 2015.
Honors and Awards
Beta Alpha Psi Faculty Member of the Year (2014)
Gregory, Sharer & Stuart Faculty Member of the Year for UT (2013-2014)
American Accounting Association New Faculty Consortium Participant (2007)
American Accounting Association Doctoral Consortium Fellow (2003)
Beta Gamma Sigma Honor Society
Beta Alpha Psi Accounting Honor Society