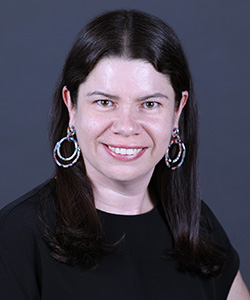 Meet Lina Gomez-Vasquez
Assistant Professor, Communication
Phone: (813) 257-3896
Email: lgomezvasquez@ut.edu
Address: 401 W. Kennedy Blvd. Tampa, FL 33606
Mailbox: 106F
Building: TECH Room: 457

---
Education
2003 Universidad del Norte, Colombia, B.A.
2006 University of Puerto Rico - Rio Piedras, M.A.
2009 UNED, Spain, M.A.
2012 Universitat Jaume I de Castellón, Spain, Ph.D.
Courses Taught
Principles of Public Relations
Public Relations Campaigns
Writing for Public Relations
Communication Research Methods
Introduction to Organizational Communication
Career Specialties
Lina Gomez-Vasquez has over 15 years of international experience in higher education and strategic communication. Her research examines how social media platforms are changing communication processes in disciplines such as corporate social responsibility and health communication.
Professional and Community Activities
Gomez-Vasquez has published in journals such as
Public Relations Review, Journal Business Ethics, Revista Internacional de Relaciones Públicas,
and she has presented her work at many international conferences. She recently co-authored the book
Corporate Social Responsibility and Corporate Governance in Ibero-America: Concepts, perspectives, and future trends
, published by Emerald Limited Publishing. Some of her recent projects have been awarded external grants from private institutions such as MAPFRE Foundation in Spain for studying how social media is used for public health promotion in Hispanic communities. 
Gomez-Vasquez is also a member of the Editorial Advisory Board of
Social Responsibility Journal
, and reviewer of
European Business Journal, Environment, Development and Sustainability Journal
and
International Journal of Voluntary and Nonprofit Organizations
. Gomez-Vasquez has also served as social media consultant for the Puerto Rico Board of Social Workers and the HIMA San Pablo Hospital in Puerto Rico. In Missouri, she served as PI and consultant for an interdisciplinary partnership between Drury University and the nonprofit Grupo Latinoamericano as part of Community Foundation of the Ozarks' inaugural Springfield-Greene County Diversity and Inclusion Program. This project was designed to make a broad impact on Hispanic culture in Springfield, MO, while strengthening Grupo Latinoamericano's mission.
Recent research publications
Saxton, G. D., Gómez, L., Ngoh, Z., Lin, Y, & Dietrich, S. (2019). Do CSR Messages Resonate? Examining Public Reactions to Firms' CSR Efforts on Social Media, Journal of Business Ethics, 155(2), 359-377.
Gomez, L. (2018). Social media concepts for effective CSR online communication. In Adam Lindgreen, Joëlle Vanhamme, François Maon & Rebecca Watkins (eds.). Communicating Corporate Social Responsibility in the Digital Era, Routledge.
Gómez, L., Alvarado, Y., Pujols, A. (2018). Implementing University Social Responsibility in the Caribbean: Perspectives of Internal Stakeholders. Revista Digital de Investigación en Docencia Universitaria, 12(1), ISSN: 2223-2516.
Gómez, L., Bernabe, K., Alvarado, Y., & Meléndez, L. (2018). Snapchat as an Influential Tool for Marketing Communication: An Exploratory Analysis of Brands Usage. In: Krey N., Rossi P. (eds) Back to the Future: Using Marketing Basics to Provide Customer Value. AMSAC 2017. Developments in Marketing Science: Proceedings of the Academy of Marketing Science. Springer.
Gómez, L., Pujols, A., Alvarado, Y. & Vargas, L. (2018). Social Responsibility in Higher Educational Institutions: An Exploratory Study. In David Crowther, Shahla Seifi & Abdul Moyeen. The Goals of Sustainable Development - Approaches to Global Sustainability, Markets, and Governance book series, Springer, pp. 215-230.
Gómez, L. & Borges Taváres, R. (2017). CSR Online Communication in Latin America: An Analysis of Social Media Platforms. In Lina Gómez, Lucely Vargas & David Crowther (eds.). Corporate Social Responsibility and Corporate Governance: Concepts, Perspectives and Emerging Trends in Ibero-America (Developments in Corporate Governance and Responsibility, Volume 11), Emerald Group Publishing Limited, pp. 113-132.
Gómez, L., Vargas, L., & Crowther, D. (2017). Corporate Social Responsibility and Corporate Governance in Ibero-America: Concepts, perspectives, and future trends. Emerald Limited Publishing.
Gómez, L., Prieto, A., & Borges, R. (2017). Healthy tweets: Use and importance of Twitter for health prevention. Revista Contratexto, 28, 17-43.
Honors and Awards
2019 Diversity and Inclusion Grant awarded by the Community Foundation of the Ozarks, Springfield, MO
2017 Institutional Research Program Grant awarded by Universidad Ana G. Mendez Recinto Carolina, Puerto Rico
2017 Visiting Scholar, Social Media Lab, Ted Rogers School of Management, Ryerson University, Toronto, Canada
2015 Visiting Scholar, Department of Communication, University at Buffalo, NY 
2014 Research Grant Ignacio H. de Larramendi awarded by MAPFRE Foundation, Spain 2014 
2014 Institutional Research Program Grant awarded by Universidad Ana G. Mendez Recinto Carolina, Puerto Rico
2014 Outstanding Author Contribution, Emerald Literati Network
2011 "Best Young Academician Award" - 10th International Conference on Corporate Social Responsibility, Emerald Group Publishing Limited