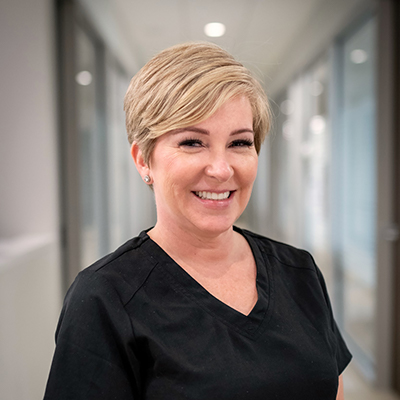 Meet Beth Geralds
Assistant Professor, Physician Assistant Medicine
Phone: (813) 257-3988
Email: bgeralds@ut.edu
Address: 401 W. Kennedy Blvd. Tampa, FL 33606
Mailbox: 11F
Building: GHS Room: 313

---
Education
2001 Kettering College of Medical Arts, B.S. in Health Science
2010 University of Nebraska, MPAS
2021 University Massachusetts College of Pharmacy and Health Sciences, DScPAS
Courses Taught
Applied Patient Care Skills I, II, III
Physical Diagnosis
Specialty Medicine II
Career Specialties
Interactive and student-centered teaching and learning are Beth Geralds focus. She strongly feels the future of medicine is through applied learning like simulation and team-based approaches.
Geralds' expertise is within the fundaments of medical practice which is patient assessment skills and diagnoses.
Professional and Community Activities
Geralds is a past board member of the New Hampshire PA Society and has been involved with many favorable and more recent PA laws and regulation changes in the state of NH. She has forged an ongoing partnership with the New England DEA, fighting the opioid epidemic afflicting the country. She has been involved in podium and speaking presentations at the local, state and national levels for academics and community outreach efforts. Her passion for the opioid crisis led to her involvement in grant-funded research to solve problems dealing with access to addiction treatment and life-saving medications like naloxone for people living with addiction.
Honors and Awards
Geralds has served as a faculty advisor to the Student Association of the American Academy of Physician Assistants (SAAAPA) and has achieved recognition for the Campus Organization of the Year award in 2016, 2017 and 2018
Student Government Club Advisor of the Year 2018
CCNH President's Leadership and Good Steward awards 2017 and 2018
DEA Certificate of Appreciation and the DEA Leadership and Dedication to Prevention Award in 2020