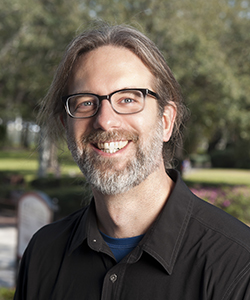 Steven Geisz
---
Phone
Email
Address
401 W. Kennedy Blvd.
Tampa, FL 33606
Building Location
Meet Steven Geisz
Professor, Philosophy
Education: 1994 University of Maryland - Baltimore County, B.A.
2000 Duke University, Ph.D.
2004-05 Tsinghua University (Beijing), Senior Scholar, Inter-University Program for Chinese Language Studies
Courses Taught:
Yoga and Philosophy
Chinese Yoga [i.e., Qigong] and Meditation
Meditation, Mindfulness, and Minds
Philosophy of Martial Arts|
Philosophy of Sex
Philosophy of the Body
Metaphysics and Embodiment
Minds, Brains and Metaphysics
Chinese Philosophy
Daoist Philosophy and Religion
Indian and Asian Philosophy
Ancient Greek Philosophy
Introduction to Philosophy
Ethics
Business Ethics
Contemporary Philosophy
Religion, Science and Philosophy
Theories of Democracy
Career Specialties:
Steve Geisz's research focuses on the ways that body techniques and contemplative practices such as yoga, qigong, the martial arts and meditation are embodiments of philosophical ideas and methods of engaging in philosophical activity. His research and teaching interests include classical Chinese philosophy, the philosophy of mind and language, and political philosophy (particularly questions about democracy).
Professional and Community Activities:
Steve Geisz is a 500-hour registered yoga teacher (RYT 500). He completed his 200-hour yoga teacher training at the Kripalu Center for Yoga and Health in Stockbridge, MA, and his 300-hour advanced yoga teacher training at the Lotus Pond Center for Yoga and Health in Tampa.
Geisz also teaches qigong (i.e., Chinese yoga and meditation) and practices several forms of taijiquan. He is a graduate of the multi-year qigong teacher training program of Ken Cohen and a certified full instructor in the Universal Tao/Healing Tao qigong system of Mantak Chia.
Geisz's publications include "Traditional Chinese Body Practice and Philosophical Inquiry" (American Philosophical Association Newsletter for Asian and Asian-American Philosophers and Philosophies, Spring 2018), "Understanding the Heart-Mind Within the Heart-Mind of the Nèiyè (Inward Training)" (Dao: A Journal of Comparative Philosophy, September 2016), "Body Practice and Meditation as Philosophy: Teaching Qigong, Taijiquan, and Yoga in College Courses" (Teaching Philosophy, June 2016), "Aging, Equality, and Confucian Selves" (in Roger T. Ames and Peter D. Hershock, eds., Value and Values: Economics and Justice in an Age of Global Interdependence, University of Hawaii Press, 2015), "Turning Representation Inside Out: An Adverbial Approach to the Metaphysics of Language and Mind" (The Philosophical Forum, Winter 2009), "Mengzi, Strategic Language, and the Shaping of Behavior" (Philosophy East & West, April 2008), and "An Indirect Argument for Strategic Voting" (Journal of Applied Philosophy, November 2006).
Geisz's popular philosophical work includes a series of writings exploring cross-cutting issues at the nexus of comparative metaphysics, country music and beverages. These include "Samsara in a Coffee Cup: Self, Suffering, and the Karma of Waking Up" (in Scott F. Parker and Michael W. Austin, eds., Coffee--Philosophy for Everyone: Grounds for Debate, Wiley, 2011), "One Bourbon, One Scotch, and One Buddhist Theory of No-Self" (in Fritz Allhoff and Marcus Adams, eds., Whiskey & Philosophy, Wiley, 2010) and "The Dao and Duality of Johnny Cash" (in John Huss and David Werther, eds., Johnny Cash and Philosophy: The Burning Ring of Truth, Open Court, 2008).
He has been a disc jockey for a number of different college radio stations, specializing in Americana and alt-country music.