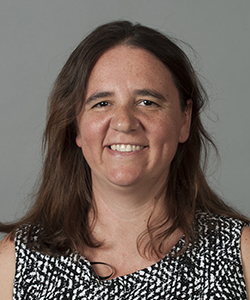 Meet Bridgette Froeschke
Associate Professor, Environmental Studies; Spartan Studies Director of Assessment
Phone: (813) 257-4004
Email: bfroeschke@ut.edu
Address: 401 W. Kennedy Blvd. Tampa, FL 33606
Mailbox: 106F
Building: TECH Room: 473D

---
Education
2003 California State University - San Bernardino, B.S.
2006 California State University - Northridge, M.S.
2010 Texas A&M University - Corpus-Christi, Ph.D.
Courses Taught
Environmental Science
Biological Science
Microbiology Allied Health Science
Biological Unity
Biological Unity Lab
Experimental Design and Biostats
Geographic Information Systems
Career Specialties
As a result of her training and research experience, Bridgette Froeschke has expertise in time series analysis, predictive modeling, refinement of essential fish habitat and environmental policy including issues relating to the Magnuson-Stevens Act, Clean Water Act and Coastal Management Plans. She has served as a project manager/leader in a variety of different aspects of water conservation such as monitoring fecal coliforms in the Gulf of Mexico for the Environmental Protection Agency, writing portions of the Coastal Management Assessment and Strategies Report for NOAA and developing predictive models for management of aquatic habitats.
Professional and Community Activities
Despite the wealth of activities dependent upon water conservation, our understanding of water resources remains limited. Froeschke's work confronts this information gap from an interdisciplinary perspective, grounded in scientific principles and field-based research while capitalizing on rapid advances in quantitative modeling, information technology and hypothesis driven science. She specializes in combining field-based research with diverse, often disparate data streams using novel analytical approaches to gain new understanding about the structure and function of aquatic ecosystems and the populations they support. Her work provides the science to improve our understanding of water as a resource and habitat and the factors that affect water conservation. This has both theoretical and applied applications as it addresses key concepts in environmental science and provides evidence-based guidance to the management of these systems in light of an expanding human footprint.   
Froeschke has focused much of her work investigating the cascading effects of water quantity and quality on organisms and ecosystems focusing on estuarine fish species as models. She has examined the distribution and abundance patterns of economically and ecologically important species using both field and quantitative modeling approaches. Specifically, Froeschke developed novel quantitative approaches to examine both spatial and temporal distribution patterns for aquatic species as a stepping stone to investigate the potential effects on policy (e.g., water management), climate change or invasive species (e.g., lionfish in the Gulf of Mexico).