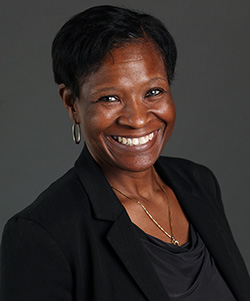 Meet Charrita A. Ernewein
Assistant Professor, Nursing
Phone: (813) 257-3978
Email: cernewein@ut.edu
Address: 401 W. Kennedy Blvd. Tampa, FL 33606
Mailbox: 10F
Building: GHS Room: 520

---
Education
1988 Marquette University, BSN
2012 South University, MSN- APRN
2015 South University, DNP
Courses Taught
Pediatrics (BSN)
Health Assessment Lab
Women's Health Practicum
Career Specialties
Specific areas of interest focus on vulnerable populations to include human trafficking (survivors) and community education regarding trafficking. Another area of academic interest includes health policy.
Professional and Community Activities
Charrita Ernewein, DNP, APRN, FNP-C, SANE-A is a family nurse practitioner (FNP). Ernewein holds a national certification with the American Academy of Nurse Practitioners, a certification as a Sexual Assault Nurse Examiner and holds a certificate in nursing education.
Ernewein is the president of the Tampa Bay Advanced Practice Nurse Council Group, a region director for Florida Nurse Practitioner Network, an appointed council person for the Board of Nursing, a member of American Academy of Nurse Practitioner, a member of the American Nurses Association, a member of the Black Nurses Association and a member of the National Association of School Nurses.
Ernewein is a strong advocate within the community working closely with professional organizations and community resources regarding the topics of human trafficking and vulnerable populations. Ernewein remains actively engaged in several community organizations such as The Florida Commission on Human Trafficking (COHT), FREE Network and The University of Central Florida Human Trafficking Awareness Group. She is also published in the Journal of Nurse Practitioners, Human Trafficking: Recognition, Referral and Treatment.
Ernewein recently completed (2021) a research study on survivors of human trafficking and their experiences as they reintegrated into the community and society.
Honors and Awards
IAFN - Research Grant
UCF - Dissertation Grant
UCF - Foglia Scholarship