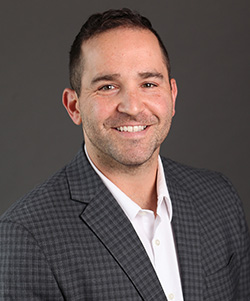 Meet Brandon C. Dulisse
Assistant Professor, Criminology and Criminal Justice
Phone: (813) 257-4018
Email: bdulisse@ut.edu
Address: 401 W. Kennedy Blvd. Tampa, FL 33606
Mailbox: Q
Building: PH Room: 317

---
Education
2010 University of Cincinnati, B.S.
2011 University of Cinninnati, M.S.
2015 University of Cincinnati, Ph.D.
Courses Taught
Criminal Law and Procedure
Corrections and Public Policy
Special Topics: School Shooter Typology
Career Specialties
Brandon Dulisse's research primarily falls into the area of corrections, with a specific focus on reviewing correctional policies and programs. In addition, he examines the impact of crime internationally as well as domestically, by testing criminological theories against the backdrop of victimization and cybervictimization.
Professional and Community Activities
Dulisse has a wide range of current and past research activity, reinforcing his charge to examine crime in all of its forms. In particular, Dulisse has studied the importation of violent behavior and "codes," correctional officers' decisions to administer solitary confinement, as well as the link between risky lifestyle choices and victimization within the prison setting. From a correctional policy standpoint, he has previously published research evaluating the effectiveness of sex-offender residency restrictions, elderly functionality assessment tools in prisons and the impact of international parental discipline patterns. More recently, however, Dulisse's research has extended into cybervictimization and cyberharassment as well as analyzing the use and purpose of PTSD assessment tools within prisons.
Dulisse is an active member and participant of the American Society of Criminology's annual research conference, often presenting research with current and former students. He has been published in a variety of peer-reviewed journals within the discipline including Journal of Criminal Justice, The Prison Journal, Journal of Interpersonal Violence, Criminal Justice Policy Review, Criminal Justice Review, Victims and Offenders and the International Journal of Cybersecurity Intelligence & Cybercrime.