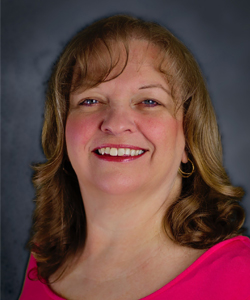 Meet Kimberly Dobrinski
Associate Professor, Biology
Phone: (813) 257-3274
Email: kdobrinski@ut.edu
Address: 401 W. Kennedy Blvd. Tampa, FL 33606
Mailbox: U
Building: SC Room: 242

---
Education
2000 University of South Florida, B.S.
2009 University of South Florida, Ph.D.
Postdoctoral Training, Harvard Medical School
Courses Taught
Biostatistics and Experimental Design
General Biology Lab I
General Biology Lab I Honors
Biological Science
Biology I Lecture
Politics of Water (Topics in Honors)
Senior Seminar
Pathways to Honors I & II
Biological Research
Selected Topics in Biology
Biological Research Capstone
Honors Thesis
Applied Medical Science (Physician Assistant Medicine)
Medical Practice: Evidence Based Medicine (Physician Assistant Medicine)
Medical Diagnostics (Physician Assistant Medicine)
PA Competencies I and II (Physician Assistant Medicine)
Career Specialties
Kim Dobrinski specializes in the understanding of Copy Number Variant (changes in DNA allele copy number) effects on gene expression and gene regulation. These somatic effects may result in disease, including increased susceptibility to bacterial and viral infections as well as cancer susceptibility and tumor proliferation.
Professional and Community Activities
Dobrinski's dissertation described the carbon concentrating mechanism of a sulfur oxidizing chemolithoautotroph found at the hydrothermal vents (Dobrinski, 2005, J.Bac; Dobrinski, 2010, Appl Environ Microbiol). More recently, Dobrinski has focused her research on how Copy Number Variants (CNV) and denatured proteins affect tumor initiation and metastasis (Dobrinski , 2015, J Gynecol Res; Dobrinski, 2014, JASC; Blackburn, 2014, Cancer Cell; Dobrinski, 2013, PLOS Genetics; Rudner, 2011, Oncogene). She has also identified and mapped copy number variation within the model organism, zebrafish, and found this variation to be four times greater than what is found in other vertebrates including humans (Dobrinski, 2012, PNAS). Her ongoing research investigates tissue specific CNV effect on gene expression and regulation including miRNAs and how this effect contributes to disease.
Dobrinski is also a licensed Clinical Laboratory Scientist (ASCP) and is a member of the American Society for Clinical Pathology, American Society for Human Genetics and American Society for Microbiology.
Honors and Awards
Innovation in Teaching 2021 - UT CNHS
2019 Mentor of the Year by the NAACP Tampa Youth Council ACT-SO
2019 UT CNHS Faculty Advisor Award
Distinguished Graduate Achievement Award, University of South Florida
Winner/Natural Science Category "Global Challenges for the 21st Century"
Full Scholarship Recipient Cold Spring Harbor - Advanced Bacterial Genetics Course
Tharpe Scholarship Recipient for Biological Research