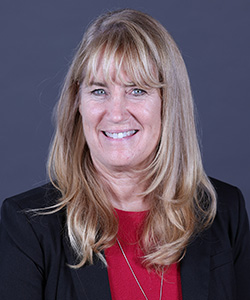 Meet Deirdre Dixon
Associate Director/TECO Energy Center for Leadership; Coordinator/Minor in Leadership Program; Associate Professor, Management
Phone: (813) 257-1794
Email: ddixon@ut.edu
Address: 401 W. Kennedy Blvd. Tampa, FL 33606
Mailbox: O
Building: JS Room: 216

---
Education
1984 United States Military Academy, B.S.
1993 Central Michigan University, M.S.
1995 Duke University, MBA
2014 Case Western Reserve University, Ph.D.
Courses Taught
Principles of Management
Strategic Management
Global Organizational Behavior
Leading for Competitive Advantage
Leadership and Organizational Behavior
Leadership and Change
Career Specialties
Deirdre Dixon's research focuses on leadership. After 20 years in the military gaining practical leadership experience, she then transitioned to the academic world to bring both academics and practical experience to the classroom. She is especially interested in leadership in extremis, or leadership when the leader's life is in danger. She studies military, fire fighters and police. She is also studying resilience and how that impacts leadership. She has taught leadership and management courses at West Point and the University of South Florida, along with UT.
Professional and Community Activities
Dixon has authored several articles and presented at conferences across the globe. She also has done consulting work for the government and police departments. She is on several Tampa community boards such as Girl Scouts of West Central Florida as the board development chair, and on the Tampa Theatre Board and serves as the head of the strategy committee. She is also a director for the West Point Association of Graduates Board.
Honors and Awards
2021 - Recipient of the Teaching Innovation Award
2020 – Excellence in Service Award
2019 – Excellence in Teaching Award
2019 – Graduate Faculty of the Year
2019 – Unsung Hero Student Award
2015 – Kenneth Clark award from the Center for Creative Leadership and the International Leadership Association