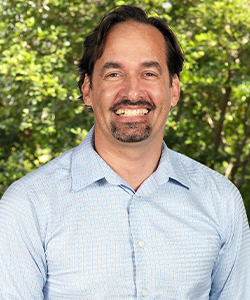 Meet Andrew DeMil
Associate Professor, Spanish, Languages and Linguistics
Phone: (813) 257-3359
Email: ademil@ut.edu
Address: 401 W. Kennedy Blvd. Tampa, FL 33606
Mailbox: R
Building: PH Room: 336

---
Education
1998 Rollins College, B.A.
2006 University of Central Florida, M.A.
2010 Florida State University, Ph.D.
Courses Taught
Beginning and Intermediate Spanish and Portuguese
Career Specialties
Andrew DeMil specializes in language program design and coordination, foreign language textbook evaluation, teacher training for communicative/immersion classrooms and assessment of foreign language learners.
Professional and Community Activities
DeMil carries out research that measures the effects of INPUT (teaching learners to comprehend written and spoken language as a first step to acquisition), and to what extent current Second Language Acquisition theories and research are present in widely used foreign language classroom texts. Other research interests include the comparison of the effectiveness of INPUT versus traditional explicit grammar instruction. His efforts in the language and linguistics department are geared towards making a contribution to the effectiveness and quality of language instruction.