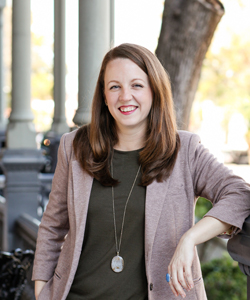 Meet S. Katherine Cooper
Associate Teaching Professor, Sociology
Phone: (813) 257-3614
Email: scooper@ut.edu
Address: 401 W. Kennedy Blvd. Tampa, FL 33606
Mailbox: Q
Building: BAS Room: 105B

---
Education
2008 University of Georgia, B.S., B.A.
2011 University of North Carolina- Wilmington, M.A.
2018 University of South Florida, Ph.D.
Courses Taught
Sociological Theories
Sociology of Gender
Sociology of Popular Culture
Families in Global Perspective
Introduction to Sociology
Career Specialties
Katie Cooper specializes in the sociological areas of culture, media, gender, race, humor and social movements. Her research broadly explores how social issues are framed through different forms of media and how people interpret these mediated messages.
Professional and Community Activities
Cooper is a teacher-scholar interested in exploring the mirror relationship between culture and media. Her dissertation research, which was recently published in The Communication Review and Sociological Focus, examines the "cultural work" of women's stand-up comedy through qualitative methodologies. Utilizing focus groups and narrative analysis, she analyzed audience consumption of stand-up humor and examined in-group and out-group boundaries in how audiences interpret humor. She is currently working on two research collaborations analyzing 1) viewership of women's sports, and 2) the cultural impacts of filming industries on small towns.
Cooper is also passionate about teaching and community engagement. She currently serves as the sociology department's internship coordinator.
Honors and Awards
2020 Undergraduate Research and Inquiry Grant 2020-2021, Faculty Mentor and Co-Investigator,
University of Tampa
2016 Distinguished Teaching Award, Department of Sociology, University of South Florida
2015 Ph.D. Research Support Grant, University of South Florida