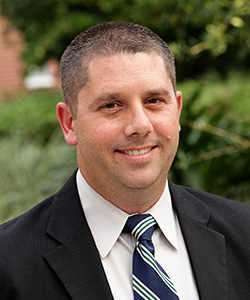 Meet Mark Colvenbach
Executive Director, Office of Career Services
Phone: (813) 258-7210
Email: mcolvenbach@ut.edu
Address: 401 W. Kennedy Blvd. Tampa, FL 33606
Mailbox: K
Building: SFB Room: 117

---
Education
1997 State University of New York at Geneseo, B.A. in Psychology
2002 Florida State University, M.S., Ed.S. in Counseling and Human Systems
Career Specialties
Mark Colvenbach is trained in career planning and career development management and strategy. He has led initiatives to support the University-wide internship program at The University of Tampa. In addition, he engages local, regional and national employers to support the development of internships and full-time jobs for UT students and alum.
Professional and Community Activities
Colvenbach is active professionally in several organizations, including various leadership roles. He is the current president of the Southern Association of Colleges and Employers (SoACE) and has served in additional leadership roles as the director- targeted knowledge groups and chair of the Employer Relations Knowledge Group. This 15-state organization supports over 1,200 members consisting of career service and employer professionals. As a member of the National Association of Colleges and Employers (NACE), he attended the NACE Management Leadership Institute, a one-week intensive professional development training geared towards current and future career center directors. Colvenbach served for five years on the board of the Florida Association of Colleges and Employers (FloridaACE) in roles including president and three years as the professional development director. Colvenbach has presented numerous times at conferences for NACE, SoACE and FloridaACE. He is also active locally with Leadership Tampa Alumni and currently serves as the chair for Education Day as part of the Leadership Tampa program.
Honors and Awards
John T. Brownlee Leadership Award FloridaACE
Employee of the Month: The University of Tampa