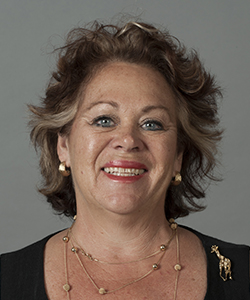 Lisa Bostick
---
Phone
Email
Address
401 W. Kennedy Blvd.
Tampa, FL 33606
Building Location
Meet Lisa Bostick
Associate Professor, Accounting
Education:
1980 Southeastern Louisiana University, B.S.
1998 Louisiana Tech University, MPA
2001 Louisiana Tech University, DBA
Courses Taught:
Financial Accounting
Intermediate Accounting
Auditing and Fraud Examinations
Internal Auditing
Career Specialties:
Lisa Bostick specializes in accounting. She is a certified public accountant. She has served in public accounting (auditing) for more than 10 years and as a controller for six years.
Professional and Community Activities:
Bostick is a member of the Association of Certified Fraud Examiners, Junior League of Tampa, American Accounting Association, Louisiana Society of Certified Public Accountants and the Tampa Bay Chapter of Certified Fraud Examiners.
Honors and Awards:
2006 Outstanding Student Involvement Award, The University of Tampa
2005 Teaching Excellence Award, The University of Tampa
2003 Student Involvement Excellence Award, The University of Tampa
2001 Professor of the Year, Louisiana Tech University
1998 Student Achievement Award, Federation of Schools of Professional Accountancy