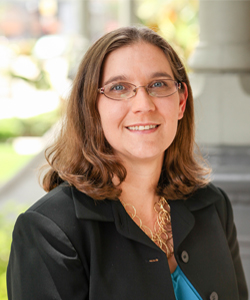 Meet Jocelyn Boigenzahn
Director, Scarfone Hartley Gallery
Phone: (813) 257-3392
Email: jboigenzahn@ut.edu
Address: 401 W. Kennedy Blvd. Tampa, FL 33606
Mailbox: 104F
Building: BAS Room: 102

---
Education
2007 Loyola University Chicago, B.A. in Classical Civilizations
2012 University of Florida, M.A. in Art History
2016 Johns Hopkins University, M.A. in Museum Studies
Courses Taught
Intro to Museum Studies
Principles of Collection Management
Art History Survey I: Pre-History- Renaissance
Greco-Roman Art
Art: Form and Idea
Career Specialties
Jocelyn Boigenzahn is an inter-disciplinary researcher and museum professional specializing in physical and digital collections care and management, and the use of narrative in Greco-Roman wall and vase painting.
Professional and Community Activities
Boigenzahn's scholarly work includes both traditional object-study in various museum collections focusing on the care needs of various kinds of physical and digital artwork ranging from antiquities, paintings, sculpture, cars, video games and other contemporary variable media. Her research also includes the tailoring of the Trojan epic cycle wall paintings in three neighboring houses along the Via dell'abbondanza in Pompeii presenting evidence of artisan workshops and style workbooks in Pompeiian Roman wall-painting.

As a museum professional, Boigenzahn has worked with encyclopedic collections and contemporary artists in museum exhibitions; preparing, installing and managing shows from Greco-Roman antiquities to contemporary arts with work ranging from concept cars and concept drawings to Russian tea sets. 
She is currently working on digitizing The University of Tampa Permanent Collection in order to make it more available for student and external research, as it represents both the history of art-making by faculty and students at The University of Tampa, but also stands as a reflection of contemporary arts trends in the Tampa Bay region.