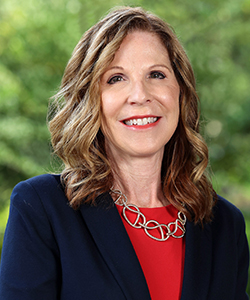 Meet Colleen Beaudoin
Lecturer II, Mathematics
Phone: (813) 257-6319
Email: cbeaudoin@ut.edu
Address: 401 W. Kennedy Blvd. Tampa, FL 33606
Mailbox: 3F
Building: MKE Room: 132

---
Education
1988

 

University of South Florida, B.S.
2010 The University of Tampa, M.Ed.
Courses Taught
Finite Math for Liberal Arts
College Algebra
Career Specialties
Colleen Beaudoin has coauthored three articles that were published in education periodicals.
Professional and Community Activities
Beaudoin taught mathematics in Hillsborough County Public Schools for 17 years. Since leaving the classroom, she has provided professional development, instructional support and mentoring to mathematics teachers. She has also written mathematics curriculum for Hillsborough County Public Schools and developed resources and hosted podcasts for mathematics instructors at the Florida Center for Instructional Technology. Beaudoin has worked on several grants with mathematicians and educators across the state of Florida to improve the content knowledge of mathematics teachers. She was a member of the Induction and Algebra teams for Florida PROMiSE (Partnership to Rejuvenate and Optimize Mathematics and Science Education in Florida), which addressed the need to improve the mathematics and science achievement of students through professional development. Florida PROMiSE was awarded the 2010 Excellence in Instructional Staff Development Award at the 2010 STEM Business & Education Conference. At The University of Tampa, Beaudoin was part of the team that implemented the Science Math Masters grant in partnership with the Florida Department of Education.
Beaudoin is a member of the Mathematics Association of America, National Council of Teachers of Mathematics, Florida Council of Teachers of Mathematics and the National Society for Experiential Education. At UT, she serves on the Assurance of Learning Committee, the Hybrid Course Review Committee, advises first-year students, and is an advisor for two student organizations. In the community, she is an active volunteer with Tourette Association of America where she is a member of the National Education Advisory Board as well as a local support group leader.