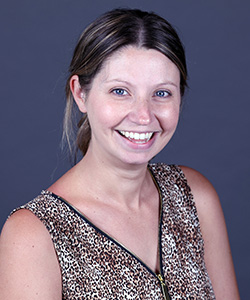 Meet Rebecca (Becca) Baaske
Assistant Professor, Accounting
Phone: (813) 257-3298
Email: rbaaske@ut.edu
Address: 401 W. Kennedy Blvd. Tampa, FL 33606
Mailbox: O
Building: JS Room: 318B

---
Education
2012 North Central College
2014 DePaul University, MAcc
2021 University of South Florida, Ph.D.
Courses Taught
Accounting information systems
Financial accounting
Managerial accounting
Auditing (team-taught)
Career Specialties
Rebecca Baaske's research broadly contributes to the auditing and accounting information systems (AIS) judgment and decision-making literature, most often using an experimental methodology. More specifically, much of her research interest is in areas where auditors may fail to recognize risks or audit issues due to insufficient skill sets or insufficient levels of skeptical cognitive processing. She also contributes to the AIS literature because she often explores such research questions in the context of auditors' failure to identify patterns and anomalies (i.e., risks or audit issues) when using data analytic tools.
Professional and Community Activities
Baaske departed from PwC Chicago as a senior auditor. She was in the Private Company Services (PCS) group for three years which gave her a broad range of auditing experience given the small audit team sizes for large clients. Furthermore, she has over two years of experience in corporate accounting as accounting staff at the John Marshall Law School in Chicago, IL.
Baaske's dissertation titled "The use of data analytic visualizations to inform the audit risk assessment: The impact of initial visualization form and documentation focus" examined the effects of the initial form of a data visualization (whether more or less optimal) and a documentation focus intervention on anomaly identification performance, risk assessments, and audit planning decisions. She is currently working toward publishing her dissertation.
Baaske is currently published in the Journal of Information Systems with her co-authors in the paper titled "Impact of deterrence and inertia on information security policy changes" (Malimage, Raddatz, Trinkle, Crossler, and Baaske 2020). She currently has various working papers in her research specialty area.
Baaske regularly participates in various conferences, including the AIS midyear meeting, Audit midyear meeting, ABO midyear meeting, and the Florida Behavioral Accounting Research Symposium. She regularly volunteers as a reviewer for these conferences.
Honors and Awards
Active CPA in the state of Illinois
Deloitte Consortium Fellow 2019
Henry Efebera Memorial (HEM) Scholarship recipient 2019