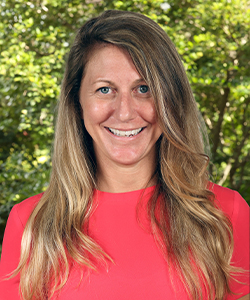 Meet Chrissy Auger
Visiting Assistant Professor, English and Writing
Phone: (813) 257-4014
Email: cauger@ut.edu
Address: 401 W. Kennedy Blvd. Tampa, FL 33606
Mailbox: R
Building: BAS Room: 115A

---
Education
2004 Rollins College, A.B.
2007 Rollins College, MIS
2015 University of South Florida, Ph.D.
Courses Taught
Writing and Research
Career Specialties
Chrissy Auger's specialties include literary criticism (Modernism and the Early Modern Period); rhetoric and composition; emerging technologies and information technology; digital literacy and digital marketing.
Professional and Community Activities
Auger is a writing professor, professional writer, technologist, web developer and the founder of Auger, ink., a cloud-based digital marketing agency that caters to SMBs and enterprises nationwide. In addition to teaching college composition courses for more than a decade, she has spent years churning out words as an established content creator and senior copywriter. Her writing portfolio consists of not only traditional academic publications but also dozens of custom websites and bespoke marketing collateral that generates steady streams of revenue for leading managed services providers (MSPs) and SaaS/cybersecurity solution providers in the IT channel.
In December of 2022, Auger earned a certificate from The Tampa Bay Innovation Center (soon to be the ARK Innovation Center) and Creative Pinellas for completing Co.Starters, a national program designed to support entrepreneurs operating at the intersection of technology and art. Auger delivers lectures at international conferences, curates museum exhibits, lobbies for human rights on Capitol Hill, and is featured in a range of publications, including The F. Scott Fitzgerald Review, The Guardian, and The Encyclopedia of the Lost Generation. She has extensive experience in the world of publishing, having reviewed textbooks for Oxford University Press and edited peer-reviewed journals such as American Periodicals and The Norman Mailer Review.
Auger often serves as a Career Champions Mentor for the Rollins College Alumni Association and has led a reflective service-learning study abroad trip to Central America. She was the first and only writer to work out of the Jack Kerouac House of St. Petersburg and is developing a science-fiction novel in her spare time. Memberships include The Association of Writers and Writing Programs; The American Association of University Professors; The Editorial Freelancers' Association; The American Writers and Artists Institute (AWAI); Digital Copywriter; The Warehouse Arts District Association (WADA); The Historic Kenwood Arts Alliance; The Grand Central Business District Association; CityVerse; and The F. Scott Fitzgerald Society.
Honors and Awards
Chrissy Auger is the recipient of the Barbara Lawrence Alfond Award for Outstanding Academic Excellence in English; The John Keuhl Travel Fellowship; and The Presidential Scholarship for Academic Scholarship and Service.