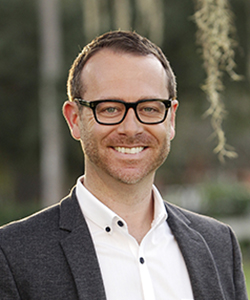 Meet Marcus Arvan
Associate Professor, Philosophy
Phone: (813) 257-3674
Email: marvan@ut.edu
Address: 401 W. Kennedy Blvd. Tampa, FL 33606
Mailbox: 120F
Building: FCA Room: 205

---
Education
1998 Tufts University, B.A.
2008 University of Arizona, Ph.D.
Courses Taught
Introduction to Philosophy
Ethics
Biomedical Ethics
Business Ethics
Social-Political Philosophy
Theories of Justice
International Justice
Human Rights
The Morality of War
Ancient Philosophy
Career Specialties
Marcus Arvan specializes in moral and political theory. He has published two books, Rightness as Fairness: A Moral and Political Theory (Palgrave MacMillan, 2016) and Neurofunctional Prudence and Morality: A Philosophical Theory (Routledge, 2020), defending a unified theory of prudence, morality and justice inspired by cognitive science. He has also published peer-reviewed journals on human rights, free will and the hypothesis that fundamental physics is best explained by the theory that the world is a computer simulation.
Professional and Community Activities
Arvan has coached UT's highly successful Ethics Bowl and Bioethics Bowl debate teams, and served as education director of the UN Association of Tampa Bay. He has organized a variety of on-campus and off-campus events on human rights and justice, and owns The Philosophers' Cocoon, a widely trafficked weblog that serves as a supportive forum for early-career philosophers.
Honors and Awards
2017 CAL Excellence in Teaching Award