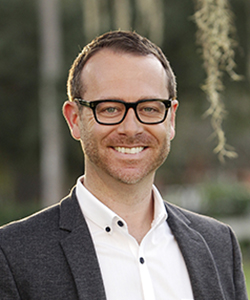 Marcus Arvan
---
Phone
Email
Address
401 W. Kennedy Blvd.
Tampa, FL 33606
Building Location
Meet Marcus Arvan
Chair/Associate Professor, Philosophy
Education:
1998 Tufts University, B.A.
2008 University of Arizona, Ph.D.
Courses Taught:
Introduction to Philosophy
Ethics
Biomedical Ethics
Business Ethics
Social-Political Philosophy
Theories of Justice
International Justice
Human Rights
The Morality of War
Ancient Philosophy
Career Specialties: Marcus Arvan specializes in Ethics, Political Philosophy, Human Rights, and Free Will. His doctorate dissertation, A Nonideal Theory of Justice, constructed a comprehensive theory of how to respond to political and economic injustices.  His recently published article, "A New Theory of Free Will," showed that a wide variety of philosophical problems and laws of quantum physics can be explained if the universe is understood as a peer-to-peer networked computer simulation. Arvan is also in the process of writing his first book, "Reconstructing the Groundwork of the Metaphysics of Morals," a book which will explain in simple and easy-to-understand terms why morality is objective, and why people should behave morally even when immoral behavior appears to them to be in their self-interest.
Professional and Community Activities:
Arvan has published peer-reviewed articles in The Philosophical Forum, Journal of Ethics and Social Philosophy, Journal of Global Ethics, Neuroethics, Klesis, Journal of Cognition and Neuroethics, and Southwest Philosophical Review. His research on personality traits and moral judgments received national media coverage on foxnews.com and The Michael Medved Show. Arvan also coaches two debate teams at UT, which compete annually in the Intercollegiate Ethics Bowl and Bioethics Bowl. His 2012-2013 Ethics Bowl team qualified for and competed in the National Finals in San Antonio, TX. Arvan has also co-organized two annual Human Rights Day student-faculty conferences at UT, and is the creator and moderator of The Philosophers' Cocoon, a safe-and-supportive online forum for early career philosophers which currently has more than 40 national and international contributors.
Honors and Awards: