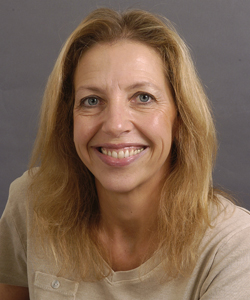 Meet Gina Almerico
Director/Educator Preparation Programs/Certification Ombudsman; Professor, Education
Phone: (813) 257-3685
Email: galmerico@ut.edu
Address: 401 W. Kennedy Blvd. Tampa, FL 33606
Mailbox: S
Building: PH Room: 449

---
Education
1977 University of South Florida, B.A.
1983 University of Florida, M.Ed
1987 University of Florida, Ph.D.
Courses Taught
Foundations of American Education
Teaching Literature and Language Arts in the Elementary School
Teaching Reading in the Secondary Content Areas
Developmental Reading
Teaching Reading in the Elementary School
Educational Assessment
Teaching Mathematics in the Elementary School
Teaching Primary Mathematics in the Elementary School
Diagnosis and Remediation of Reading Problems in the Elementary School
Teaching Reading through Diagnostic Instruction
Teaching Science in the Elementary School
Teaching Science and Social Studies in the Elementary School
Secondary Content Area Reading (Graduate Level Course)
Career Specialties
Gina M. Almerico holds her master's and doctorate in curriculum and instruction with a specialization in reading education K-12. She is a noted authority in the area of teacher education program development and review. Other areas of specialty include: math education, science education, social studies education and educational assessment. She is dedicated to training education candidates to become effective and compassionate teachers.
Professional and Community Activities
Almerico is recognized as an expert in the area of teacher preparation program development and review in the state of Florida. She has been appointed by the Florida Department of Education to task forces in standards implementation across the state. She regularly leads reviews of teacher education programs in the state. She sits on the executive board of the Florida Association of Colleges for Teacher Education. She holds a certificate in gerontology and is interested in the problems of the elderly and how they are perceived by young children. She has a strong passion for teaching reading, especially teaching her students how to assess and remediate struggling readers at the elementary grade level. Her other interests include strategies for teaching math, science and social studies to children, and incorporating language arts into those disciplines using quality children's literature. She is interested in examining the use of multicultural literature as a vehicle for promoting international awareness and understanding. She currently serves as director of program review for The University of Tampa's Department of Education where she acts as liaison to the State Department of Education regarding program approval issues. She is responsible for ensuring education programs offered by the University earn and keep full approval status.

Almerico is a member of the Chiselers Inc., a nonprofit organization dedicated to the preservation and restoration of the Tampa Bay Hotel (now Plant Hall on The University of Tampa campus).