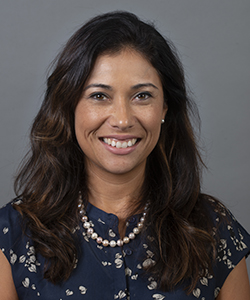 Meet Claudia Aguado Loi
Associate Professor, Public Health
Phone: (813) 257-3230
Email: caguadoloi@ut.edu
Address: 401 W. Kennedy Blvd. Tampa, FL 33606
Mailbox: 30F
Building: HSHP Room: 244

---
Education
2014 University of South Florida, Postdoctoral Fellowship
2012 University of South Florida, Ph.D.
2005 University of South Florida, MPH
2003 University of South Florida, B.S.
Courses Taught
Epidemiology in Public Health and Physical Activity
Health Promotion Planning and Evaluation
Personal Health
Career Specialties
Claudia Aguado Loi specializes in public health education and promotion, program planning and evaluation, mixed-methods, community-based participatory research methods, epidemiology including study design and analysis, and project management of large research studies. She brings extensive experience working with Latino populations in cancer survivorship (e.g., quality of life of Latina breast cancer survivors), chronic disease self-management and cancer health disparities.
Professional and Community Activities
Aguado Loi's primary research areas are on the prevention and reduction of cancer health inequities. In her most recent projects, she served as the principal investigator on a study that focused on the identification of risk factors for depressive symptomology among Latina breast cancer survivors. This was later followed by another study to understand the acceptability, preferences and needs of Latina breast cancer survivors to utilizing health coaches to reduce distress. Aguado Loi also has collaborated on multiple state and federally funded cancer health disparities related grants specific to colorectal cancer screening, BRCA genetic testing and counseling, and cancer symptom management clinical trials. In addition to her academic and research efforts, Aguado Loi has established a significant role in the community to include her leadership role with the largest Latino cancer support organization in the Tampa Bay area, LUNA Inc.
Selected publications:
1. Corvin, J., Aguado Loi, C.X., Alfonso, M., Martinez Tyson, D., Chan, I., Pinzon, M., Gonzales, J. (2016) Translating research into Practice: Employing Community-Based Mixed Methods Approaches to Address Chronic Disease and Depression among Latinos. Journal of Behavioral Health Services and Research.
2. Alfonso, M., Corvin, J., Aguado Loi, C.X., Chan, I., Martinez Tyson, D., Callejas, L.M., Serrano, M., Panzano, P., and Gonzales, J. (2015) Latinos' Views of Co-Morbid Chronic Disease and Minor Depression. Journal of Behavioral Health, 5(1): 1-6. doi:10.5455/jbh.20151014051233
3. Armstrong, J., Toscano, M., Kotchko, N., Friedman, S., Schwartz, M.D., Virgo, K.S., Lynch, K., Andrews, J.E., Aguado Loi, C.X., Bauer, J.E., Casares, C., Bourquardez Clark, B.A., Kondoff, M.R., Molina, A.D., Abdollahian, M., Walker, G., Sutphen, R. (2015). Utilization and Outcomes of BRCA Genetic Testing and Counseling in a National Commercially Insured Population: The ABOUT Study. JAMA Oncology, Oct 1:1-10. doi: 10.1001/jamaoncol.2015.3048.
4. Aguado Loi, C.X., Baldwin, J.A., McDermott, R.J., McMillan, S., Martinez Tyson, D., Yampolskaya, S., VandeWeerd, C. (2013) Risk factors associated with increased depressive symptoms among Latinas diagnosed with breast cancer within 5-years of survivorship. Psycho-Oncology, 22 (12): 2779-888. Epub 2013 Sep 3. doi: 10.1002/pon.3357
5. Aguado Loi, C.X., Taylor, T.R., McMillan, S., Ping, X., Krischer, M.M. (2011) Stress Management for Patients with Cancer Undergoing Chemotherapy. Journal of Psychosocial oncology, 30(1), 1-22. doi:10.1080/07347332.2011.633981
6. Aguado Loi, C. X., & McDermott, R. J. (2010). Conducting program evaluation with Hispanics in rural settings: Ethical issues and evaluation challenges. American Journal of Health Education, 41(4), 251-255. [FEATURED ARTICLE]
7. Kim, G., Aguado Loi, C. X., Chiriboga, D. A., Jang, Y., Parmelee, P., & Allen, R. S. (2010). Limited English proficiency as a barrier to mental health service use: A study of Latino and Asian immigrants with psychiatric disorders. Journal of Psychiatric Research, 1-7. doi: 10.1016/j.jpsychires.2010.04.031
8. Vadaparampil, S. T., Quinn, G. P., Small, B. J., McIntyre, J., Aguado Loi, C. X., Closser, Z., & Gwede, C. K. (2010). A Pilot study of hereditary breast and ovarian knowledge among a multiethnic group of Hispanic women with a personal or family history of cancer. Genetic Testing and Molecular Biomarkers, 14(1), 99-106.
Honors and Awards
Aguado Loi has been the recipient of multiple national awards and competitive traineeships from the National Institutes of Health.