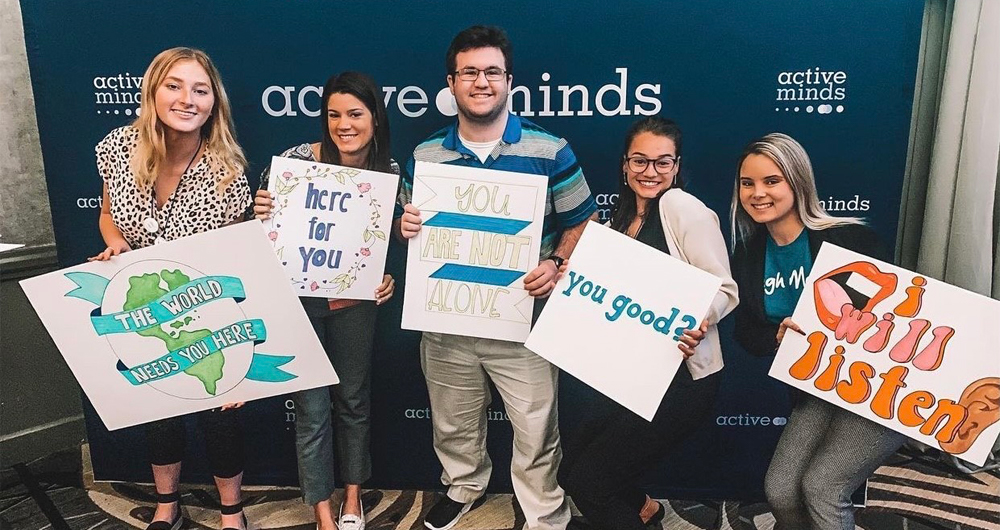 What is Emotional Wellness?
Emotional wellness is about coping effectively with life and creating positive relationships. It inspires self-care, relaxation, stress reduction and the ability to develop inner strength to meet life's challenges.
Mental Health is Health

Need a mental health self-check? Need resources? Mental Health is Health aims to normalize the importance of emotional health, create conversation and establish connections to mental health resources.

On-Campus Resources
Counseling Services
University of Tampa Counseling Services provides alcohol and other drug assessments, psychoeducational groups, 1-1 counseling, and referral to treatment as needed. Please contact counselingservices@ut.edu or call (813) 253-6250 to make an appointment.
Online Resources
Mental and Emotional Health Resources
Stress
Sleep
Anxiety and Depression
Mindfulness
We understand that the COVID-19 situation may be creating a sense of panic, anxiety, and unease. We encourage you to practice mindfulness, the act of being engaged and aware of the present moment, to keep you anchored in the present, while your mind may be wandering into the past or into the future. There are several ways to creatively practice mindfulness. Here are a few:
UT's Ajivar App for resiliency, mindfulness, meditation, and emotional intelligence
Other meditation apps such as Headspace, Calm, or Insight Timer.
Utilizing your spiritual connection to stay grounded and spiritually fit.
Intentional, mindful movement (yoga, running, walking, weightlifting, etc.)
Ajivar
The Dickey Health and Wellness Center would like to introduce you to TWO mental health resources for UT students: Ajivar Mindfulness and Resiliency App and the Ajivar Real YOU Community.
Ajivar is here! FREE for All UT students and staff and available 24/7.
Ajivar can help you improve your emotional intelligence, resiliency, and mental health.
Ajivar Real YOU Community will connect you with instant peer-to-peer support. It is a safe place where you can talk anonymously about anything JUDGMENT FREE. " You are stressed about a class, COVID is impacting your health, your boyfriend broke up with you, your mom is annoying…whatever the topic."
You are not alone - talk with the Ajivar App or talk with your peers on Real YOU! Ajivar also provides Ooz challenges, personalized meditations, and journaling.
Easy as One - Two - Three and someone is here for you.
Download Ajivar.
Sign-up with your UT email address.
A verification code will be sent to your email that you will use for activation.
Ajivar Sign-Up Instruction Manual
If you have any questions about the Ajivar app, please contact the Wellness Center at wellness@ut.edu.
Grief and Loss
Mental Health/Well-Being Apps
Community Resources
---
---
Need to Get in Touch?
Address:
401 W. Kennedy Blvd.
Box 18F
Tampa, FL 33606
Phone: (813) 257-1877
Fax: (813) 257-1878
Email: wellness@ut.edu
Normal Hours of Operation:
Monday–Thursday 8:30 a.m. to 5 p.m.
Summer Hours of Operation:
Monday–Thursday 8 a.m. to 5:30 p.m.
In an Emergency Situation?
Medical Emergency:
Dial 911
Campus Safety* If you are in a life-threatening situation, call 911 before calling Campus Safety:
(813) 257-7777
* If you are in a life-threatening situation, call 911 before calling Campus Safety.
Crisis Center of Tampa Bay:
Dial 211
National Suicide Prevention Hotline:
1-800-273-TALK (8255)
National Crisis Text Line:
Dial HOME to 741741
The University of Tampa Victim Advocacy Hotline:
(813) 257-3900
---