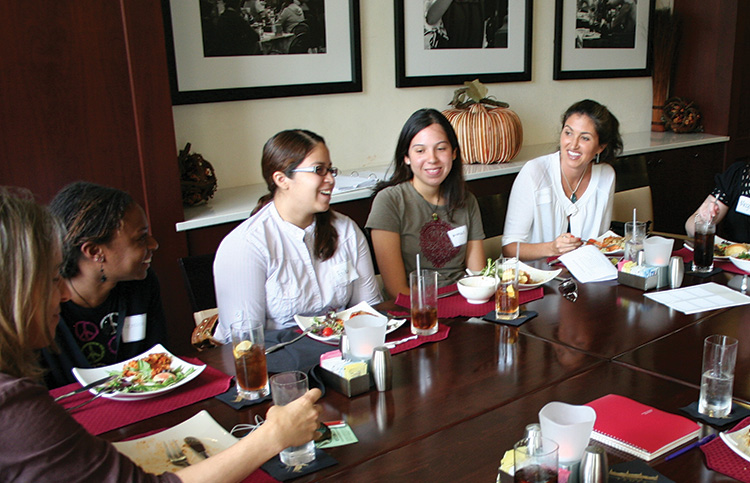 Engage with Student Affairs
The Office of Student Affairs supports the vice president for Student Affairs, Stephanie Russell Krebs, and the assistant vice president for Student Affairs and dean of students, Jennifer Scaia.
Student Affairs at The University of Tampa educates and empowers students to be global citizens through experiential and diverse learning opportunities that reinforce the values of the Spartan Code and enrich the lives of others. Students are encouraged to engage in student affairs programs and services to make the most of their collegiate experience.
Lunch with the Assistant Vice President for Student Affairs and Dean of Students, Jennifer Scaia, and Student Government President
During a typical semester, the student government president and the assistant vice president for student affairs and dean of students eats lunch in Ultimate Dining in the Vaughn Center every Friday at noon with anyone who would like to join to share thoughts on the campus climate. To reserve your spot please email studentaffairs@ut.edu.
Social Media
Follow vice president for Student Affairs, Stephanie Russell Krebs, on Facebook. Messages will go out regularly about campus events and creative contests will take place. Don't miss out. Friend and follow!
Diversity Advisory Group
A forum for the administrators to hear directly from students about their experiences to better advocate for a more inclusive learning environment that supports unique perspectives and values differences.
Diversity and Inclusion Timeline
Student Affairs Co-Curricular Diversity and Inclusion Timeline that highlights key initiatives over the past 20 years.
Values to Action: UT's Task Force on Diversity, Equity and Inclusion
Recommending ways to enhance efforts by benchmarking campus diversity, equity and inclusion practices; contributing to the development of a diversity statement; collaborating in curricular and co-curricular diversity efforts; and reviewing programs at similar institutions.
Connect Lunch
Designed to encourage positive engagement and mentoring outside of the classroom between faculty, staff and students, the Connect UT Lunch Program offers faculty and staff members the opportunity to dine with up to three students during the academic year.
---
---
Contact
Contact the Vice President for Student Affairs, Stephanie Russell Krebs, or the Assistant Vice President for Student Affairs and Dean of Students, Jennifer Scaia
studentaffairs@ut.edu
(813) 253-6204
Plant Hall 124
---