Published: September 20, 2021
Out to the Ball Game
SPARTAN SPOTLIGHT
Mia Salvemini '19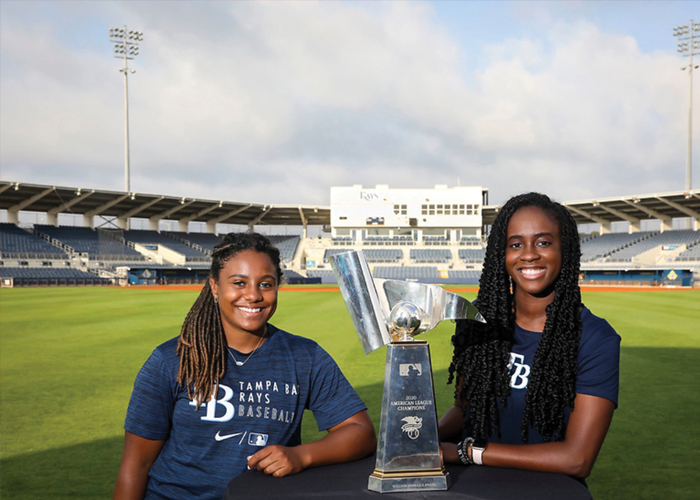 Mia Salvemini, left, with a co-worker and the 2020 American League Championship trophy.
To see Mia Salvemini '19 on the field, surrounded by professional baseball players who tower over her but are clearly following her workout directions, you would think she had grown up around ballparks. But you would be wrong.
Raised in a small town on the Connecticut coast, Salvemini was always a fan of sports — just not baseball. "I played basketball and tennis. I pretty much tried every sport, but my big sport was CrossFit," she says. "I've been doing that since I was 14."
Her CrossFit experience influenced her to major in human performance at UT. As an undergraduate, Salvemini landed a summer internship at Cressey Sports Performance in Palm Beach Gardens, FL, which she calls "the mecca of baseball performance facilities. That was my introduction into the baseball world, and I fell in love with it then."
Today, Salvemini is a Minor League Baseball strength and conditioning coach for the Florida Complex League Rays, an affiliate of the Tampa Bay Rays, in Port Charlotte, FL. With that, she's made history as one of the first women of color to be hired in an on-field role in all of U.S. professional baseball (in the minor and major leagues).
The Tampa Bay Rays organization employs two women who work with the players on mental performance, and one female athletic trainer. Working in a nearly all-male environment can be intimidating at times, but Salvemini says the Rays coaches and players have been accepting and supportive of her in the new role. "Everybody's open to the idea of me and the other women coming on board," she says.
Salvemini oversees players' strength training in the gym and leads their conditioning exercises on the field, "sprinting and all the stuff you see, basically, in the warmup before the game." She also works with rehabbing players so they can recover faster from injuries. "We make sure they can get their technique back without pain," she says.
Her days typically begin early. "I get there at 7 a.m. Players get there around 8 a.m.," she says. She prepares and schedules players' workouts. "And then I talk to the hitting coaches, catching coaches and pitching coaches to make sure everybody's on the same page." Then she has a free breakfast, one of the perks of working at the facility. Another perk is doing her own workouts almost every day in the state-of-the-art gym, which has kept her in good shape. "I can back-squat 305 pounds. I can walk on my hands. I do muscle-ups," she says.
As for the future, Salvemini says, "My goal is to stay within baseball and hopefully to get to the majors one day!"
By Catherine O'Neill Grace
Photograph: Courtesy of Mia Salvemini '19
---