Published: April 05, 2021
A Feast for the Eyes
Paintings, sculptures, photos, printmaking and mixed media work by 27 alumni and faculty artists are being showcased in "65 Years in the Making," one of several new exhibitions at UT. Here, we take a closer look at a few of the artists who make it so special.
By Janet Siroto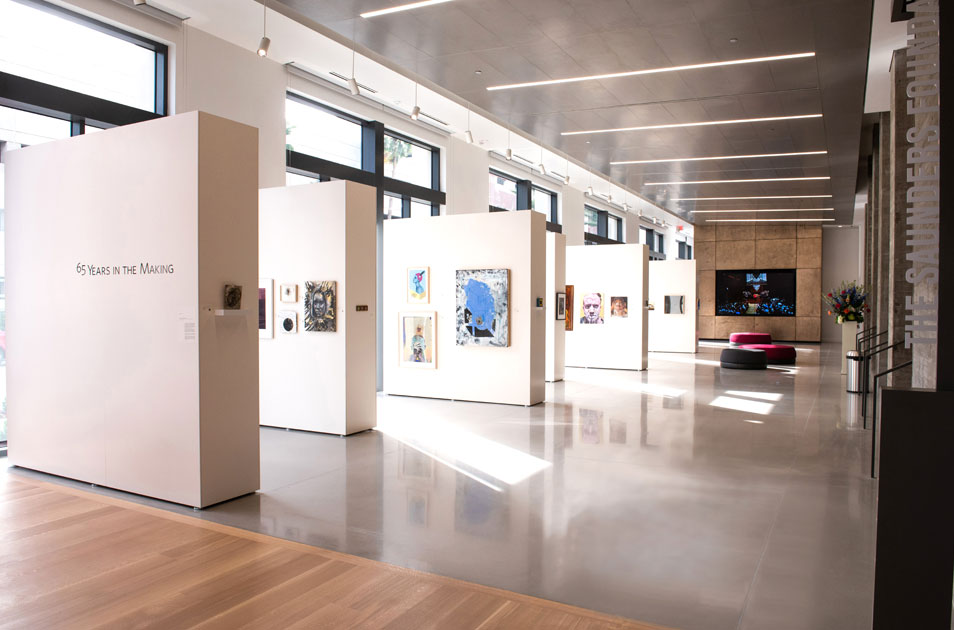 The 3,700-square-foot Saunders Foundation Art Gallery houses part of this exhibition on the first floor of the new Ferman Center for the Arts.
Photograph: Bob Thompson

The Artists, From A To Z: Victoria Arnold, Rob Bovarnick, Samantha Burns, Dorothy Cowden, David Diaz, Cor Fahringer, Vivian Nguyen Fairman, Alexandra Fernandez, Jeff Gibbons, John Guarneri, Daniel Hesidence, Nneka Jones, Kacy Kerak, Jack King, Michael Massaro, Jodi Minnis, Marc Mitchell, Harold Nosti, Brandi Richards, Danielle Ronzo, Princess Smith, Barbara Stubbs, Joe Testa-Secca, Hoang Van Bui, Carlos Camargo Vilardy, Michael Weaver, Stephanie Wegman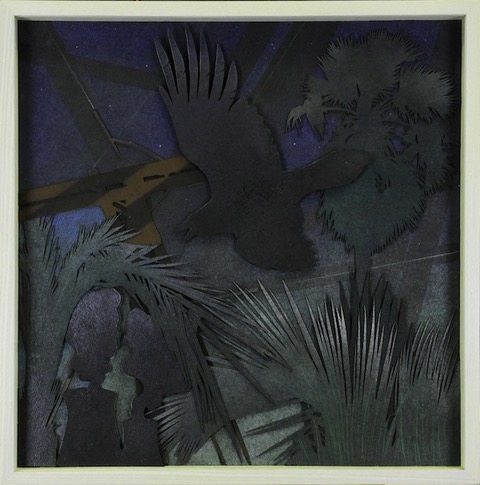 Photograph: Drew McDougall '22
A MODEL MENTOR
It's a no-brainer that the work of Jack King '70 — an alumnus and professor emeritus of art at UT — would be featured, given his long and exemplary connection to the University. He remembers his student days fondly, especially all the personalized attention that he received from faculty. When he started teaching at UT in 1992, King became known for encouraging his students to explore the process, rather than stick with their original impulses. He hopes his legacy is pupils "who will always embrace a work ethic that requires passion and dedication to their craft."
His wide-ranging, award-winning career as an artist certainly shows those qualities. His boundless creativity has produced powerful work in such varied media as paint, ceramics, metal and glass. Among his pieces in the current exhibition is "Seven Nights in Havana: Wednesday," a gorgeously evocative, elegant work from a 2016 series in tar paper, paint and colored pencil. Depicting a dark evening scene of a bird amid plants and shadows, it glows from within, achieving what he says is the nature of art: a conversation between artist, the work and viewer, with the piece holding new meaning for each person who encounters it.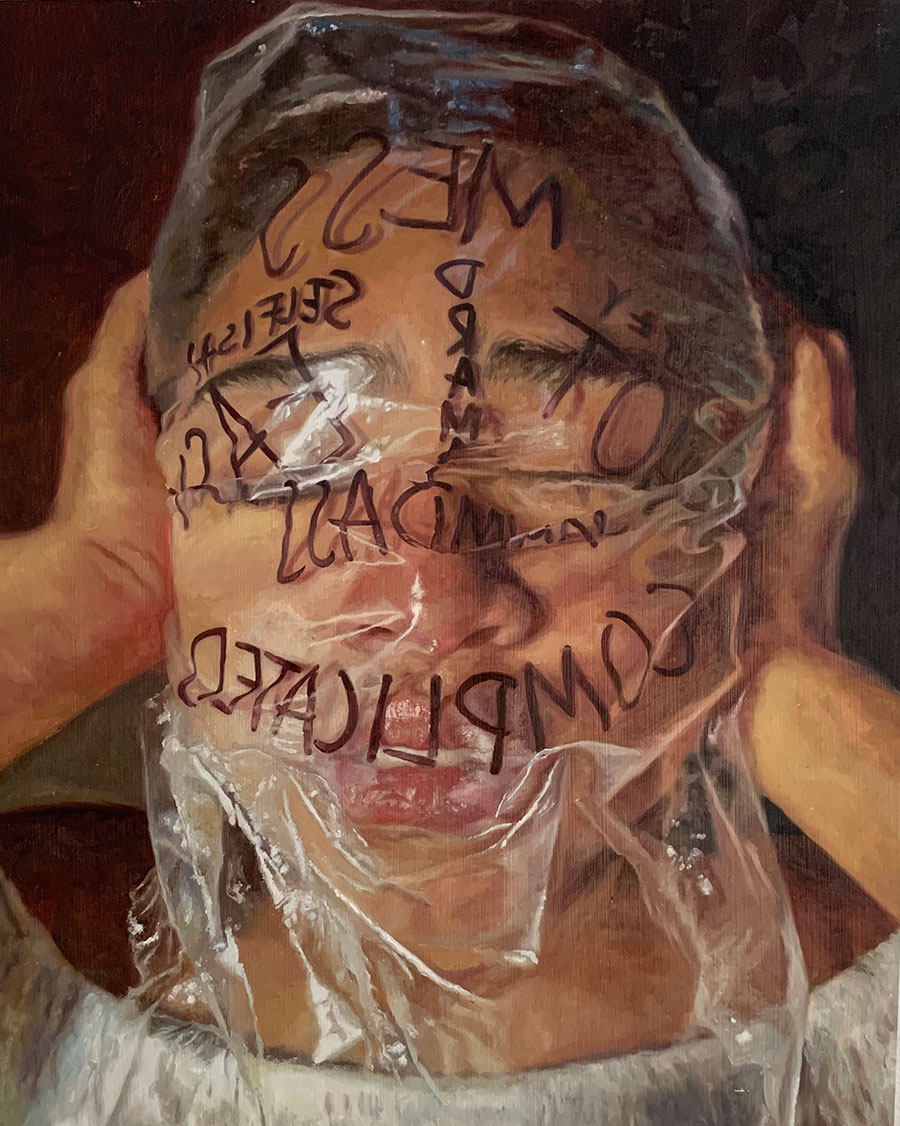 Photograph: David Gudelunas
THE ACTIVIST ARTIST
Talk about a rising star: Having just received her bachelor's degree in fine arts last May, Nneka Jones '20 is already gaining global recognition for her art. She was tapped to design the cover of the Aug. 31–Sept. 7, 2020 issue of TIME magazine; in October, she was asked to speak (virtually) at the Adobe Max Creativity Conference; and in January, The Washington Post commissioned her to create a portrait of Vice President Kamala Harris.
Jones' talent and drive were evident early. Growing up in Trinidad and Tobago, she was more excited about arts and crafts than the average student. For college, she was drawn to UT's program for its flexibility: "It didn't just offer painting or sculpture. I could explore different media and find what fueled my artistic interests," she says.
On campus, she developed her uncompromising identity as a contemporary, activist artist. "I make my audience comfortable with being uncomfortable and prompt important conversations — and action — by bringing awareness to social, political and environmental issues," she says.
Her exhibition piece — "The Power of Words," completed at UT as a class assignment — is one such statement. The painting shows a Black woman's face, swathed in plastic that's scrawled with words like "mess" and "complicated." Says Jones, "It represents the stifling power of words for women of color — the things said to them that suffocate them."
Exhibiting at her alma mater has been a deeply affirming experience. "Just a few months ago, I was in my UT studio across from the new center," she says. "I would see the construction. Now, with my work shown there, it feels like I am leaving my mark and having my presence continue on campus."

Photograph: Drew McDougall '22
THE ART OF EXPLORATION
The path to becoming a successful artist is not always linear. Barbara Stubbs '08, a part-time faculty member in the Department of Art and Design, is living proof of that truth. Prior to her formal training, she lived in Jamaica while her husband worked there. She roamed the hills and ports with a band of local artists, recording her impressions and feelings with paint. "Travel and exploration have always been a part of my life," says Stubbs, who has five solo exhibitions under her belt.
"Riverwalk," the mixed-media piece shown at the Ferman Center, is very much in sync with this idea. Stubbs says, "It celebrates the beauty of the natural world. The insects displayed in my artwork are metaphors for change and renewal. Transformation is a monumental motivator for me. It's a universal experience, both internal and external — one that my artwork expresses visually."
As a teacher at UT, she aims to nurture the next generation: "I am eager to share with students the excitement of art and the ability to express oneself without words," she says. "My favorite part is creating an environment for students to communicate their honest opinions." Given the central themes of her art — "social justice issues that I observed and experienced during my life in the Caribbean, sustainability and the COVID-19 challenges this year" — she sets a perfect example of doing just that.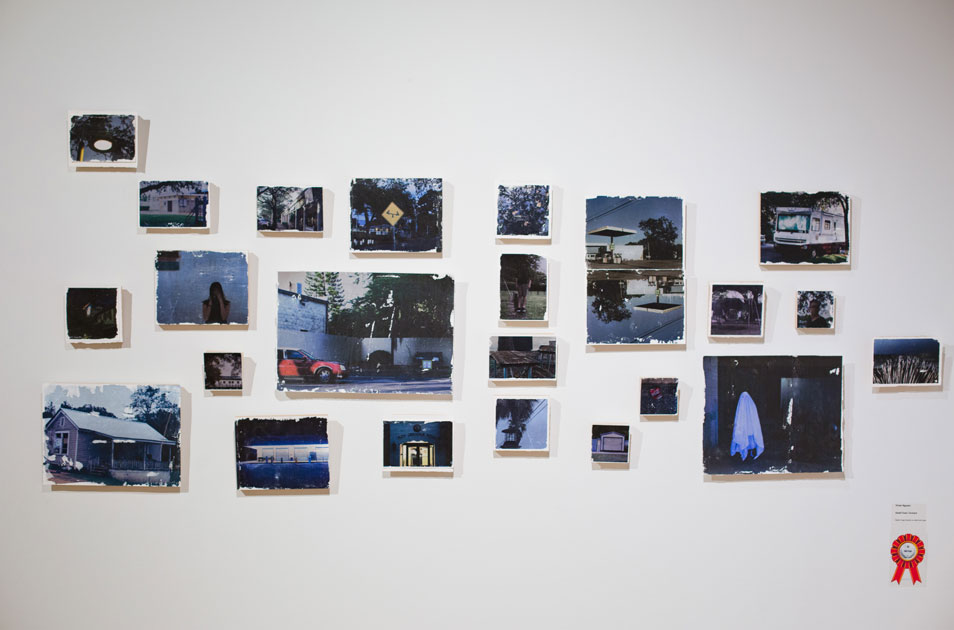 Photograph: Jaime Aelavanthara
PUTTING AMERICAN LIFE UNDER A MICROSCOPE
"I never wanted to fit the stereotype of what many Asian families expect of their children — becoming a doctor, lawyer or pharmacist," says Vivian Nguyen Fairman '18, who grew up in California and currently resides there. "I always knew I was different, and my mom didn't push me toward those roles. She'd buy me coloring books." Her creative path gelled in middle school, with a teacher's encouragement. "He said art was the freedom to create what you want — your own dream — and to tell your own story," she says.
Moving cross-country to attend UT and begin her adult life was stressful and challenging, she says, but there was a silver lining. "It lit a spark in me that I never knew existed. Inspiration tends to happen when you least expect it, and life-altering events truly put things in perspective," she says.
That awakening, stoked by her professors, led Nguyen Fairman to ponder her personal history as a child of immigrants. Her work in the exhibition, "Small Town Torment," is an assemblage of photos that explore her views on the American Dream as a person of color. The images incorporate references to her grandfather, a mechanic, "a strong man who always tried to protect me from prejudice, but who seemed very lonely."
Having her art shown at the Ferman Center fills her with pride and gratitude, and allows her to be part of the on-campus dialogue. "Being exposed to different viewpoints is an important way for all people to grow," she says — and is precisely what makes the exhibition so transformative.

Photograph: Jocelyn Boigenzahn
A SELF-PORTRAIT THAT POPS
"Humbled and honored" is how John Guarneri '18 describes having his work shown at the Ferman Center. That's also how the recent grad, based in Greenlawn, NY, felt about his entire experience studying art at UT. "I loved how I got so much one-on-one time with professors and daily critiques of my work, which is really unheard of," says the artist, who trained under four Meridian Scholars (visiting artists who interact directly with students).
Guarneri's work is often informed by pop culture, rich with comic-book references. But the painting "House" that's on display delivers a different kind of "wow" moment. It's a self-portrait, but the artist's face is drenched in paint. Guarneri, who created the work in a class at UT, explains, "I actually poured paint on myself to recontextualize the elements. Instead of seeing, 'Oh, here's the nose,' you see shapes and colors. Traditional Renaissance portraits have many layers, and as I worked on this, I emphasized how the paint was layered on my skin and beard."
Having found a silver lining during the pandemic (more studio time), Guarneri is looking forward to exploring the Ferman Center in person. "It's a bit surreal because I created art in the old building, which I loved dearly," he says, "but having this incredible new facility really reflects and suits the program's strength."
A CURATOR'S DREAM COME TRUE
Meet the dynamic force behind this exhibition: Jocelyn Boigenzahn, director of the Scarfone/Hartley Gallery. The UT Journal chatted with her about the impressive array of art that she gathered for the opening of the Ferman Center for the Arts.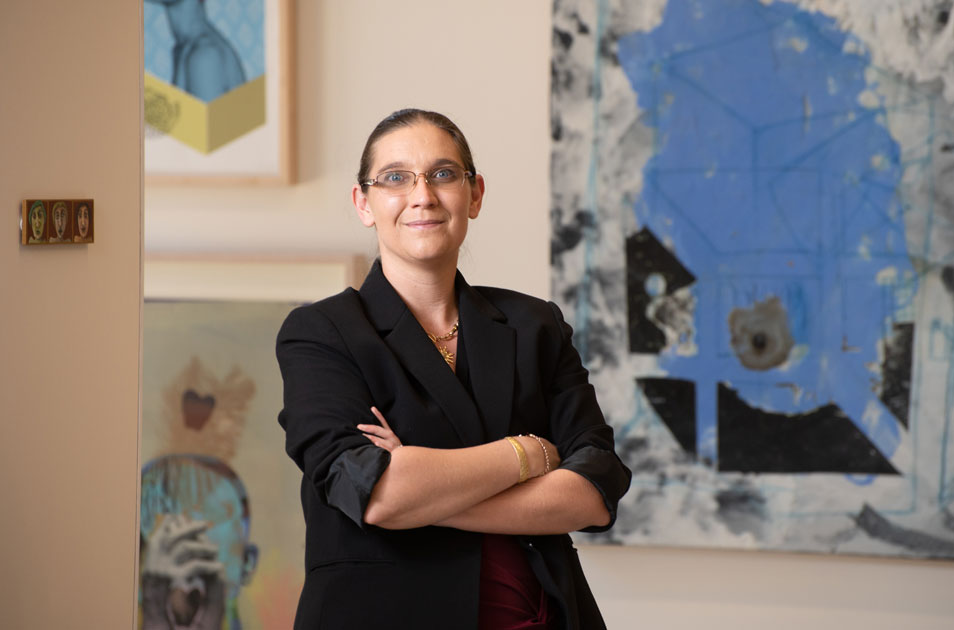 This showcase is one of many UT art exhibitions curated by Jocelyn Boigenzahn, director of the Scarfone/Hartley Gallery.
Photograph: Bob Thompson

What prompted this art exhibition to come together?
We wanted to celebrate UT's long history of art making, of which the Ferman Center is an amazing new chapter. We are showing 60 pieces of alumni and faculty work in this exhibition. The show highlights how many alumni come back and become faculty — it's such an ingrained experience here, to return and continue to push the ball forward for the program.
What surprised you about the process of assembling the art?
I was amazed by the sheer variety of media that has been tackled by UT's art and design department over its 65 years, which in turn reveals that, behind the scenes, the faculty encouraged students to go down different paths and seize new opportunities.
Why are the arts so vital, especially during a pandemic?
Culture is born out of humanity's need to share stories. That becomes more important when communities can't gather in person. The arts let us know what's going on in people's lives, hearts and souls, and they keep us connected in a way that nothing else can.
What other exhibitions are happening at UT this year?
We ran one called "A+D Currents: Faculty," which featured faculty art, at the Scarfone/ Hartley Gallery from Jan. 29 to Feb. 26. "A+D Currents: Students," which features student art, has been up in the Student Study Gallery at the Ferman Center since Feb. 22 and will stay up through May 7.
---