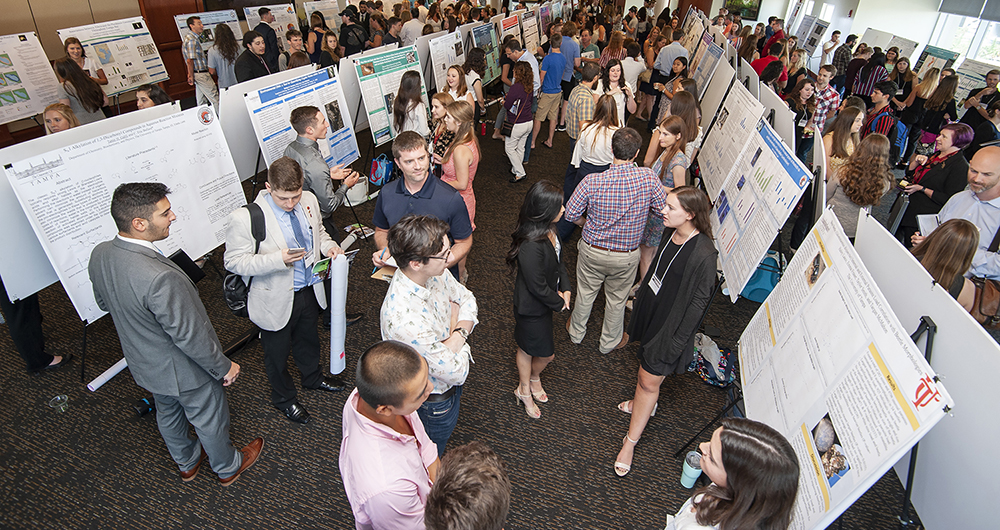 Welcome to the 2021 Undergraduate Research Symposium at The University of Tampa! This symposium is an online showcase of student research accomplishments. Clicking each title below will open a Zoom meeting where the student will give an approximately 5-minute presentation on his or her research. Half of the projects will be presented from 3 to 4 p.m. while the other half will be presented from 4 to 5 p.m. as indicated below. As audience participants, you are encouraged to speak with presenters about their project and any questions that you might have.
View the 2021 Undergraduate Research Symposium program.
Please direct questions to Eric Freundt, director of the Office of Undergraduate Research and Inquiry, at efreundt@ut.edu.
3—4 p.m. Presentations
Stress Management Among Hispanic College Students
Hailey Daves, Zachery Geist
Mentor: Alyssia Miller De Rutté
Busyness and Cognition in Undergraduates: End-of-Semester versus Beginning-of-Semester Cognitive Performance
Dani Mryczko,Tina M. Brown
Mentor: Sara Festini
Synthesis of Alkenes
Allison Duffy
Mentor: Richard Squitieri
Impacts of Language Barriers in Healthcare
Maddison Olley, Aida McClatchey
Mentor: Alyssia Miller De Rutté
Investigating AWOL in Theiler's Murine Encephalomyelitis Virus infection
Daniel Maselli
Mentor: Eric Freundt
Isolating Previously Uncharacterized Microbes from a Hypoxic Marine Sinkhole in the Gulf of Mexico Using a Winogradsky Column
Devin Lazare
Mentor: Haydn Rubelman
Biochemical Analysis of the MAPK Pathway During Fertilization and Blastogenesis Using Sea Urchin Lytechinus Species.
Matthew Olszewski, Danielle Vezensky
Mentor: Michelle Osovitz
Carbazole Derivatives as Photocatalysts for the C-H Arylation of n-Butyl Vinyl Ether
Maredh López Ocazio
Mentor: Ashley Longstreet
Changes in Risky Behaviors and Mental Health of UT Students from the Beginning of the Pandemic as Compared to a Year Later
Benjamin Conness
Mentors: Mary Martinasek and Claudia Aguado Loi
Alternative Medicine Practice of Latinos in USA and Latin America
Evelyn Martinez, Ashley Hammond
Mentor: Alyssia Miller De Rutté
The James Webb Space Telescope: Time Machine Technology
Elizabeth Turner
Mentor: Ethan Deneault
The Effectiveness of REDD+ in Africa
Allison Bednar
Mentor: Kevin Fridy
Chemotactic Behavior of the Solar Powered Sea Slug Elysia crispata
Christopher Baker, Elizabeth Silvia
Mentor: Michael Middlebrooks
Avian Counts at U of Tampa Before, During and After COVID-19
Rachamim-Yair M. A. Brito
Mentor: Heather Masonjones, Lori Benson McRae and Mark G. McRae
Mangrove Expansion in Cedar Key from 1988-2019
Clell Carnes III, Rebecca Riccardi
Mentor: Michael Slattery
Comparison of a Simulated Aquaculture Environment vs. Natural Habitat on Health and Reproductive Success of the Local Green Urchin "Lytechinus variegatus"
Christian Gibbs
Mentors: Michelle Osovitz and John Ambrosio
The Impact of Tobacco Use on Rates of Health Insurance Plans Sold on the U.S. Marketplace
Haley Ruggles
Mentor: Khyam Paneru
The Long Term Physical and Psychological Consequences of Human Trafficking on Women in Florida
Katherine Justus, Corrine Fanta
Mentor: Elizabeth Sassatelli
Mental Effects on Parents of Raising a Special Needs Child
Sierra Clary, Morgan Bierbrunner, Preston Bowers, William Forrest
Mentor: Alyssia Miller De Rutté
Asteroid Mining
Omar Sabbagh
Mentor: Ethan Deneault
Theia 456 and its Stellar Components
Trevor Kattenberg
Mentor: Simon Schuler
Observing Exoplanet Atmospheres for Signs of Extraterrestrial Life
Gina Pantano
Mentor: Ethan Deneault
Effects on Vaccination Rates in Communities Around the World
Kaitlin Modica, Kallista Cors, Serafina Cinicola
Mentor: Alyssia Miller De Rutté
Reducing Stress in College Students
Hannah DeCosta, Pamela Font, Alexander Rolle, Brooke Haney, Alexandra Herrman, Kaley Mount, Rachel Packard, Devinn Searfass, Megan Waddell
Mentor: Erica Yuen
Colocalization of TMEV Polymerase to Host Processing Bodies
Jonathan Soler, Olivia Lightfuss
Mentor: Eric Freundt
Anthropogenic Impacts on Biodiversity in Tampa Bay Seagrass Communities
Alex Butler, Allie Eshman, Andrew Bilodeau, Natalie Jennings, Sami Milano
Mentor: Heather Masonjones
Anatomy of an Isolated Population of Bahamian Seahorses: How Different are the Sweetings Pond Seahorses?
Taylor Tataris, Dimitra Theodosiadis
Mentors: Mason Meers and Heather Masonjones
4—5 p.m. Presentations
Perceptual Salience of Race and Gender
Nia Dyson, Lauren Sass
Mentor: Benjamin Marsh
Implementing and Assessing Gamification in Cybersecurity Learning
Carlos Sanchez
Mentor: Chen Zhong
Effects of Anthropogenic Damage on Species Richness in Tampa Bay's Seagrass
Sarah Sexton, Alexandria Danz, Lauren Ridenour, Rabecka Salo, Maxx Kirk
Mentor: Heather Masonjones
Quantification and Characterization of Microbial Communities within Sourdough Starters
Danielle Bierman
Mentor: Lauren Logsdon
Understanding the Approach of Health Care Professionals to Interpreter-Mediated Care
Brianna Rubenstein, Alexandria Ortiz, Sarah Manno, Olivia Keller
Mentors: Alyssia Miller De Rutté and Robin White
Extremophiles: Living Life to the Extreme
Kelsey Buonodono
Mentor: Ethan Deneault
Complementary and Alternative Medicine Use in International Students at the University of Tampa
Sydney Livingston, Lindsay Graham
Mentor: Alyssia Miller De Rutté
Sick Frogs vs. Healthy Frogs: Effect on Jumping Patterns
Elana Barr, Shannon Fernandez Denmark
Mentors: Jeffrey Grim and Taegan McMahon
Analysis of Intrinsically Disordered Proteins Found in Copy Number Variant Gains Exclusive to Homo Sapiens
Johannes Ali, Daniel Maselli
Mentor: Kimberly Dobrinski
Detection of Staphylococcus aureus in Tampa Bay recreational areas using eDNA and molecular validation by PCR
Ashley Thomas, Stella Nau, Kathleen Sherman
Mentors: Michelle Osovitz and Bridgette Froeschke
Disabilities, Mental Health, and the Effects of Culture
Catherine Boino, Michaela Avallone, Cristina Ciampone, Kelly Nowak
Mentor: Alyssia Miller De Rutté
Copy Number Variation and Obesity in Danio rerio
Shivani Desai
Mentor: Kimberly Dobrinski
Protein Domain Parsing and Visualization Software Tool
Nathan Eolin
Mentor: Padmanabhan Mahadevan
Enhanced Lanthanide Extraction with Tripodal CMPO Ligands
Wyatt Larrinaga
Mentor: Eric Werner
Xenarthrans and the Evolution of the Mammalian Brachial Plexus
Daniella DeFelice
Mentor: Mason Meers
A Systematic Review to Determine Barriers Latinos Face in the ED
Genesis Hernandez Garcia, Emma Sheehan, Kyle Cleaver, Paige Hunt, Riley Pay
Mentor: Alyssia Miller De Rutté
The Road to a Successful Human Mission to Mars
Kayla Diaz
Mentor: Ethan Deneault
Possible RNA-precursors and reforming the RNA World Hypothesis
Nick Argentieri
Mentor: Ethan Deneault
Kepler-22b: The first of many.
Asim Arain
Mentor: Ethan Deneault
Behind the Rover Scenes
Allison Jones
Mentor: Ethan Deneault
Life on Titan
Sean Knapp
Mentor: Ethan Deneault
Impact of National Diet with Respect to Diabetes and Obesity
Karoline Gajewski, Jaxon Cooper, Emily Nicolich, Kristin Dunn
Mentor: Alyssia Miller De Rutté
Developmental Investigation Into Emotional Validation
Alyssa Wence
Mentor: Meredith Elzy
Emotion Regulation
Ashley Barall, Surumya Bhargava, Madelyn Sandone
Mentor: Sarah Orban
Vaping Influences and Perceptions Among College Students with Asthma
Briana Lipski, Rheese McNab, Isabella Carabio
Mentor: Mary Martinasek
An Exploration of Risky College Students' Behaviors in the Midst of the COVID-19 Pandemic
Rheese McNab
Mentor: Mary Martinasek
Short-term Event Influence on Mangrove Prevalence
Rebecca Riccardi, Clell Carnes
Mentor: Michael Slattery
Laws and Policies Surrounding Revenge Porn
Jacqueline Zogby
Mentor: Kathryn Branch
Carbazole Derivatives as Photocatalysts for the C-H Arylation of Furan
Kevin Ribeiro
Mentor: Ashley Longstreet
There's Something in the Water!
Magen Hoch, Olivia Guinther, Julia DeMatteo, Ngoc Le, Michelle Sydoruk, Richard Clark, Frederic Montz
Mentors: Kimberly Dobrinski and Michelle Crosby
Machine Learning in Medical Research: Classifying the Human Adenovirus
Breanna Arbanas
Mentor: Padmanabhan Mahadevan
Anatomy of an Isolated Population of Bahamian Seahorses: How Different are the Sweetings Pond Seahorses?
Taylor Tataris, Dimitra Theodosiadis
Mentors: Mason Meers and Heather Masonjones
---