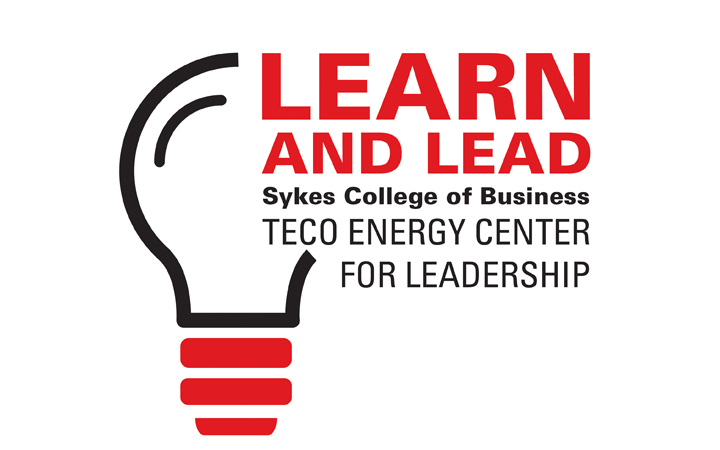 What can leaders do to navigate and steer businesses through the turbulent and uncharted waters of today's global pandemic? How can leaders capitalize on business opportunities and minimize the impact of the crisis through global, regional, local and workplace levels of analysis? What strategies can leaders use to attract and cultivate their top talent and customers when so many are only communicating electronically?
Cut through all the clutter in the popular business press and get to the heart of what's actually changing and not changing in business and management. This exclusive Learn and Lead Series, provided for free by the TECO Energy Center for Leadership at the Sykes College of Business, is facilitated by leading business faculty and professionals and is designed to help practicing managers sort through the confusion and focus on the real opportunities and threats facing their organizations.
Current session: Summer 2020 (select Wednesday afternoons)
July 22–Sept. 2, 2020
12 to 1 p.m.
Cost: Free
Online via Zoom – Each session requires a separate registration.
(Zoom meeting information will be sent for each session prior to session start date.)
For questions about this program, please contact Whitney Ortiz, coordinator of Sykes College of Business operations, wortiz@ut.edu or (813) 257-3782.
Program Overview
How can leaders create or maintain their company cultures, ensure their employees are engaged, mitigate cyber-loafing and keep communication lines open and frequent in a global pandemic? This session offers best practices with numerous examples from a variety of academic and practitioner sources to answer these questions. Participants will learn about the steps they can take to steer their organizations through the rough waters of uncertain times.
Facilitators: Bella Galperin, Ph.D., senior associate director of the TECO Energy Center for Leadership and dana professor of management; and Stephanie Thomason, Ph.D., associate director of the TECO Energy Center for Leadership and professor of management
Many new ways of working and interacting were borne out of the dual crises that affected society in the first half of 2020. Some of these will be passing fancies, but many more are likely to be retained as part of the next normal. In this session we will differentiate the novel workplace behaviors that will be temporary from those that will be sustained. And we will discuss the implications of each for organization leaders, from the perspective of employee engagement and psychological safety.
Facilitator: Gena Cox, Ph.D., industrial psychologist and lead researcher, Perceptyx, Inc.
How can I lead more effectively in a crisis? There are several things leaders can focus on to ensure they are leading with their best selves. This session will remind leaders how to both maintain and improve resilience for themselves and their teams and will provide practical tips for leaders to lead differently starting today, examining both physical and emotional resilience.
Facilitator: Deirdre Dixon, Ph.D., associate director of the TECO Energy Center for Leadership and assistant professor of management
How can I best coach my employees through these turbulent times? What do they need from me as their leader? Do I need coaching myself? This pandemic and the changing economic and social landscape affect us all in different ways. This session will cover best practices for coaching tips that leaders can employ to make a meaningful impact on their employees and their organizations today and moving forward.
Facilitator: Rod Buchen, CEO and senior executive coach of The Buchen Group
This session offers tips in disruptively listening to, learning from, and enhancing relationships with current and potential customers using best and next practices in Insight Selling and Digital Marketing.
Facilitator: Stacey Schetzsle, Ph.D., director of the Institute for Sales Excellence and associate professor of marketing; and Gary Beemer PCM, instructor of marketing
What will be the impact of COVID-19 on the financial risk and return of cyclical and defensive sectors within the economy? How will these factors change as the economy reopens or closes? Why has the technology sector outperformed the consumer discretionary sector over the last three months? This session will provide a sector-by-sector analysis of the unique challenges and opportunities each sector of the economy will face throughout the COVID-19 pandemic.
Facilitators: Lonnie Bryant, Ph.D., department chair and professor of finance; and Scott Miller, Ph.D., associate professor of finance
What will be the lasting economic effects of COVID-19? Will drastic fiscal spending measures of countries counter the economic impact of a deepening crisis? Which industries will prosper in a future post-pandemic economy? This session discusses the changing economic environment globally, nationally and locally.
Facilitator: Vivekanand Jayakumar, Ph.D., associate professor of economics
---