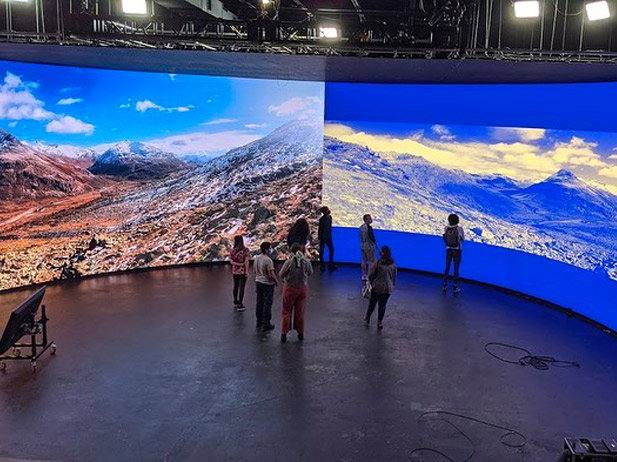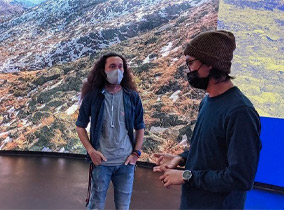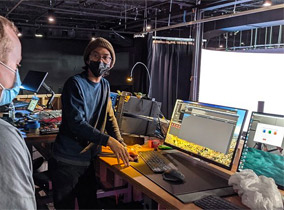 Overview
Students interested in gaining experience in the field may sign up for 1-4 college credits through FMX 374 Internships in FMX. For details on the process, please see the FMX Internship Guide below and contact Professor Dana Plays, the FMX internship coordinator, for more information and lists of potential openings, registration and internship forms.
Animation New Media and Game Design Internship Possibilities
Centaur Interactive
Haneke Design
TBA Games
Theory Studios
Film and Digital Production and Post Production
Blue Water Media
Diamond View Studios
ES Creative
Film Tampa Bay
FlyworX Leader in Aerial Imaging
Litewave Media
Mediagistic
Movie Groovy
New York Yankees@George M. Steinbrenner Field
Shooting Stars Post
Spectrum
Local Film and Arts Organizations
The Florida Museum of Photographic Arts
Tampa Bay Businesses for Culture and the Arts
Tampa Theater
Media Outlets
CTTV/Digital Media Production
TBAE Tampa Bay Arts & Education Network
WEDU: Public Television
FMX Internship Guide
Local, Regional, National and International Internships: Local internships may be taken year-round during the Fall or Spring semesters. Regional, national and international internships are available usually during the 12-week summer session. You may find your own internships or review the detailed list of current internship companies through the career center and contact the FMX Internship Coordinator, Professor Dana Plays for specialized FMX lists and registration information and internship forms.
Remote Internships and CDC Guidelines
Many of the companies in the field will work with interns remotely during this time of the COVID-19 pandemic and honor social distancing and CDC guidelines for any face-to-face work. Many jobs such as post-production editing and digital design work, including web design, animation and interactive media, are well suited for online remote work.
Requirements
UT students with sophomore standing and minimum 3.0 GPA are eligible for FMX 374 internships. There is no other restriction for UT students. However, if you are not an FMX major please note there may be internships within your department that credit to requirements within your major, or FMX 374 may count as a general elective toward your UT degree. FMX 374 counts as an elective within the BFA in Film and Media Arts, BFA in Animation and BFA in New Media. FMX 374 counts as a general elective for the B.A. in Film and Media Arts, and other degrees at the University.
Number of Credits Allowed
FMX 374 Internships may be taken for one to four credits, per experience, and may be taken for up to eight credits total, if repeated for credit. Per experience refers to the type of work you are doing and is not restricted to the company. For example: if you have an internship with Disney as a digital photographer for one semester for four credits, you may repeat an internship with this company again as a post-production specialist or animator.
College Credits and Pay for Work
Most students enthusiastically work for a company for college credits. Some companies also pay interns even if the student is earning college credits, as long as they follow practices under the Fair Labor Standards Act.
Number of Credits for Hours Worked
The number of credits to work hours calculates as a minimum, 40-hours per semester credit. Over a 15-week semester this credits as about three hours a week for one credit, six hours a week for two credits and nine hours a week for 12 credits. Internships may also be taken over a seven-week semester, and during summer sessions with recalculated hours based on the 40-credit hours per credit. Students may work more hours than the minimum if they wish to take internships for less credits. These are minimum hourly requirements – for example, students may register for two credits even if they plan to work more than six hours per week.
Tuition
Internships are absorbed within your allowed 18 credits under your semester tuition at no additional cost and may be taken as a four-credit course. If you are taking a 16-credit semester, there is no additional tuition required for a two-credit internship. However, if you exceed the 18 credits there is a per-credit fee. Check tuition guides to factor in those costs. Summer internships carry the same per-credit tuition as a regular course.
When to Register
Registration for internships may be completed during regular registration for the semester, no later than the end of the first three weeks of the fall and spring 15-week semesters. If that deadline is missed, you may register in the mid-semester for the 2nd seven-week term and still earn the same number of credits. Summer internships are taken for the summer 12-week session and registration may be completed during regular registration for the semester, no later than the first three days of the session.
How to Register
Once you have selected the company and have been offered the internship through a company, you will complete an internship agreement form signed by the faculty internship coordinator for the Department of Film, Animation and New Media, Professor Dana Plays.
Grading and Assignments
Internships are graded as satisfactory or unsatisfactory. You will write a one-page summary of your experience at the end, and your company supervisor will write a short statement to the internship coordinator about your performance. Grades will be submitted by the faculty internship supervisor.
The Department of Film, Animation and New Media offers Bachelor of Arts and Bachelor of Fine Arts programs in film and media arts, animation and new media, all accredited by the National Association of Schools of Art and Design (NASAD).
---