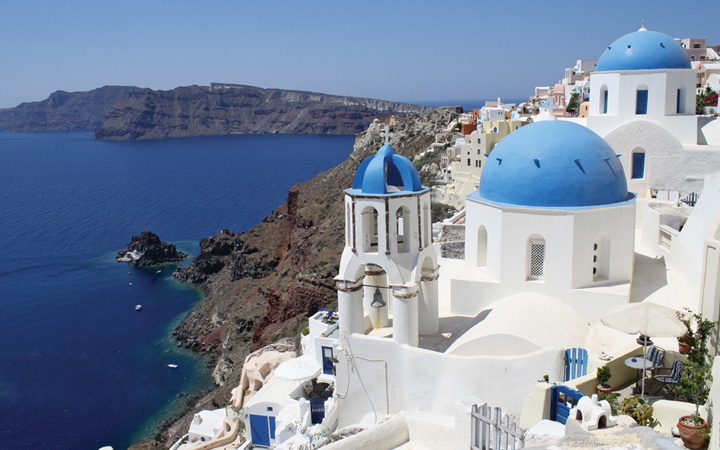 One of the best ways you can internationalize your education at The University of Tampa is by taking one of the University's travel courses. In order to participate, you must enrolll in an on-campus course with a travel component. After the on-campus portion of the class is completed or during spring break, you and your classmates take off, all while earning UT academic credit. Each course's travel component may last from seven days to four weeks and options vary slightly each year.
Where to Begin
Learn the basics of education abroad by visiting the
UT Study Abroad Portal
to read the
Steps to Study Abroad
, search education abroad programs and begin the UT education abroad application. You can attend an
Application Workshop
to learn more details about the application process, however this is only a mandatory requirement if you are applying for a summer, semester or academic year abroad.
Students may also visit the Office of International Programs to discuss opportunities with an education abroad advisor. Advisors are located in Plant Hall 300; appointment dates and times may vary due to office events, so please refer to the
current calendar
. Students may contact their
education abroad advisor
to schedule an appointment outside of appointment hours, if needed.
How to Apply
The application deadline for spring semester travel courses is Nov. 1. Please note that once courses reach full enrollment they will be closed. Students must first apply online through the UT Study Abroad Portal. Please note: instructor permission is required for some travel courses.
Students pay regular tuition for a 3-4 credit hour course in addition to the program fee, which varies according to the estimated length of stay and type of program.

Participants are required to register with the Office of International Programs by submitting an application, completing pre-departure instruction and enrolling in UT International Health Insurance.
UT Travel Course Offerings
Apply Now

Spring break travel courses are taught during spring semester, and the travel component takes place during spring break. Spring travel courses are taught in spring semester and can travel in January or after the spring semester concludes. All program information is subject to change.
January 2023

IBS 495 Topics in International Business: GUATEMALA AND EL SALVADOR
Explore the economics, commerce, financial institutions and business culture of El Salvador and Guatemala. Like many other Latin American countries, El Salvador and Guatemala are experiencing a growth of manufacturing and service industries, but with limited financial and regulatory institutions. These countries are rich in natural resources, but businesses and societies face numerous challenges. Visit a large manufacturing company, tour two environmental and eco-tourism businesses, speak with CEOs, presidents of business associations and other regulatory institutions, and complete a community project, so you can experience and understand life, culture and business environments in Guatemala and El Salvador.
IBS 492/MGT692 - PATAGONIA (ARGENTINA)
There are only a few places on Earth where the word marvel is appropriate to describe the literal experience one may have. Chile and Argentina's Patagonia region at "the end of the world" is one such place. A living landscape painting yielding natural wonders such as coastal fjords with dazzling views of icebergs, glacial lakes and forests, the grandeur of soaring, snow-capped mountain peaks, and of course, penguins! During this study abroad course in January 2023, we will explore the Patagonia region while encountering some of the key business and conservation issues of the region. We will have the opportunity to hear directly from influential authors, business leaders and policymakers about activities and connections that affect the future of this marvelous part of the world.
Nursing Travel Abroad Experience – PERU
This course (Clinical Hours for Travel Abroad Cusco, Peru 2023) is open to undergraduate nursing students to visit health care facilities and work with the Indigenous people of Peru. Students will apply community health promotion/ disease prevention concepts in a transcultural environment. Visit both city and rural areas of Peru; take part in guided tours covering history, culture and health care trends; spend days in the community of rural Cusco, as well as the rural community of Sacred Valley and learn the daily rhythms of Peruvian village life while implementing student and community designed health care-focused projects. As a community health practicum, the service-learning component includes opportunities to practice concepts of health promotion/disease prevention through community education and outreach activities. Students will also learn about traditional Peruvian healing practices.
March 2023
ATT 301 Global Perspectives in Athletic Training and Therapy — IRELAND
Are you an allied health, athletic training or human performance major? Would you like to take a study abroad course and travel to Ireland during Spring Break 2023? If yes, this is the course for you. We will study the delivery of health care in Ireland with an emphasis on athletic therapy and physiotherapy in sport and the interaction with sport performance science. The travel component of the course will include interactive tours covering the history and culture of Ireland and how it influenced the development of sport and sports medicine in the country. Students will participate in scholarly lectures and practical experiences with students and faculty of host institutions or organizations.
COM 212 — TULUM, MEXICO
This faculty-led travel course takes students abroad to co-create short documentary films with local changemakers: non-profit organizations, social justice entrepreneurs, and innovative non-governmental organizations solving problems in their own communities. Since students are trained in filmmaking during the first seven weeks of the course and have translators on site, there are no production or language prerequisites for this course. The students plan, shoot, and edit the films to help promote their chosen changemaker's particular social justice cause/mission. Travel to Mexico over Spring Break to shoot all the necessary footage for your films. When not planning, shooting, or editing, engage with local history and culture in order to gain a deeper understanding and appreciation of the local Maya communities who are the most direct beneficiaries of Amigos de Sian Ka'an's dual mission of preserving local ecosystems through green economic policies based on sound scientific research. These activities include visits to the Maya Museum, Maya ruins, the Mystika Museum, eco-tourism destinations, and classes in Spanish and Maya languages, cuisine, and dance through the Na'atik Language and Culture Institute. At the end of Spring Break, students return to the University of Tampa to spend the second seven weeks editing their films, sending cuts to Amigos de Sian Ka'an for feedback, before completing the final films by the end of the semester.
May 2023
ART 201, ART 324, ITA 101, SPE 208 — FLORENCE
Our new UT Summer in Florence program in Italy for Summer Session I, 2023!
This six-week program is designed to provide interdisciplinary and experiential hands-on learning and will immerse students in the vibrant culture of Florence in its historical and contemporary contexts. Learn to understand contrasting views through active exploration of issues in the classroom and through interactive application of theory and practice outside the classroom in the beautiful cities of Florence, Siena, San Gimignano and Rome.
Choose from two UT courses, taught by UT professors, that will count toward your general education curriculum:
ART 201 Introduction to Painting: Imagine six weeks where you will live and breathe the art of Florence, the birthplace of the Renaissance, and enjoy its lively social life, fashion, and exquisite cuisine. Through this course, students experience first-hand the art and culture of Florence, not only through visits to cultural institutions such as museums and libraries but also through a program of total immersion in the life of Florence, a city where life and art are inseparable.
ART 324 Greco-Roman, Medieval and Renaissance Art: Antiquity and Its Legacies in Florence: Study in Florence and leverage Florence's unparalleled artistic heritage to study first-hand the rise, fall, and rebirth of naturalism in Western art from the Greco-Roman through Renaissance periods according to this course's established thematic approach. As a direct complement to classroom instruction, museum collections in Florence, Rome, and nearby sites serve as "laboratory" environments for the direct study of relevant primary evidence.
SPE 208 Speech for Business and the Professions: Italy in the Euro/World Economy: This course will expand the best practices for communication, management, business, and presentational speaking through a global lens. Italy is the third-largest economy in the eurozone and is considered Europe's second-largest manufacturing economy. This course will explore various subjects such as product exportation, finance, wealth, social media, tourism, big tech and workplace culture.
Included in the program fee:
Airport arrival transfer and orientation
Accommodations (includes 100 Euros/student for utilities)
Florence bus pass for the duration of the program
Day trip to Bologna
Day trip to Siena
3 days/2 night excursion to Rome
Florence museum passes
Tickets to cultural events/guided walking tours/lectures
BIO 205 — ECUADOR (AMAZON, ANDES, GALAPAGOS ISLANDS)
Study and understand the unique aspects of tropical biology and the evolution of the unusual biodiversity characteristic of the tropics, including rainforest ecology, tropical ecosystem functionality; learn to identify and understand the human impact on the tropics. Examine conservation efforts underway in the neotropics; Stay aboard a small tourist class yacht in the Galapagos Islands and visit Baltra, Santa Cruz, Isabela, and Rabida Islands; Travel to the Amazon basin to explore lowland tropical habitats, jungle habitats, and forests. Visit the Andes Mountains and the Cotopaxi volcano region to learn about the a-biological variables that affect the distribution of plants and animals. Experience firsthand the tropical cloud forest in the Mindo region which serves as a model for the rest of the world with its unusual approaches to conservation and sustainability.
CRM 248 — AMSTERDAM
The course is designed to help students to better understand the criminal justice systems in the United States and the Netherlands. We will broadly examine the bases for such differences, including philosophical and cultural foundations, as well as the implications. We will focus on how these differences affect victim services and victim experiences. Our tours and guided activities will acquaint students with the ways in which the criminal justice system work operates in the Netherlands, as well as differences in approaches to victims. Class time will examine the criminal justice systems of both countries. Students will learn to examine the consequences of fundamental differences in the two criminal justice systems through discussions with practitioners, victims and service providers. Due to the nature of the course material, acceptance into this program requires a face-to-face interview and faculty approval.

ENS 122 — FIJI
Sustainability matters for every person on planet Earth. As the human population and the global economy grows, finding sustainable ways to utilize natural resources becomes increasingly vital. This course examines how humans utilize resources in a variety of subject areas and how resources are or could be consumed in a sustainable manner. Topics covered include energy production, agriculture, harvesting, transportation, biodiversity and ecological services. These subjects will be discussed from social, cultural, political, ecological and economic perspectives with an emphasis on comparative sustainability between different locations on the planet. Fiji, known for its friendly people and breathtaking tropical scenery, serves as an excellent location for studying international issues in sustainability.
ENT 492 — ISRAEL AND JORDAN
Israel and Jordan have sights that range from striking landscapes to Biblical ruins to Crusader fortresses to World War II memorials to cosmopolitan cities. People here embrace the present but can never forget the past. The Holy Land is sacred to many ancient religions and Tel Aviv is a fun-loving city at the innovative heart of Israel. Israel has more museums per capita than any other country (including one underwater!) and more trees today than it had 50 years ago. Jordan is home to more than 100,000 archaeological and religious sites including Petra, the Dead Sea and Wadi Rum. We will explore all the region has to offer during this course, including its friendly people, historical sites and modern marvels. The entrepreneurial ecosystem in the region has fostered the highest density of technology startup companies in the world and we will dive deeply into a better understanding of how this area creates such fertile conditions for entrepreneurial activity.
HSC 401 — THAILAND
Travel to the beautiful city of Chiang Mai, Thailand. We will visit the city's most important temples and markets, while learning about and applying community health promotion and disease prevention concepts. The travel component of the course will include two weeks in Thailand with guided interactive tours covering the history, culture, healthcare and public health trends of the country. In addition, students will visit the local humane Elephant Sanctuary to learn about Thailand's elephant population, experience Thai cooking classes to learn about the cuisine and nutrition of the region, go hiking to visit hill-top villages and have two free days for exploration and play. As a community health practicum, the service learning component will be held in the Doi Suthep-Pui National Park in a small hill-tribe village in the mountains. This experience will provide the students with opportunities to practice concepts of health promotion/disease prevention through community education activities.
PSC 285 — GHANA
Ghana is called "Africa for beginners" because of its peaceful history, English-speaking population and traveler-friendly infrastructure. It is a destination popular to those simply curious about Africa and those who want to spend years abroad as a volunteer, aid worker, international businessperson or Foreign Service officer. This travel course to Ghana focuses on the politics of the environment in one country, but in a manner that has broad applicability across the developing world. We visit a fishing community in the bustling capital city where fishermen and fishmongers struggle with decreased livelihoods due to international competition and pollution. We stay in a farming community in the far north where seasonal rains are becoming more unpredictable than they used to be and millet crops are suffering. We visit two national parks to look at flora and fauna, one thriving and the other struggling. We do a tree planting exercise, work with market women on upcycling and contribute to a wildlife monitoring program. This course is open to all majors. The only prerequisite is curiosity and interest. If these sound like sights you would like to see and experiences you would like to have, you are welcome.
June 2023
MGT 330 — MADRID, SPAIN
Why Spain? Discover the importance of learning and understanding culture with a rich history and vibrant business community. Many large, international organizations are in Madrid and students will have the opportunity to meet with four companies during the two-week program, with each visit aligning with one of the four functions of management. See first-hand how business environments differ from experiences in the U.S. while at the same time witnessing certain business functions in a real-world setting. The U.S. is an individualistic country, while Spain is collectivist, meaning there is a stark contrast in the focus on groups vs. individuals, which will bring to life concepts that we discuss related to groups, teams and decision making (i.e. planning function). There are also stark differences in human resources processes that you will see firsthand when visiting with a Spanish company and learning about the organizing function. Part of Spain's rich history includes a strong Arabic and Jewish influence in the culture, food and architecture up to the 1400s, despite the country being predominantly Catholic/Christian today. In addition to the country's rich culture, the various Spanish regions bring their own unique personalities to the country. While this program will primarily remain in Central Spain, it is a hub for the rest of the country and creates an atmosphere and personality that is uniquely European, Spanish and Madrileno

July 2023
BIO 401A — LONDON
The nature and biodiversity of the United Kingdom were on display throughout Charles Darwin's youth, stimulating the obsession that would eventually give rise to the single most important discovery in biology. "On the Origin of Species: Darwin's London" is a spring semester course with a Summer II study abroad program to London. It places you in many of the same surroundings that inspired Darwin to pursue his passion for biology which led to the discovery of evolution by natural selection, changing the world forever! In London, we will visit iconic and eminent institutions that helped set Darwin on the path to discovery and continue their discoveries to this day. With visits to the Zoological Society of London, London's Museum of Natural History, Kew Royal Botanical Gardens, Charles Darwin's home and more, we will learn about topics ranging from natural selection and evolution to paleontology, the history of biology and the vertebrate diversity of the U.K. Students will become immersed in British culture and learn how Victorian society promoted scientific discovery, and how some of those values continue today.
August 2023
NUR 422 — DOMINICAN REPUBLIC
This course is open to undergraduate and graduate nursing students to visit and work with indigenous people in the Dominican Republic. Students will also apply community health promotion/ disease prevention concepts in a transcultural environment. On our trip, we will visit the bustling capital of the Dominican Republic, Santo Domingo. We will take part in a self-guided tour covering the history, culture and health care trends of Old Town. Most of the trip is comprised of five days spent in the community of San Juan de la Maguana, as well as the surrounding rural communities. Here, students attune themselves to the daily rhythms of village life while implementing student and community-designed health and healthcare-focused projects. As a community health practicum, the service-learning component includes opportunities to practice concepts of health promotion/disease prevention through community education and outreach activities. Although students will earn clinical hours, no academic credit is earned during the program.

Note: Graduating seniors may enroll in a spring travel course; however, degrees and diplomas will be delayed until the end of the semester during which the grade is submitted, usually the August degree conferral date. Please contact International Programs for more information about travel courses and graduation.
---