UT Signature Program: Monteverde, Costa Rica
The 2021 program is suspended due to COVID-19.
The Spartan Academy Abroad* offers a unique opportunity for incoming UT freshmen to participate in a study abroad opportunity that offers great personal and academic gains. UT has partnered with Costa Rica's renowned Monteverde Institute to offer a multidisciplinary international program with courses that focus on environmental politics, conservation, sustainability and biology.
Led by UT professors from the biology and political science departments, students will learn through a combination of lectures, discussions with local groups and observational studies. In the wake of the U.N. Climate Change Conference and landmark Paris Agreement, students will gain real-world experience in the issues surrounding climate change and sustainability.
Get ahead in your coursework with eight credit hours (social science and biological science credit)
Boost your résumé with real-world learning and research
Gain international contacts for jobs and graduate programs
Application Process
Each spring, an invitation to apply will be sent to eligible students. An interview process will follow to select participants for the Spartan Academy Abroad. Eligible students are those that have been accepted to The University of Tampa for the fall semester and have maintained a 3.75 GPA or higher during their high school years.
Course Credit
Students will earn eight credit hours toward the Baccalaureate Experience core curriculum requirement. The two courses are:
ENS 112T-TR Environmental Science
PSC 285T-TR Environmental Politics
Earning these credits will create additional room in their four-year schedule, providing the possibility of earning an additional major, completing an internship or even graduating early.
As a participant in an international education program, students will be provided with information regarding UT's Certificate of International Studies, a valuable enhancement to any degree.
Cost
Students participating in the Spartan Academy Abroad program will be awarded a scholarship to cover the registration fee and tuition for the eight credits that they will be receiving for the coursework completed through the program.
A program fee of $5,500 will be required to cover travel expenses and excursions during the experience. Travel expenses include airfare, meals and lodging. Incidentals such as toiletries and needed clothing items are not included.
*Please note: The Spartan Academy Abroad is a rigorous, hands-on program that involves site work on the ground. We ask that you make sure you are capable of taking on the demands of this type of program when you are considering your application.
Contact
Have questions specific to admissions? Email admissions@ut.edu or call (813) 253-6211.
Have questions specific to Spartans Academy Abroad in Costa Rica? Email abroad@ut.edu or call (813) 258-7433.
---
---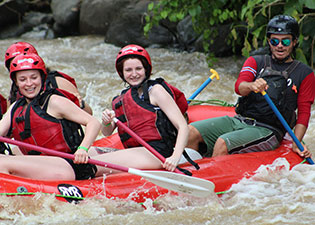 Before the group of 19 first-year students even made it to orientation, they were caving, whitewater rafting and studying Costa Rica's water policy and the health of its water systems.
First Semester Starts Abroad