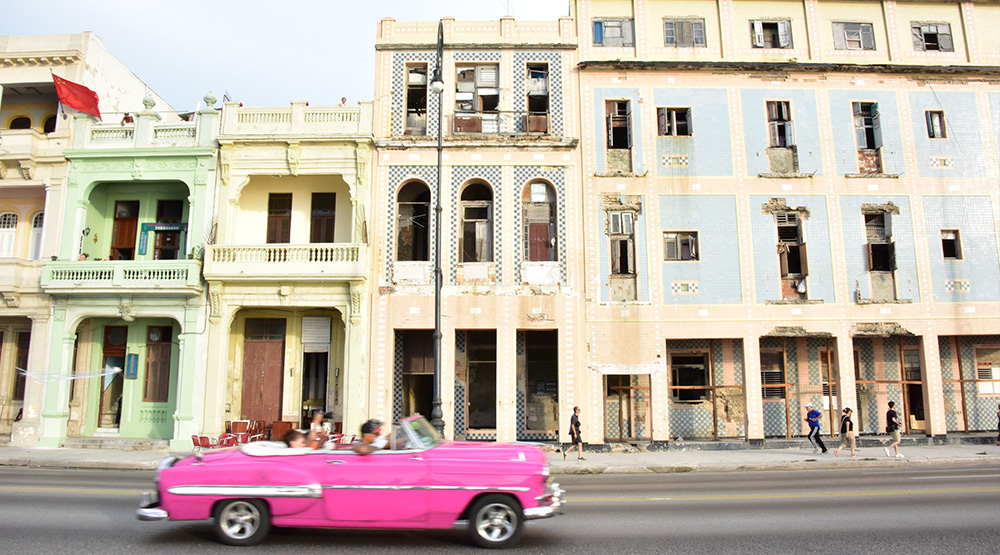 (Program is currently suspended due to COVID-19.)
UT Signature Program: Havana, Cuba
January 2022

Through UT's Signature Abroad Program, Spartans are invited to spend two weeks during January 2022 studying in Havana, Cuba. UT has partnered with Cuba's renowned Center for Psychological and Sociological Research (CIPS) to offer two uniquely paired UT travel courses taught and led by UT professors James López and Denis Rey. Students will learn through academic inquiry, exploration and experience. A series of lectures, performances and meetings with prominent Cuban scholars will introduce students to local culture, history, politics, economics and language.
The program highlights the developments, past and present, that define Cuba-U.S. relations. The academic program will have a strong emphasis on the historical importance of José Martí, Cuba's most prominent political and literary writer. Special attention will be given to Martí 's writings while in exile to the U.S., with special focus on his visits to the Tampa area. Students will learn about the conditions that led to Fidel Castro's revolutionary movement and the deterioration of the relationship between the two countries that culminated with the U.S. embargo. Students will study how the animosity intensified during the Cold War and post-Cold War periods, and consider how the relationship will evolve when the Castro years come to an end.
UT Courses and Instructors
While enrolled in two UT courses, students will earn eight credit hours toward the Baccalaureate Experience core curriculum. As a UT sponsored travel course, all credits and grades earned will be added to your official UT transcript.
SPT 265: Revolutionary Cuba: The Politics of Culture and the Culture of Politics (4)
James López, Professor, Spanish, Language and Linguistics
PSC 353: Cuba and the U.S.: Then and Now (4)
Denis Rey, Associate Professor, Political Science
Program Fee
Eligible students are awarded a UT Signature Abroad Scholarship applied towards tuition. The $5,500 program fee covers housing, most meals, cultural excursions, day-to-day support services, international health insurance and roundtrip airfare from Tampa to Havana.
Travel Dates
January 2022
Students will be immersed in the local culture, gaining a valuable international perspective that will shape the rest of their experience at UT, and beyond!
Financial Aid
Should students need to seek financial aid to cover the cost of this program, they should meet with a Financial Aid counselor to determine how financial aid can be applied. In most cases, students can apply Federal Student Aid and Bright Futures Scholarships to education abroad experiences. Financial Aid that typically transfers may include: the Pell Grant, Effective Access to Student Education (EASE), Stafford Subsidized or Unsubsidized loans, and Parent PLUS loans. Scholarships specific to UT do not transfer towards education abroad; these include all UT merit scholarships, departmental scholarships and the UT Need Based Grant. However, the UT Signature Program Abroad scholarships and IPO Education Abroad Scholarships are applicable to study abroad programs.
Passport and Visa
All participants must have a passport valid through July 2022. Visa applications will be submitted mid-October.
Contact
Questions? Email abroad@ut.edu or call (813) 258-7431.
---