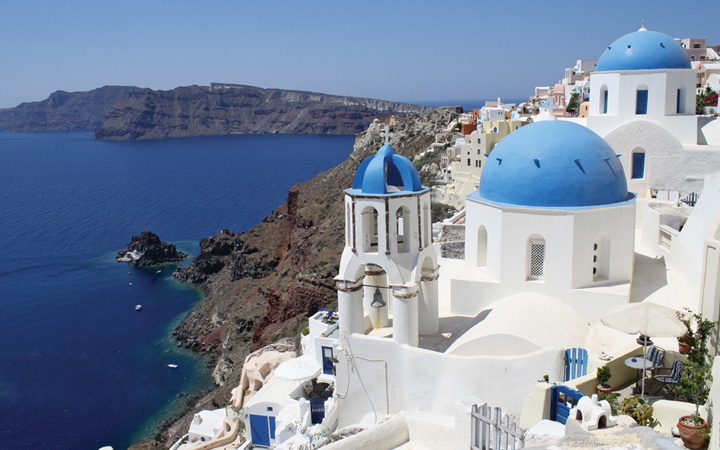 One of the best ways students internationalize their education at The University of Tampa is by taking one of the University's faculty-led programs. In order to participate, students must enroll in an on-campus course with a travel component. After the on-campus portion of the class is completed or during spring break, the students take off, all while earning UT academic credit. Each program's travel component may last from seven days to four weeks and options vary slightly each year.
Where to Begin
Visit the UT Study Abroad Portal and explore the program offerings. To only see the Faculty-Led program offerings on the portal filter by Program Type = Faculty-Led and Internal/ Authorized = Internal.

Students may also contact the International Programs coordinator, Barbara Prucha, to discuss faculty-led program opportunities.
How to Apply
The application deadline for spring semester faculty-led programs is Nov. 1. Please note that once programs reach full enrollment they will be closed. Students must first apply online through the UT Study Abroad Portal. Please note: Instructor permission is required for some faculty-led programs. Students pay regular tuition for a 3-4 credit hour course in addition to the program fee, which varies according to the estimated length of stay and type of program.
Participants are required to register with the Office of International Programs by submitting an application and completing pre-departure instructions.
UT Faculty-Led Program Offerings
Spring break faculty-led programs are taught during the spring semester, and the travel component takes place during spring break. Spring faculty-led programs are taught in the spring semester and can travel in January or after the spring semester concludes. All program information is subject to change. Costs and applications will be available this summer.
JANUARY 2024
These courses and travel take place during January Term, except where noted. The group flight is from Tampa to Tampa so students must plan accordingly.
BUS 101: Introduction to Global Business – Dubai/Abu Dhabi (S. Dieringer/K. Weaver)
Want to ride a camel, visit a traditional spice market, and see the view from the tallest building in the world, while gaining new perspectives on the ethics, norms, entrepreneurship, culture, and communication styles in a very unique and exciting part of the world? This travel course provides the opportunity to experience real-world, international business functions and applications all while earning BUS 101 course credits. Dubai is a major hub for international trade with a diverse economy including shipping, finance and tourism. The Dubai of today has risen from the desert to become a cultural and tourism hotspot. Dubai is a melting pot of different cultures welcoming all nationalities and religions, making it the perfect destination for a student visit. Join us for a travel course to Dubai in January 2024 and get credit for a core business course!
NUR 422L Community Health, experiential hours– PERU (R. White/R. Delacroix)
This course is open to undergraduate nursing students to visit healthcare facilities and work with the Indigenous people of Peru. Students will apply community health promotion/ disease prevention concepts in a transcultural environment. Visit both city and rural areas of Peru; take part in guided tours covering history, culture, and health care trends; spend days in the community of rural Cusco, as well as the rural community of Sacred Valley and learn the daily rhythms of Peruvian village life while implementing student and community designed healthcare-focused projects. As a community health practicum, the service-learning component includes opportunities to practice concepts of health promotion/disease prevention through community education and outreach activities. Students will also learn about traditional Peruvian healing practices.
SPRING BREAK 2024
These are spring semester courses with travel over spring break.
ATT 301: Global Perspectives in Athletic Therapy and Sport Performance – IRELAND
(JC Andersen/J. Weiner) ATT 301 and SPM 399 are joint programs to Ireland.
This is a travel abroad course that requires travel to selected destinations to study the delivery of athletic therapy and sport science services to teams and individuals. Students travel to these destinations to learn about the role of athletic therapy and sport science in the broader sports performance and healthcare systems. The travel component of the course will include interactive tours covering the history, culture, and athletic therapy and sport science trends of the country(ies) visited. Students will participate in class(es), scholarly lectures, and practical experiences with students and faculty of host institutions or organizations.
SPM 399: Global Sport Management – IRELAND (J. Weiner/ JC Andersen) SPM 399 and ATT 301 are joint programs to Ireland and fulfills the required international elective.
Sport serves as a global language bridging many cultural, social, and political barriers. As an industry, sport accounts for about 5% of the worldwide economy. This is a travel course that will provide students with an experiential learning experience in the global marketplace. This course examines strategic, operational, cultural and technological factors to prepare future business leaders for success in the competitive sport marketplace. The course can be substituted for SPM 375 History of Modern Olympics or SPM 374 International Sport Management.
COM 227: Media in the Americas – PUERTO RICO (C. Boulton/E. Fernandez)
From its Taino/Spanish/African heritage and problematic U.S."territory" status to its outsized pop culture impact through artists like Bad Bunny and its ongoing debt crisis and crumbling infrastructure, Puerto Rico has a complex history and intriguing present. This course takes you to San Juan, the country's economic and cultural center, to explore how Puerto Ricans are using both legacy and emerging media technologies to tell their own stories.
Spend the first seven weeks preparing with relevant readings, screenings, and presentations. Then, over Spring Break, travel to Puerto Rico to tour murals, meet independent producers, visit television and radio studios, and engage with Puerto Rican media professionals, educators, and students while researching media oral histories, uploading blog assignments, and embarking on ecological excursions.


SPE 208: Speech for Business – Morocco (K. Foltz)
This course is intended to introduce students to communication, business communication, and other issues commonly encountered in business and professional situations, particularly in foreign cultures. To prepare students for communicating and conducting business in a non-western culture, students will learn about the history of Morocco while analyzing the social issues that this country faces in the 21st century. Additionally, this course focuses on fundamental communication and stylistic differences between Western and non-Western cultures, including non-verbal and verbal communication, high vs. low context cultures, and generally how cultural differences can impact business and relations. At the same time, we hear directly from entrepreneurs, innovators, and economic experts about how Morocco is poised to act as an essential gateway to the African continent. While anyone could benefit from such a course, this academic endeavor may be of particular interest to those currently studying communication, journalism, business, international business, consulting, public relations, interested in social media, or anyone with aspirations to enroll in advanced-level public speaking and communication courses. Students will develop advanced public speaking skills through professional presentations and class activities before departure.
MAY 2024
These are spring semester courses with travel in May after the semester ends. The group flight is from Tampa to Tampa so students must plan accordingly.
CRM 248: – Argentina (G. Paez/T. Hart)
This course is designed to expose students to critical criminal justice themes in a Latin American context and to help students better understand the criminal justice systems in the United States and Argentina. Students will examine the three components of the criminal justice system (which include law enforcement, courts, and corrections) through personal observation of various agencies within the system of Argentina, as well as through personal interaction with selected agency personnel. Tours and guided activities will acquaint students with the ways in which the criminal justice system operates in Argentina.
ENS 122: Global Sustainability – Iceland (D. Huber)
Sustainability matters for every person on the planet. As the human population and the global economy grow, finding sustainable ways to utilize natural resources becomes increasingly vital. This course examines how humans utilize resources in a variety of subject areas and how resources are or could be consumed in a sustainable manner. Topics covered include energy, land, and water use, agriculture, biodiversity and ecological services, natural resource management, and corporate sustainability. These subjects will be discussed from environmental, social, political, and economic perspectives with an emphasis on comparative sustainability between different locations on the planet. Iceland, known for its dramatic landscapes and world-leading innovations in energy efficiency and renewable energy, serves as an excellent location for studying international issues in sustainability.
ENT 492: Learning by Travel: International/Social Entrepreneurship – Ghana (T. Pittz/K. Fridy) ENT 492 and PSC 282 are joint programs to Ghana.
This course is designed to give students an opportunity to develop personal familiarity with the macro and micro economic conditions, development concerns, and some of the environmental issues of entrepreneurs and small business owners operating in Ghana. Beyond the social and cultural dimensions that the residency explores, the course will focus on developing an increased understanding of global markets, competition, social innovation, and business opportunities. By providing the group with opportunities to hear directly from Ghanaian entrepreneurs and academic authorities, the residency will build on the foundations developed during the UT undergraduate program.
PSC 282: Community-based Development – Ghana (K. Fridy/T. Pittz) PSC 282 and ENT 492 are joint programs to Ghana.
Through class readings, films, discussions and a travel component, this course focuses on development as part of an academic discourse and as a specific underlying assumption behind applied service projects and, more generally, behind social entrepreneurship efforts. Students will begin by questioning what development is, who defines it, and explore who benefits from it. As they consider development in the African context, students will learn to adapt an entrepreneurial mindset that centers around lived experiences, combines creativity with market intelligence, embraces risk and failure, considers measurable impact and sustainability, and adopts a bold vision for the future. The culminating experience is a shared project between students and residents of the poor and rural villages of Nabdam, Ghana, where they will work together to spark sustainable development. Ghana is called "Africa for beginners" because of its peaceful history, English-speaking population, and traveler-friendly infrastructure. It is a destination popular to those simply curious about Africa and those who want to spend years abroad as a volunteer, aid worker, international businessperson, or Foreign Service officer. On our trip we visit the bustling capital of Accra where you will homestay with families along the coast and Damongo where we will explore ecotourism and hopefully see a few elephants. For most, the highlight of our trip is the week spent in rural farming communities of Nabdam where students attune themselves to the daily rhythms of village life while implementing student and community-designed development projects. Your life will be changed as you learn about the struggles of the world's poor and how to responsibly help your fellow human.
HSC 401T: Interprofessional Global Health – Thailand/Vietnam (R. Olsen)
Travel to the beautiful city of Chiang Mai, Thailand. Visit the city's most important temples and markets, while learning about and applying community health promotion and disease prevention concepts. The travel component of the course will include two weeks in Thailand and Vietnam with guided interactive tours covering the history, culture, healthcare and public health trends of both countries. In addition, students will visit the local humane Elephant Sanctuary to learn about Thailand's elephant population, experience Thai cooking classes to learn about the cuisine and nutrition of the region, go hiking to visit hill-top villages and have time for exploration. As a community health practicum, the service-learning component will be held in the Doi Suthep-Pui National Park in a small hill-tribe village in the mountains of Thailand and the National Institute of Hematology and Blood Transfusion and the National Hospital of Traditional Medicine in Hanoi, Vietnam. These experiences will provide students with opportunities to practice concepts of health promotion/disease prevention and giving through community education activities.
MAR 344: Coral Reefs Lab – Honduras (M. Middlebrooks)
Coral reefs are the most diverse marine habitat on the planet. In this course, students will examine coral reef ecosystems, including their biology, ecology, chemical and physical characteristics, and the impact of global climate change on this ecosystem. The course requires scuba diving I and international travel to visit a coral reef ecosystem.
The travel component of this course is designed to take the information that students learned in the classroom and apply it in the field. Students will travel to the Roatan Institute of Marine Science in Honduras to study coral reefs first-hand via scuba diving. This immersive course will cover three main components while in Honduras: 1) Learning to identify the organisms living on the coral reef 2) Coral reef management and restoration 3) A short research project where students will design their own research, collect data underwater, and present the results of their study.
MGT 330: Principles of Management – Madrid (A. Salaiz)
Why Spain: Discover the importance of learning and understanding a culture with a rich history and vibrant business community. Many large, international organizations are in Madrid and students will have the opportunity to meet with four companies during the two-week program, with each visit aligning with one of the four functions of management. See first-hand how business environments differ from experiences in the U.S. while at the same time witnessing certain business functions in a real-world setting. The U.S. is an individualistic country, while Spain is collectivist, meaning there is a stark contrast in the focus on groups vs. individuals, which will bring to life concepts that we discuss related to groups, teams and decision making (i.e. planning function). There are also stark differences in human resources processes that you will see firsthand when visiting with a Spanish company and learning about the organizing function. Part of Spain's rich history includes a strong Arabic and Jewish influence in the culture, food and architecture up to the 1400s, despite the country being predominantly Catholic/Christian today. In addition to the country's rich culture, the various Spanish regions bring their own unique personalities to the country. While this program will primarily remain in Central Spain, it is a hub for the rest of the country and creates an atmosphere and personality that is uniquely European, Spanish, and Madrileno.
NUR Experiential – Costa Rica (T. Pedroff)
This course is open to undergraduate nursing students who wish to learn about the Latin American culture as well as the health care system and major health issues of the population. Students travel to Costa Rica to apply community health promotion and disease prevention concepts in a transcultural environment. This 10-day faculty-led experiential travel experience includes guided tours covering the culture and history of the country. Three days are spent in the urban center of San Jose exploring the differences between public and private healthcare. The next week is spent in the rural/rainforest areas of Monteverde as an immersion homestay experience. Here, students can interact closely with the local people in the region. This is a community health practicum including patient care, health promotion, disease prevention, and community education activities (Clinical hours awarded for Community Health Course).
SUMMER SESSION I
(1)
HON 255/255A: Global Gateway: Intercultural Competence in Italy – Italy (V. Rukholm)
June 16-29, 2024
The group flight is from Tampa to Tampa so students must plan accordingly.
How should you greet an Italian the first time you meet? What do Italian hand gestures mean? What does it mean to 'be Italian' today? In this Honors travel course to Italy, we will focus on an examination of the complex issues related to navigating cultural differences. Students will learn about the theories underpinning the field of intercultural competence and will develop and practice strategies that support successful interactions in situations of cultural difference. This course focuses specifically on intercultural communication (verbal and nonverbal), cultural value patterns, and cultural identity/bias as pertains to Italy, giving students the opportunity to explore cultural differences between Italy and the United States. The course begins with a seven-week on-campus component and culminates in a two-week travel component to Italy where students will put their intercultural competence skills to direct practice while interacting with culturally relevant sites such as a sustainable farm, local food producers, museums, and a refugee center among others.
AUGUST 2024
NUR 422L: Community Health – Dominican Republic (R. White)
Aug. 10-17, 2024
The group flight is from Tampa to Tampa so students must plan accordingly.
This course is open to undergraduate and graduate nursing students to visit and work with indigenous people in the Dominican Republic. Students will also apply community health promotion/ disease prevention concepts in a transcultural environment. On our trip, we will visit the bustling capital of the Dominican Republic, Santo Domingo. We will take part in a self-guided tour covering the history, culture, and healthcare trends of Old Town. Most of the trip is comprised of five days spent in the community of San Juan de la Maguana, as well as the rural communities surrounding. Here, students attune themselves to the daily rhythms of village life while implementing student and community-designed health and healthcare-focused projects. As a community health practicum, the service-learning component includes opportunities to practice concepts of health promotion/disease prevention through community education and outreach activities. Although students will earn clinical hours, no academic credit is earned during the program.
Note: Graduating seniors may enroll in a spring travel course; however, degrees and diplomas will be delayed until the end of the semester during which the grade is submitted, usually the August degree conferral date. Please contact International Programs for more information about travel courses and graduation.
---