Published: January 13, 2020
The Marketing Maven
SPARTAN SPOTLIGHT
Amber Osborne '08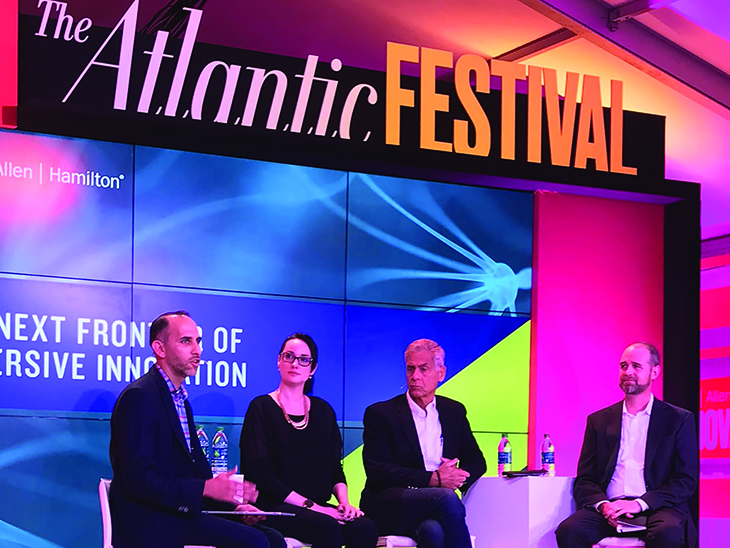 Amber Osborne '08, second from left, was named by Forbes magazine as the No. 2 Most Influential Chief Marketing Officer (CMO) on Social Media.
To say that Amber Osborne '08 is digitally savvy is an understatement.
Forbes magazine named her the No. 2 Most Influential Chief Marketing Officer (CMO) on Social Media. Social Media Marketing magazine called her one of the Top 100 CMOs on Twitter. She received the title of "Best of the Bay Twitter Personality" from the Tampa Bay alt weekly Creative Loafing. And she's been asked to speak on panels at South by Southwest and The Atlantic Festival.
Osborne, who loves to change her hairstyle every few months and sometimes dyes her locks blue, first got attention by blogging. Today, she's active on almost every social media platform, but Twitter — just look at her 42,000 followers — is where she shines.
On Twitter, she goes by "Miss Destructo," the name of her personal brand and her consulting agency, which she's been running for 10 years. "(The name) was all about destroying stereotypes in business. As a young woman who had different-colored hair and had a different way of doing business, I wanted other people out there who were trying to do the same thing to have someone to look up to and to get advice from," says Osborne.
Her Twitter skills, in fact, helped her land her first job. She tweeted about eating out of a can of Bruce's Yams and the post got so much attention that Bruce's Yams hired her to be their social media marketing manager. Over the years, she has worked with companies such as IndyCar, Audi, Adobe, Lenovo and the Tampa Bay Lightning. She has also co-founded a digital marketing agency called Head of Lettuce Media and an A.I.-based social media marketing platform, Meshfire. This past October, she left Doghead Simulations, a virtual reality company, and is hunting for an exciting new project.
Osborne lives in Seattle with her husband Raphael, who works for Tesla. "We're a little bit of a disruptive tech family," she says. She travels across the country to her hometown of New Port Richey, FL, to visit her dad as much as possible (she lost her mom to cancer at age 8).
She thinks fondly of her time in Florida. At UT, she did a marketing internship with Dining Services and credits her bachelor's in communication with helping her excel in her field. "That program allowed me to connect with different creatives through my professors, because a lot of them worked in different industries — broadcasting, graphic design, you name it. I got to see what their worlds were like, and it gave me inspiration to figure out what mine would look like," she says.
By Jane Bianchi, Writer/Editor
---