Published: April 14, 2022
From Alpha to Omega
The secret reason UT fraternities and sororities prepare students well for the workplace
By Cheryl Lock


Illustrations by Drue Wagner
When recruiters and managers interview recent college graduates for open positions, of course, they want to make sure the candidates have gotten a quality college education. But beyond looking at majors and GPAs, they're also wondering:
"Will this person be able to set priorities and juggle deadlines?"
"Is this person confident and resourceful enough to network with colleagues to solve problems?"
"Does this person have the potential to manage and inspire others someday?"
"Is this person resilient enough to handle negative feedback and navigate conflict?"
"Will this person be respectful of all types of people and show empathy and emotional intelligence?"
"Will this person be creative and flexible – and follow through – when facing obstacles?"
"Will this person be able to communicate in a professional and timely manner?"
That's because success in a workplace (and in life, for that matter) often revolves around "soft skills" – a.k.a. skills you may not learn solely in a classroom setting. These include collaborating with people who have different perspectives, motivating a team and bouncing back from failure.
There are various ways to learn soft skills, but one organization that replicates a workplace is a fraternity or sorority. Think about it: You're surrounded by dozens of people of varying ages who are likely from different states (and maybe even different countries), some people within the organization are elected to leadership positions and you're all required to work together to accomplish goals. Students may join to make friends, but what they take away from the experience can be much more than that.
And companies are noticing. "More and more employers are asking, 'What do you do in your spare time?'" says Matt Battista, manager of employer relations in Career Services at UT. "Being a member of Fraternity and Sorority Life (FSL) means students are attending events, giving back to the community and sitting in meetings trying to change or update policies. It shows that you have the abilities – like managing your calendar and building quality habits – that they're looking for, aside from grades."
The good news is FSL on UT's campus is flourishing. There are currently 25 groups: 13 sororities and 12 fraternities, each of which falls under one of three governing councils (the College Panhellenic Association, which oversees seven international women's sororities; the Interfraternity Council, which oversees eight North American fraternities; and the Unified Greek Council, which oversees 10 sororities and fraternities that are historically Black or multicultural by tradition but inclusive and open to all).
In fact, FSL is growing at UT. "Due to increased interest, in the next three years we'll be adding six more groups, so by 2025, we'll have the largest number of FSL organizations ever on campus: 31," says Stephanie Russell Krebs, vice president for student affairs. "We believe FSL helps boost student engagement and comes with the added benefit of teaching soft skills."
Find out how three UT seniors have blossomed over the last few years, thanks to their FSL involvement.
THE ART OF NETWORKING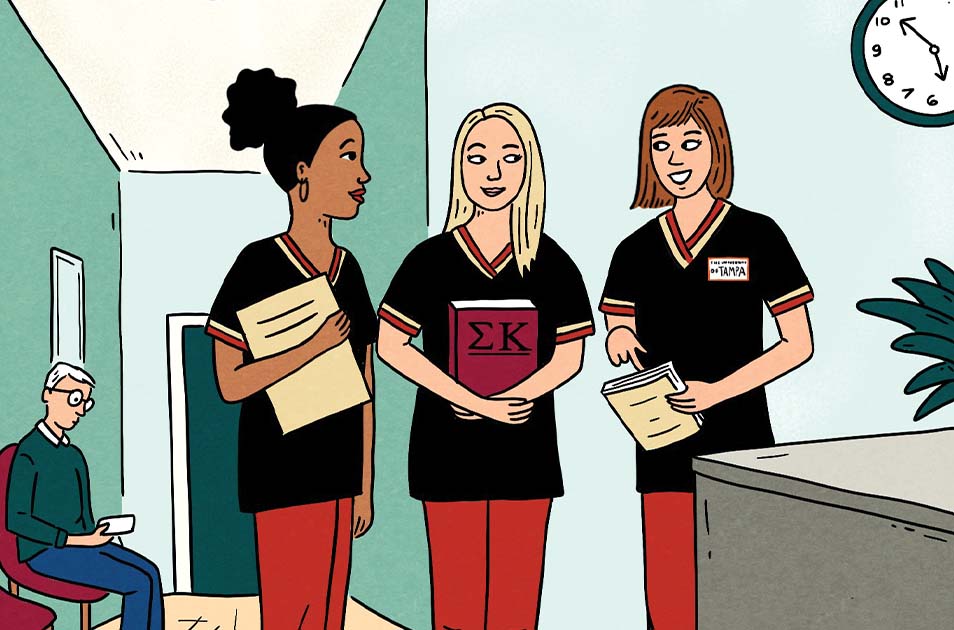 One of the wonderful, built-in parts of a sorority or fraternity is that, as a first-year or sophomore member, you have easy access to junior and seniors (and maybe even a "big sister" or "big brother") who can provide helpful guidance.
Just ask Faith Kraus '22, who is president of Sigma Kappa sorority and majoring in nursing. She has found those connections to be invaluable. "In the past, some seniors would lend me their old nursing textbooks and teach me how to study better. Being able to ask them for advice was so helpful," she says. Two of her sorority sisters were even at the same clinical site as she was, and they would pass along insider information, like tips on which nurses they had the best rapport with.
Now that Kraus is applying for jobs, gathering input from Sigma Kappas who have already graduated and work in the nursing field has been huge. She collects information on which hospitals are better to work at than others and feels confident that she'll go into the profession with appropriate expectations.
"I was recently texting with a sister who works as a nurse about how it was going for her, and she was honest about how nursing is demanding right now and how everyone is short-staffed. Everyone knows the health care field is challenging at the moment, but hearing that from someone actually going through it is a good reality check," she says.
As a senior, Kraus is paying it forward and sharing her knowledge with younger nursing students. "A lot have reached out to me now," she says. "I've helped them develop their patient care plans, which have to be worded in a very specific way and can be very complicated. That was something useful that other members had helped me with before, as well."
Exactly where Kraus will land professionally after graduation remains to be seen, but she's not worried. "When you are part of such a large group of women, someone is bound to be connected to another person who can help advance your career," she says. Kraus has learned through experience that her large and reliable Sigma Kappa network will always be there for her – and she's wise enough to take advantage of it.
- FAITH KRAUS '22 OF SIGMA KAPPA SORORITY
GIVING BACK TO THE COMMUNITY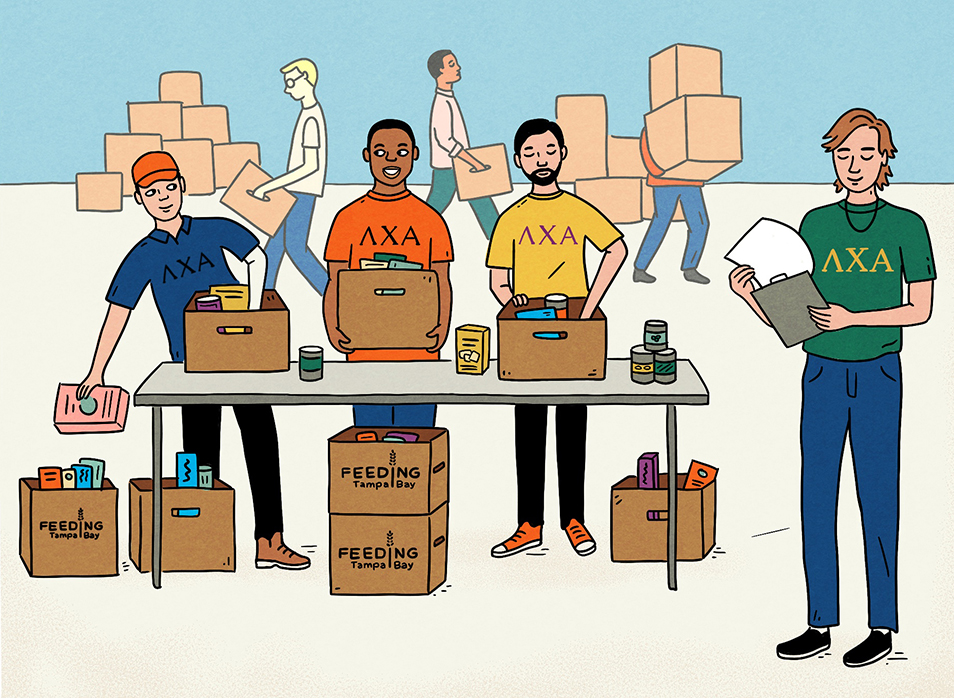 When Ryan Cleary '22 started at UT, joining FSL wasn't part of his plan. But that changed when he met some of the brothers in the Lambda Chi Alpha fraternity at one of their signature philanthropic events, the Cardboard City competition.
Lambda Chi Alpha had invited several organizations on campus to join them in collecting used cardboard from different businesses in the community. The material was then repurposed by teams to build their own miniature cardboard cities. Each team paid $30 to join, and after the buildings were judged, the winning team got to choose a percentage of the amount raised to put toward a charity of their choice. "It was a great way to raise money for a good cause and raise awareness about recycling," he says.
For Cleary, a cybersecurity major, the rush he got from volunteering was huge. He not only joined the fraternity, but he was "High Theta" or vice president, head of philanthropy, for the group in 2021.
He worked tirelessly in that role to coordinate events for the fraternity that helped make a difference. For instance, he spearheaded two in-person events at the Feeding Tampa Bay warehouse that each had 15 to 20 brothers in attendance. Cleary and his group would carpool to the site to help pack and sort meals for those in need for a few hours at a time. There was also a social media campaign leading up to each event to raise money for the nonprofit.
The food bank events, Cleary says, have hammered home the importance of having empathy for others. They've served as a reminder that about 1 million people in Tampa Bay are food insecure – and that all people struggle with something, whether it's visible or invisible.
The experiences have been so memorable that Cleary doesn't want them to end after his upcoming graduation. He adds: "Whether it's through donating or taking part in fundraisers, I definitely plan on making philanthropy a part of my life going forward."
BECOMING A LEADER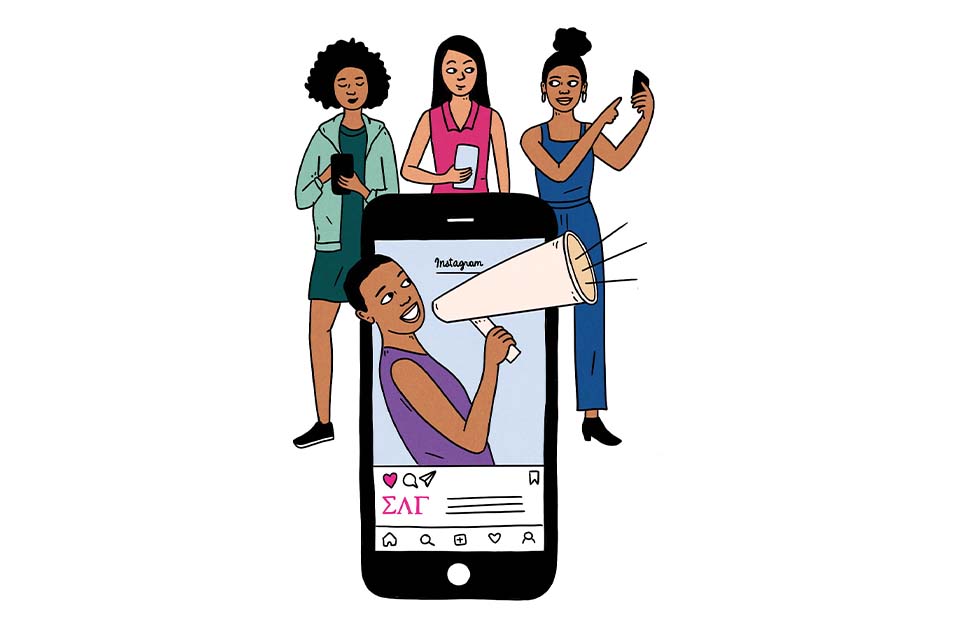 You might be surprised to learn that Gisselly Peralta '22 – who is vice president of recruitment of Sigma Lambda Gamma National Sorority Inc. and president of the Unified Greek Council – wasn't always comfortable being in charge.
"I've always been a bit more self-conscious, the type of leader who does their best to take everyone's ideas into consideration," she says. But over time, her confidence grew, and she learned to have faith in her own judgment. "My jobs have taught me that I was voted into these executive positions because people believe in me and trust me, and I am capable of making final decisions on my own," Peralta says.
In her two positions, she developed various skills, two of which are flexibility and creativity. As vice president of recruitment for Sigma Lambda Gamma National Sorority Inc., she has been responsible for enticing potential new members to join the group. The best way to do that: host events that bring people together and offer free food – something that hasn't exactly been easy to do during the COVID-19 pandemic, with distancing and masks as the norm.
Rising to the challenge, Peralta pivoted and launched a virtual self-care night. Guests were sent an ingredient list ahead of time so they could make their own lip scrub at home, and then they were treated to a Zoom presentation on the importance of self-care. The session also included an opportunity for the women to journal together. It was a hit because Peralta addressed a topic that was on everyone's minds — improving mental health during a difficult time — in a fun, inviting way that promoted togetherness, ensured safety and helped her reach her recruitment goal.
Another obstacle she faced — this one as president of the Unified Greek Council — was how to promote sorority and fraternity events to increase turnout when paper flyers posted around campus were not getting enough eyeballs. "They were getting lost among so many flyers," she says.
Her clever idea? She turned to the Unified Greek Council's Instagram account and asked all 10 groups to direct message images of their flyers. Then she started pushing them out digitally through the account, which worked wonders — and enabled her to measure how many people were seeing the electronic flyers and engaging with them.
"I've always been drawn to and heavily invested in social media but had never played with many of its features or designed extravagant posts," she says. "Joining FSL gave me that opportunity to get in touch with my artistic side and lean into that."
That ability to shift gears quickly to solve problems is bound to serve the chemistry major well in whatever she decides to pursue next.
- GISSELLY PERALTA '22 OF SIGMA LAMBDA GAMMA SORORITY
---