Published: January 09, 2020
Corps Values: Two Years of Service for Lifetime of Impact
When U.S. presidential candidate John F. Kennedy arrived at the University of Michigan in Ann Arbor on Oct. 14, 1960, at 2 a.m., he had a proposal for the 10,000 students who were still awake and waiting to hear him speak. Would they be willing to live and work in the developing world to create positive change?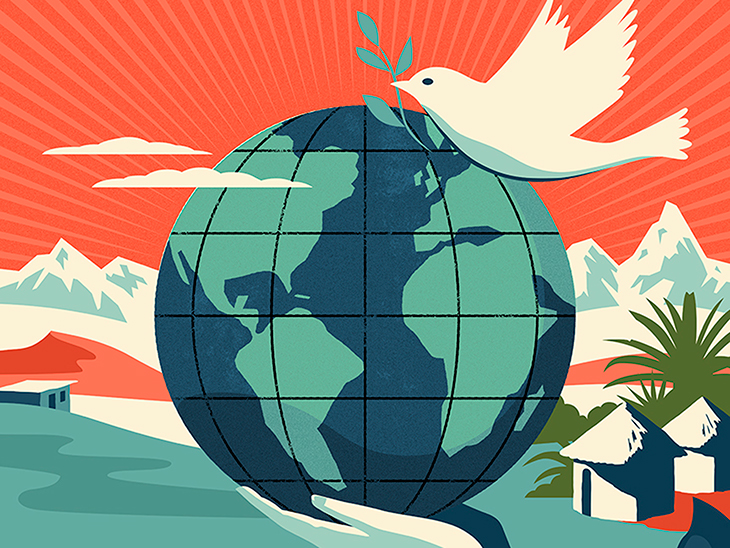 After Kennedy became president, he signed an executive order on March 1, 1961, that officially turned his idea into the Peace Corps: an international volunteer organization run by the U.S. government. Since then, more than 220,000 Americans have been up to the challenge, serving in 141 countries to fight hunger and diseases, protect the environment, build a greater sense of community and improve access to technology and education — to name just a few of the organization's goals.
Seven UT graduates who answered Kennedy's call to action in different decades share what it was like trading two years of service for a stipend, what they accomplished and how the experience shaped their lives.
Building a Community Center
The mid-1960s were busy for Joe '65 and Joann (Randazzo) Tomaino '63, who met at UT. In 1964, they got married, and by 1965, they were volunteering with the Peace Corps in Copiapó, a city in northern Chile that's known for mining (it's where the 33 miners were trapped and rescued in 2010 and made international news).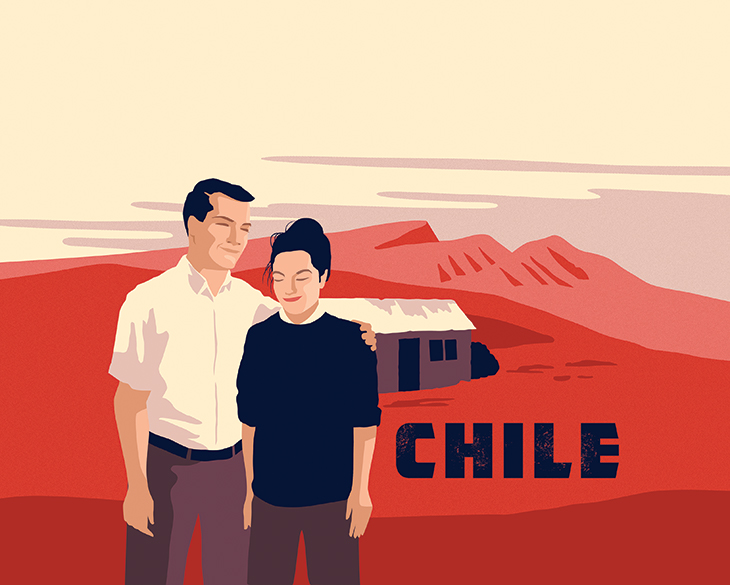 The couple lived in the Atacama Desert about eight miles from the downtown area in a house made of sticks with a tin roof, a dirt floor and no running water. They spent their nights in long sleeves and pants, sleeping underneath bed nets to help protect themselves from disease-carrying bugs. "How's that for a honeymoon?" says Joe.
Copiapó now contains 154,000 residents, though it was more thinly populated back then. "We lived with a family and if you walked downtown, there were coffee shops, a bakery and a few other places where you could get the basics," says Joann.
Joann, who studied elementary education at UT, focused her efforts on teaching two to three ESL classes a week, while Joe, who majored in history and minored in philosophy at UT, was part of a team that was responsible for getting a community center built. "We needed a central point of contact where the community could come in and have meetings or church services," says Joe.
The Tomainos' two-year commitment was cut short when Joann became pregnant in the spring of 1966 and within weeks, contracted typhoid fever. She was hospitalized for a couple of months in Santiago, Chile's capital. "If she hadn't received her inoculations before we left for Chile, it probably would have killed her," says Joe. "The adversity brought us closer together."
Despite having to overcome that terrifying hardship, Joe and Joann treasure their memories from that time. "We recommend the Peace Corps to anybody," says Joe. "It taught us not to be judgmental. Many people look at the poor and there's a negative connotation, but these people were great, beautiful people."
He also thinks their service helped change the locals' perception of Americans. "They'd read in the newspaper 'Americans are greedy. Americans are spies.' We were a counterbalance to that," he says.
Now retired, the Tomainos have led fulfilling lives since then. They've raised two kids, Joann taught adult education classes and Joe was a fundraiser at the University of South Florida. He currently volunteers as an advancement associate at Cristo Rey Tampa High School and Corporate Work Study Program.
Protecting the Environment
Volunteering overseas wasn't a huge leap for Laurie Nesbitt '85 because while growing up, her family moved around a lot — from rural southern Maryland to a small Pennsylvania town to Edinburgh, Scotland, and then to an area north of Baltimore.
In southern Maryland, she developed an appreciation for the land while living on an orchard. Her family sold apples, made cider and taught her about horticulture. So when Nesbitt, who majored in English and took a lot of biology classes at UT, received a Peace Corps assignment as a forester in Nepal, she was thrilled.
One part of her job was teaching female teachers how to plant trees. "I showed them how to gather seeds and recognize viable seeds," she says. This was an important skill, because Nepal faced (and still faces) a deforestation problem. People use the forest for many reasons — including cooking on a wood-burning stove, medicine and building houses. "So they were chopping down trees at a crazy rate. But you need the forest to avoid soil erosion. Otherwise, when it rains, you'll wind up with mudslides, flooding and soil loss." She also taught high-school English.
But Nesbitt learned more from the locals than they learned from her. "In America, your parents boot you out of the house at 18. In Nepal, the first son marries and comes back to live on the family property. It made me appreciate maintaining those family ties. It made me wonder why everyone in my immediate family lives in different states," she says.
Living with no electricity and having to disinfect water before drinking it also gave Nesbitt a different perspective on how to live. "It made me realize that in the U.S., we could stop wasting our resources so greedily," she says.
In fact, she loved her Peace Corps experience so much that she'd love to serve again someday, maybe when she's retired. Nesbitt is now an instructor in the business communications department at Florida Atlantic University in Boca Raton. "The program director wanted someone with international experience and language-teaching skills to accommodate the increasing diversity of the student body," says Nesbitt. She spends her summers on a Kentucky farm with her husband, Bill, and three cats and a dog named Gohee ("friend" in Nepalese).
Teaching English
Erik Winkler '04, who majored in secondary education and minored in Spanish at UT, had a transformative experience in the summer of 2002 while studying abroad in Madrid, Spain, with Martin Favata, a UT emeritus professor of languages and linguistics. He loved immersing himself in a new culture, improving his Spanish, backpacking to other cities and eating tapas.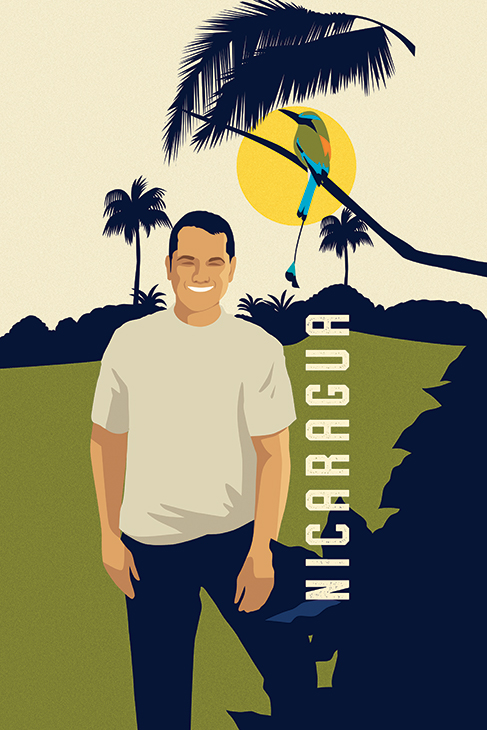 That trip prompted Winkler to serve with the Peace Corps in rural Nicaragua from 2006 to 2009. He co-taught English to high school students (50 per class) and says that going to UT in the humidity and heat helped him adapt to life in the Nicaraguan lowlands.
The Nicaraguan government was remodeling Winkler's school at the time, so he and the staff got creative. He'd teach outside under a tall mango tree and lean his whiteboard against the trunk. Every now and then during class, they'd hear a mango start to drop through the branches. "The kids would all scream and cover their heads," says Winkler. "Then everyone would laugh and get back on track." These outdoor classes sometimes had to be canceled during the rainy season.
During most of his service, he lived in an apartment attached to his host family's house. They shared a backyard that was home to pigs, chickens, a goat, a baby deer and two roosters that were a birthday gift from his co-teacher.
Winkler was astounded by how generous the locals were, given how little they had. Villagers would invite him over and share their gallo pinto (rice and beans) and pinolillo (a hearty drink made from corn, cacao and cloves). He quickly learned that modesty and humility — eating what the locals eat, dressing like the locals and asking questions rather than making statements — was key to building trusting relationships. Winkler, who was on the swimming team at UT, also formed bonds by heading to the community dock and jumping into the water with the local kids.
Winkler enjoyed his time volunteering in the Peace Corps so much that he now works for the organization in Costa Rica as an English education program manager.
Helping Coastal Communities
Even though Chelsea Fowler '16 and Melissa Ciesielski '13 both majored in marine science-biology at UT, they were three years apart and didn't know each other then. But they became friends when they both served in the Peace Corps as coastal resource management volunteers in the Philippines from 2016 to 2018.


The two women were placed in agricultural offices in different municipalities on different islands in the Philippines. Each was paired with a work partner — a local who would help them accomplish their goals.
Fowler's responsibilities included helping the community qualitatively and quantitatively measure their natural resources, supporting local leadership and organizations by providing them with technical skills and educating locals about the environment.
One particular project was memorable for Fowler. She met a local organization that asked her to help solve a problem: Why were a lot of the mangrove trees they were planting dying? This was preventing coastal communities from having a tool that helps protect them from typhoons and seasonal flooding. The Peace Corps connected Fowler
and her work partner with a non-governmental organization that provided training on this topic. "We learned that they were planting the wrong species of mangrove in the wrong areas," Fowler says. "Together, we planted about 500 seedlings of proper species in their proper environment, and my work partner continues to implement this project," says Fowler.
Ciesielski was focused on education and outreach, as well as habitat assessments and working with community groups to manage marine protected areas. "Fish accounts for over 50 percent of the animal protein intake in the Philippines. Often marine protected areas are established to protect critical habitats and fish populations, which are declining not only in the Philippines, but worldwide. Fisherfolk are one of the most impoverished sectors, and their livelihoods are currently at risk due to declining fish stocks," says Ciesielski.
Ciesielski is now a research associate/lab manager for a new lab that researches marine community ecology at Texas A&M, Galveston, and Fowler is currently a science programs specialist with the Ecological Society of America in Washington, D.C.
Fighting Disease
In 2015, when Luciana Paz '19 was a teen and she and her family were living in Madagascar, she spent a week with a Peace Corps volunteer. She and the volunteer met with 15 women in a village to discuss building latrines for the community and worked with the Ministry of Health to teach the villagers about the importance of hand washing.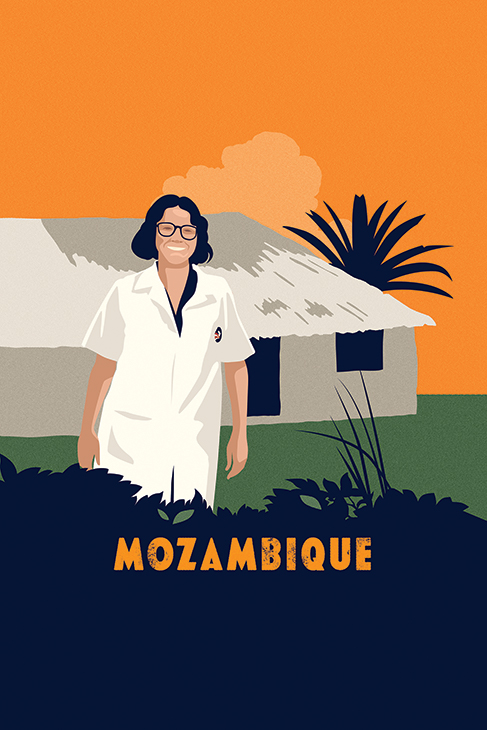 "There, I began to understand that service is not a job but rather a feeling of inclusion, comfort and care. It is synonymous with love and peace — and I wanted to spread that," she says.
That experience inspired Paz to join the Peace Corps herself. After weeks of training, she became a volunteer in late November of this year in Mozambique, a country on the southeastern coast of Africa that's just across the Indian Ocean from Madagascar.
The transition has been smooth, thanks to her college education. At UT, Paz majored in political science with a concentration in world affairs. This has come in handy because Mozambique just went through presidential elections and is a relatively new nation that gained independence from Portugal only in 1975 (which is why the country's official language is Portuguese). Her political science background broadened her understanding of non-governmental organizations, international relations, ideologies and conflicts.
Her journalism minor has also been useful. "My classes developed my interviewing skills and helped me get over my hesitation of talking to strangers," she says. In the Peace Corps, she often needs to ask questions and listen to community members' answers to figure out their needs so she can help them solve problems.
One of Paz's main responsibilities is teaching English and technology. Within her curriculum, she is incorporating HIV and malaria prevention, as well as gender equitable practices.
Her host family holds a large place in her heart. "(They've) taken me in as one of them. My host siblings call me sister or 'Mana Luciana' and my mom or 'Mae' refers to me as her daughter or 'filha,'" says Paz. They've taught her practical life skills (like how to
wash clothing by hand, cook on a coal stove and speak Portuguese) and have educated her about local culture and history — sharing information about important holidays and telling stories about living through a 16-year civil war.
Paz is looking forward to helping individuals at a people-to-people level over the next two years.
By Brian Hudgins
Illustrations by Michael Crampton
---