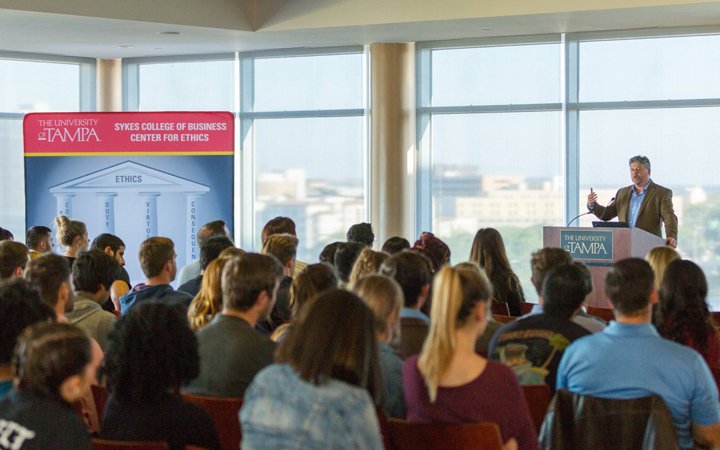 The Center for Ethics
The Center for Ethics at The University of Tampa's Sykes College of Business is dedicated to educating individuals on the importance of ethics in business. The Center strives to provide educational and professional resources to promote the use of sound ethical analysis, high standards of ethical behavior and individual responsibility in the academic, business and civic communities.
The Center for Ethics is supported by an advisory board of community leaders that uphold strong ethical standards in business and commit to the mission of the Center. These individuals provide practical resources and professional experience in the field of business ethics. Student members of the board are selected on the basis of ethical character and personal and educational values that align with the Center's mission and campus initiatives.
The Center conducts annual and bi-annual events to bring awareness to the University and Tampa Bay communities. The Tampa Bay Business Ethics Award is presented each year to an individual from the Tampa Bay community who demonstrates integrity, virtue and character within their personal and professional activities. The Student Ethics Award is presented to a Sykes College of Business undergraduate student who exemplifies high ethical standards at the University, upholds social responsibility practices in the community and exhibits strong potential for professional success.
The Ethics Hot Seat Speaker Series presentations are dedicated to bringing outstanding speakers to campus to engage our students, faculty, alumni and the business community in thought-provoking dialogue about ethical issues. Additionally, the Center publishes a bi-annual ethics newsletter that focuses on a comprehensive topic and features articles written by College of Business faculty, Center for Ethics board members, professionals in the field of ethics and our students.
How to Get Involved
The Center for Ethics is focused on reaching an audience that will support the mission of the Center, while contributing new and innovative ideas to the field of business ethics. The Center strives for both educational excellence and practical application for its constituents. Collaborative ideas and initiatives with members of the business and education communities is desired and encouraged.
Follow us on Facebook and by using #UTSykesCFE.
---
---
The mission of the Center for Ethics is to provide educational and professional resources to promote ethical systems and individual responsibility in the academic and greater business community through close interaction with the University.
---
Organizations have developed codes of ethics through which they define and clarify how they will conduct their businesses and work with employees, shareholders and customers. The Professional Expectations Partnership (PEP) is to communicate the philosophy that UT students and faculty work together to foster learning and build intellectual curiosity.
"We the students and faculty of the John H. Sykes College of Business understand learning is a process of interaction, cooperation and professional relationships. Wishing to maintain a commitment to educational excellence in our community, we have recommended and approved the Professional Expectations Partnership."
---