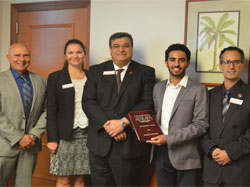 Student Ethics Award Luncheon. From left, Director Dan Verreault, Associate Dean Natasha Veltri, Dean Frank Ghannadian, Amjad AlSheikh '17 and Associate Director Robert Marley
The Student Ethics Award recognizes a Sykes College of Business student who exemplifies high ethical standards at the University, upholds social responsibility practices in the community and exhibits strong potential for professional success.
Congratulations, Amjad AlSheikh '17, who was presented with the 2017 Student Ethics Award. His nominator said, "AlSheikh demonstrates high ethical standards when it comes to his academic pursuits, is actively involved in service to the UT and greater Tampa Bay community, actively promotes ethical behavior and continues to improve his leadership skills to benefit the organizations that he serves."
AlSheikh gave this reflection on his award:
"I am honored to be the recipient of the 2017 Student Ethics Award from Sykes College of Business. I have had an outstanding experience at The University of Tampa over the last three years. I have thrived at UT because of its excellent professors and friendly campus culture. In particular, I would like to thank Dr. Natasha Vetlri, who taught me management information systems and nominated me for this award, and Dr. Mary Martinasek, who mentored me and gave me excellent advice while I was serving as student president of UT's Phi Kappa Phi chapter, the nation's oldest and most prestigious honor society. UT has given me many wonderful opportunities to excel in the classroom, to serve others in projects with Metropolitan Ministries and to make friends that I hope to keep for a lifetime."
If you consider yourself or someone you know to be an exceptional student of ethical standards, you or your nominee are eligible to apply for the Student Ethics Award. Please complete the nomination form below and submit to the Center for Ethics, Box O, or ethics@ut.edu.
---