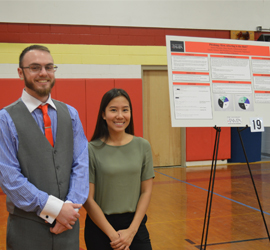 What is the cybersecurity thesis track? | Back to top.
The thesis track is for students who would like to gain further understanding of a topic of their interest. Regardless of their career choices, the thesis track can help students learn how to collect, analyze and present information in a meaningful way. The goal is to identify and solve existing problems in academia and/or the industry.
What are the possible career options for those who do thesis track? | Back to top.
It can prepare you for a doctoral program or a consulting job. It can also improve your technical writing skills, which are crucial for conducting business analysis and presenting your results.
I was accepted in the non-thesis track. Can I switch to the thesis one or vice versa? | Back to top.
Absolutely. In fact, we encourage you to make that decision after taking CYB 670 Cybersecurity Research Seminar. This elective course will give you a good foundation of what is research and how to conduct it. As part of the course, you will also develop your own project, and if you decide to write a thesis, you will continue expanding your research idea.
What kinds of research are out there, and which one will I be doing? | Back to top.
That is based on your topic and the discussions with your advisor. You can do qualitative, quantitative, design science, action design or a combination of any of them.
What are some of the possible topics? | Back to top.
That is up to the student, but they could range from technical (cloud security, developing/improving existing algorithms or software, digital forensic analysis), to business (risk management, analytics, project management), to social (health care security, policy development, privacy, whistleblowing), to behavioral (social engineering, awareness training, compliance). Once you identify a topic of your interest, you work with your advisor to narrow it down and come up with a feasible topic and a manageable project.
Where am I going to get data for my thesis? | Back to top.
You can start with the Macdonald-Kelce Library and Google Scholar to look for relevant scholarly articles. Depending on your project, you may need to collect your own data through interviews, surveys, observations, etc. or use already existing data such as public records, open data sources, social media, etc.
How long does the whole process take? | Back to top.
That is up to the individual student. Typically, if you take CYB 670 in the spring, you can continue collecting your data in the summer taking a 2-credit hour course, and do the analysis and writing in the fall of the same year through another 2-credit hour course. Because of that, the thesis track requires 34 credit hours total. This is an individual project, so the duration could vary depending on the student's needs and opportunities.
I am in the middle of my thesis but I am no longer interested in this topic. Can I drop it or switch to a different one? | Back to top.
Yes. You can always drop the thesis completely or change your topic. You should discuss this with your advisor first so you can explore all of your options.
So once I finish writing my thesis, what happens then? | Back to top.
Once your advisor, or committee chair, and the other members of the committee approve your work, you will be scheduled a defense date. This event is open to the public, and you will have the opportunity to present your work and findings and answer questions.
After the committee formally approves the thesis, you are required to submit an electronic version of your thesis to the Macdonald-Kelce Library for inclusion in the digital repository, which is accessible on the internet. Students may choose to release the work for immediate access worldwide or choose embargoes restricting access of full text to only The University of Tampa community for one, three or five years, before the work is released freely on the web through the repository.
For additional questions please contact Alper Yayla, director of cybersecurity, at ayayla@ut.edu.
---