How to Get Started
Admission is competitive and students are encouraged to apply early.
First, apply online and submit the following:
$40 nonrefundable application fee
Official transcripts from all post-secondary institutions attended
Official final high school transcript or GED scores (or associate's degree)
Applications are evaluated for fall, spring and summer terms on a rolling basis until classes are full.
Next, contact the Office of Admissions at 813-253-6211 or admissions@ut.edu to meet with a counselor. This can be done in person, on the phone or via e-mail. We'll discuss your educational needs, assess potential transfer credits and explore degree options.
Transfer Credit Policy
A maximum of 64 credits may be transferred from regionally accredited two-year or community colleges. Students transferring from regionally accredited four-year institutions may transfer any number of credits. All transfer students must complete the last 31 credit hours in residency at UT. Credit is transferred only for those courses completed with grades of "C" or better. Admitted students receive an official transfer credit evaluation within two to three weeks of acceptance.
UT utilizes www.collegetransfer.net to provide transfer students a quick way to estimate how their courses might transfer from their current institution. This website utilizes historical data from students who have previously transferred from a wide number of institutions.
Students may earn up to 30 credit hours by submitting satisfactory results on CLEP Examinations (College Level Examination Program).
The University's class levels are determined as follows:
Freshman (0-27 credit hours)
Sophomore (28-59 credit hours)
Junior (60-89 credit hours)
Senior (90+ credit hours)
Contact Information
Office of Admissions
401 W. Kennedy Blvd., Box F
Tampa, FL 33606
1-888-MINARET (1-888-646-2738) or (813) 253-6211
Fax: (813) 258-7398
Email: admissions@ut.edu
---
---
Questions?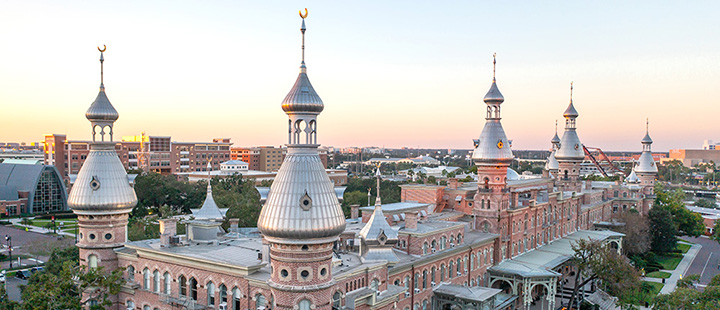 Contact the Office of Graduate and Continuing Studies
Apply Now
Start the admissions process today!
---
Request Information
Receive information via mail and email.
---