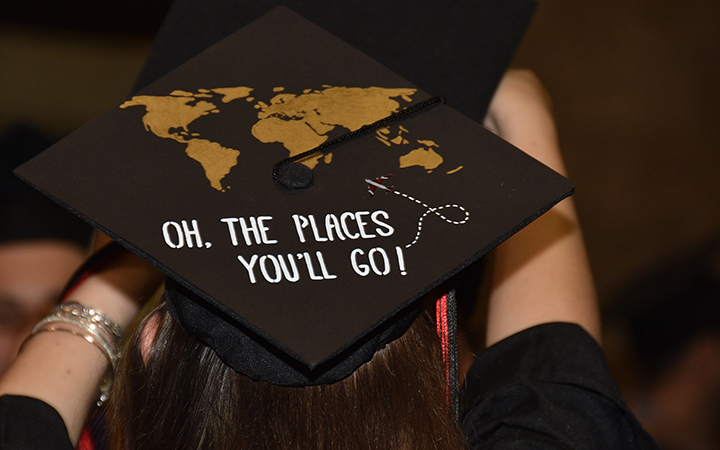 May 2024 Commencement Ceremony
Congratulations, UT Spartans! After years of challenging and rewarding work, you will earn your degree. The May commencement ceremony will be held at 9:30 a.m. and 2 p.m. Saturday, May 4, at the Expo Hall at the Florida State Fairgrounds.
Graduates from the Sykes College of Business and the College of Arts and Letters will participate in the 9:30 a.m. ceremony.
Graduates from the College of Social Sciences, Mathematics, and Education and the College of Natural and Health Sciences will participate in the 2 p.m. ceremony.
Tickets are not required for family members or guests to attend either ceremony. However, due to limited seating, it is highly recommended that family members and guests arrive early at the Florida State Fairgrounds.
Student Step-by-Step Process
Students, please follow this step-by-step guide to ensure you are set to graduate on time and/or participate in the commencement ceremony.
Step 1: Apply to graduate on Workday no later than Sunday, March 24.
Log into your MyUTampa and use the Workday widget to apply to graduate and have your degree conferred. Please note, in order to graduate from UT you still need to complete this step, even if it is past the deadline.
Students are highly encouraged to apply prior to Mar. 24 to confirm their name will be included in the commencement program. If you do not fill out the graduation application by Mar. 24, your name will not be included in the physical program.
If you have any questions regarding your status please reach out to diplomas@ut.edu.
Step 2: Apply to attend the ceremony through the Commencement Application no later than Monday, April 1.
Within this separate application from step one, you will provide the Office of Orientation and Family Engagement information relevant to your commencement ceremony experience. This information includes the phonetic spelling of your name to be read, accommodations for you or any of your guests, the commencement speaker application, etc.
The commencement ceremony application link will be posted in December 2023.
Step 3: Pre-order your cap and gown and more at the Grad Fair (Dates TBA)
Caps and gowns are free to all UT graduates. It is highly recommended you complete a pre-order to ensure you have the correct sizing available to you for the ceremony. Pre-order information will be made available in the spring 2023 semester.
Step 4: Pick up your cap and gown from the University bookstore (Dates TBA)
Visit the bookstore for cap, gown and honor cord pick-up before the ceremony at the University Bookstore! Information on cap and gown pick up will be added Spring 2023.
Please note, academic regalia will not be available for on-site pickup at the commencement ceremony and must be obtained before coming to the fairgrounds.
Hotel Information
Hotel information will be added soon, please check back!
Family Communication Philosophy
While we understand family members and guests are excited to celebrate their student's achievements at commencement, we are only able to provide general information about the ceremony as opposed to student-specific information. Please visit the Student Affairs Family Communication Philosophy for more information.
Questions?
Please contact Orientation and Family Engagement at commencement@ut.edu or (813) 257-1999.
---
---
---

Students and family members are encouraged to submit photos through social media by tagging #UTampaGrad and @uoftampa. Photos and videos, as appropriate, will be shared across the University's platforms and in the commencement social feed on the #UTampaGrad webpage.
Search "UTampa" on Instagram and Snapchat to find GIFs available for graduates.