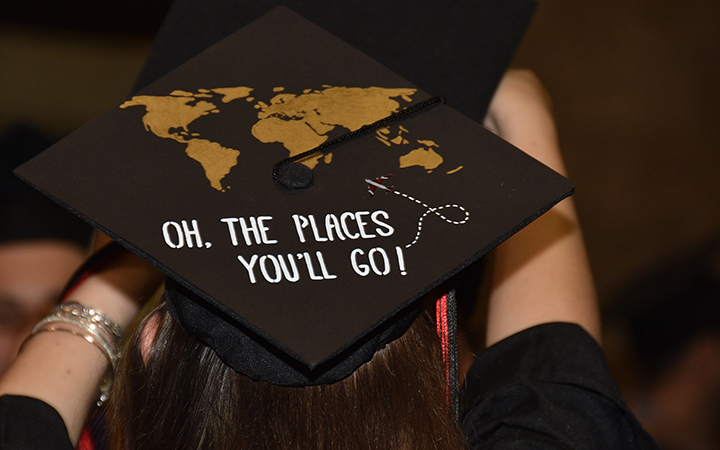 May 2021 Virtual Commencement Ceremony
Congratulations, Spartans!
May 2021 Virtual Commencement Event
UT GradUaTes 2021 Week of Events
The University of Tampa community congratulates the members of the Class of 2021 on their upcoming graduation.
Due to the continued uncertainties of COVID-19 and UT's commitment to protecting the health and safety of the community, UT administration has made the decision to host the spring commencement ceremonies as a virtual experience on Saturday, May 8, at 11 a.m. EST.
In addition to the virtual ceremony, students graduating in May or August 2021 are invited to participate in a week of special events that have been created specifically to celebrate graduates during the final week of classes. Events include receiving academic regalia, professional graduation photo opportunities, a graduate resource expo and much more. A full schedule of events will be available on the commencement website by April 1.
Information regarding how to participate in the virtual ceremonies will be sent to the graduates' Spartan email account as well as posted on the commencement website. Students who apply after March 24, 2021, will not have their name listed in the virtual ceremony or the commencement program.
Please note that with the conclusion of the spring semester, the Registrar's Office will begin the process of conferring degrees. A physical diploma can be expected to start arriving 10-12 weeks after all individual coursework is finished.
Graduates, Leave Your Mark! Apply to Speak at May Virtual Commencement
Applications are now available in the Orientation and Family Engagement Engage portal for students to speak at the May virtual commencement ceremony. Students interested in applying need to submit their application by Sunday, March 14, at 11:59 p.m.
Collect Your Cap and Gown April 19—23!
Graduating students may collect their cap, gown, tassel and honor cords on the second floor of the bookstore during normal business hours. This service is free of charge and appointments are not needed. Caps and gowns are pre-ordered and can not be distributed earlier than April 19.
If someone other than the graduate is collecting the regalia, please ensure they are aware of the graduate's height and weight for the correct gown size. Those collecting for master's students must know what program the graduate attends to collect the appropriate hood.
If you are approved for remote learning and reside outside of the Tampa Bay area you may request your items to be shipped to you via USPS. Those who do not meet both requirements must collect in person.
*Questions regarding honor cords must be directed to the Registrar.
Questions?
Please contact Orientation and Family Engagement at commencement@ut.edu or (813) 257-1999.
---
---
Resources
---

Students and family members are encouraged to submit photos through social media by tagging #UTampaGrad and @uoftampa. Photos and videos, as appropriate, will be shared across the University's platforms (Instagram, Snapchat, Facebook, Twitter, TikTok) and in the commencement social feed for the Class of 2020 on the May Commencement website.
Search "UTampa" on Instagram and Snapchat to find GIFs available for graduates.
#UTampaGrad