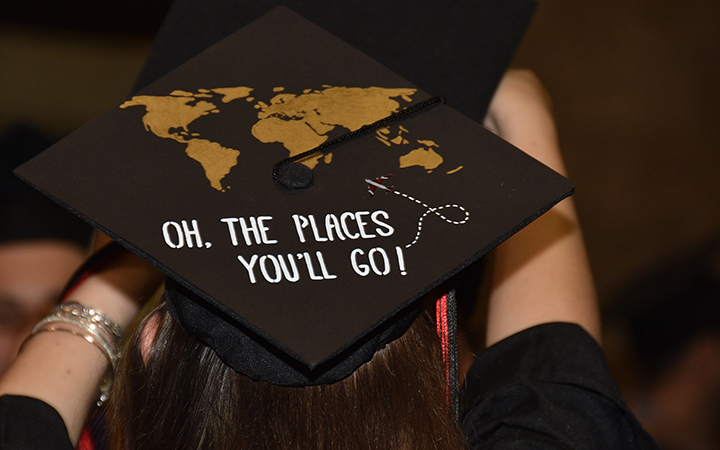 Congratulations, Spartans!
May 2021 Commencement Ceremony
As the university looks forward to Spring 2021, the May commencement ceremonies are scheduled to take place on Saturday, May 8, 2021, at the Expo Hall at the Florida State Fairgrounds. The University expects to make a decision about the format of the ceremonies early in the spring semester when more information is available about COVID-19 precautions. Until that time, graduates and families are asked to refrain from making any travel plans to attend an in-person ceremony, as a shift to a virtual May commencement ceremony may be necessary.
Class 2020 Graduates
In light of the continued uncertainty, the December 2020 commencement ceremony will be held as a virtual experience. In the event that the University is able to host an in-person commencement ceremony in May, students will have the opportunity to participate. The ceremony is scheduled to take place on Saturday, May 8, 2021, at the Expo Hall at the Florida State Fairgrounds. Students who had previously submitted the intent to participate in the December 2020 ceremony will be included in all communication regarding information for the May 2021 ceremony. If you have not completed the registration form and would still like to participate in the ceremony, please submit the registration form by March 26, 2021. If you had previously registered to participate in an in-person commencement ceremony and are unable to attend the May 2021 ceremony, please notify us at commencement@ut.edu.
Family and friends are encouraged to visit the commencement website, ut.edu/commencement, for additional information.
Please note that with the conclusion of the spring semester, the Registrar's Office will begin the process of conferring degrees. A physical diploma can be expected to start arriving 10-12 weeks after all individual coursework is finished.
May 2020 Virtual Commencement
Despite the COVID-19 pandemic, the University has made it a priority to honor and celebrate our students and their families. The May virtual commencement ceremony for spring graduates included remarks by President Ronald Vaughn, as well as special messages from the academic deans and student challenge speakers. In addition, each graduate was personally recognized.
Questions?
Please contact Orientation and Family Engagement at commencement@ut.edu or (813) 257-1999.
---
---

Students and family members are encouraged to submit photos through social media by tagging #UTampaGrad and @uoftampa. Photos and videos, as appropriate, will be shared across the University's platforms (Instagram, Snapchat, Facebook, Twitter, TikTok) and in the commencement social feed for the Class of 2020 on the May Commencement website.
Search "UTampa" on Instagram and Snapchat to find GIFs available for graduates.
#UTampaGrad