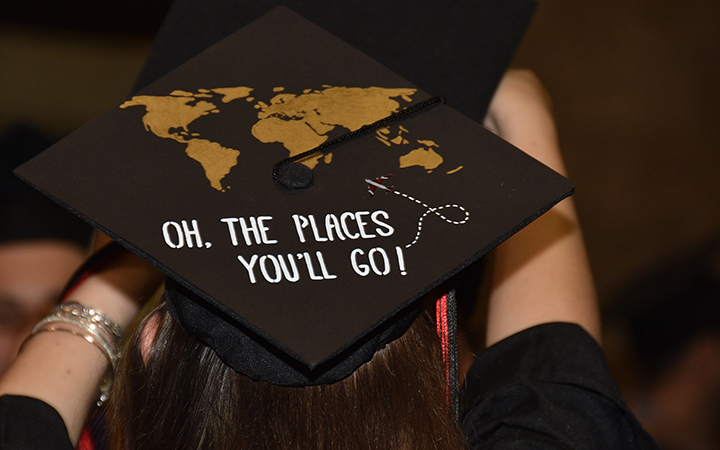 May 2022 Commencement Ceremony
Congratulations, UT Spartan! After years of challenging and rewarding work, you will earn your degree. The May commencement ceremony will be held on Saturday, May 7, at 9:30 a.m. and 2 p.m. at the Expo Hall at the Florida State Fairgrounds.
Graduates from the Sykes College of Business and the College of Arts and Letters will participate in the 9:30 a.m. ceremony.
Graduates from the College of Social Sciences, Mathematics, and Education and the College of Natural and Health Sciences will participate in the 2 p.m. ceremony.
Tickets are not required for family members or guests to attend either ceremony. However, due to limited seating, it is highly recommended that family members and guests arrive early at the Florida State Fairgrounds.
Student Step-by-Step Process
Students, please follow this step-by-step guide to ensure you are set to graduate on time and/or participate in the commencement ceremony.
Step 1: Apply to graduate on Workday no later than
Thursday, March 24. - CLOSED
Log into your MyUTampa and use the Workday widget to apply to graduate and have your degree conferred. Please note, in order to graduate from UT you still need to complete this step, even if it is past the deadline.
Students who applied prior to March 24 please see the Graduation Candidates PDF (under Resources) to confirm your name will be included in the commencement program. If you did not fill out the graduation application by March 24 your name will not be included in the physical program and will not appear on this list.
If you have any questions regarding your status please reach out to diplomas@ut.edu.
Step 2: Apply to attend the ceremony through the Commencement Application, no later than
Wednesday
, April 27. - CLOSED
The Commencement Application to participate in the ceremony is now closed. If you still plan on participating in the ceremony and did not fill this out by the deadline please arrive to the ceremony and check-in as a "Walk-In Registration"
Step 3: Pre-order your cap and gown no later than Friday, March 18. - CLOSED
The pre-orders for caps and gowns are now closed. Please see step four below for instructions if you did not place an order.
Step 4: Pick up your cap and gown from the University bookstore starting Monday, April 18.
All students (regardless of pre-order status) are able to pick up their regalia at the University Bookstore during normal business hours via the first-floor entrance through May 6.
Cap and gowns are free for all UT graduates.
If a student failed to pre-order their cap and gown by the March 18 deadline, they will be served on a first-come-first-served basis. Please note sizing may be limited if a pre-order was not completed.
Additional Information
Planning for commencement day can be a stressful experience for students and family members. Please visit our Frequently Asked Questions to find specific information that will aid in your planning for commencement day!
Spartan Shield Health Safety Plan
All graduates and their guests are expected to follow the Spartan Shield Health Safety Plan while in attendance at the commencement ceremonies.
In an effort to keep those in attendance safe and to help prevent the spread of COVID-19, graduating students and guests are strongly encouraged to not attend the ceremony if they have tested positive for the COVID-19 virus or have been exposed to someone who tested positive for the COVID-19 virus leading up to the ceremony.
Graduating students and guests are strongly encouraged to visit the commencement website as the ceremony approaches for updates regarding the Spartan Shield Health Safety Plan.
Hotel Information
There are a variety of hotels close to The University of Tampa campus. For the 2022 May commencement, the University is partnering with the Tampa Marriott Water Street, 505 Water St., and Hyatt Place/Hyatt House Tampa Downtown, 325 N. Florida Ave., to serve as our host hotels.
Special rates will apply to our UT families for each hotel. Please use the following to make a reservation:
The Tampa Marriot Water Street deadline has passed to secure a special rate. Please contact the hotel directly via phone or online if you would like to book a standard rate.
The Hyatt Place/Hyatt House Tampa deadline has passed to secure a special rate. Please contact the hotel directly via phone or online if you would like to book a standard rate.
Find additional hotels located close to the UT campus. Families should make reservations directly with the hotel.
Family Communication Philosophy
While we understand family members and guests are excited to celebrate their student's achievements at commencement, we are only able to provide general information about the ceremony as opposed to student-specific information. Please visit the Student Affairs Family Communication Philosophy for more information.
Questions?
Please contact Orientation and Family Engagement at commencement@ut.edu or (813) 257-1999.
---
---
Resources
---

Students and family members are encouraged to submit photos through social media by tagging #UTampaGrad and @uoftampa. Photos and videos, as appropriate, will be shared across the University's platforms (Instagram, Snapchat, Facebook, Twitter, TikTok) and in the commencement social feed for the Class of 2020 on the May Commencement website.
Search "UTampa" on Instagram and Snapchat to find GIFs available for graduates.