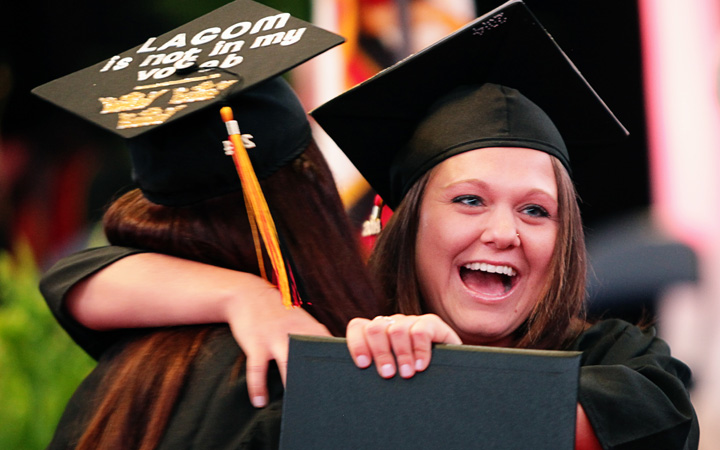 Congratulations, Spartans!
After years of challenging and rewarding work, you are going to earn your degree! What an important milestone!
December 2020 Virtual Commencement
December Commencement is Saturday, Dec. 5, 2020.
The University of Tampa recognizes that commencement represents an important celebration of our graduates' academic achievement. With the conclusion of the May Virtual Commencement ceremony, the Office of Orientation and Family Engagement has begun planning for the December Virtual Commencement ceremony.
May 2020 Virtual Commencement
The final semester for our May graduates abruptly ended due to COVID-19 pandemic. While the safety of our campus community and guests is our top priority, this does not undermine the importance of celebrating the accomplishment of this milestone.
Despite these challenges, the University made it a priority to honor and celebrate our students and their families and hosted a virtual May ceremony on May 9 for spring graduates. Check out the virtual ceremony video for your specific college now by going to the May 2020 Virtual Commencement page.
If you have any questions regarding the mailing of graduate kits, please reach out to the University Bookstore.
For additional information, visit May Commencement.
First Destination Survey
As you begin your next big adventure, we want to know where you are headed! You will receive an email from the Office of the President with subject line Class of 2020 – Share your plans for life after UT. This email contains a link to UT's First Destination Survey. Information regarding your post-graduation plans increases the value of your UT degree, enhances UT's reputation, and assesses the quality of your academic and career education experience. The answers you provide help us to collect valuable data to report back to various accreditation and news agencies. Please direct all questions regarding the survey to Kelly Allgeier at kallgeier@ut.edu. Thank you in advance for taking the survey!
Questions?
Please contact Orientation and Family Engagement at commencement@ut.edu or (813) 257-1999.
---
---

Students and family members are encouraged to submit photos through social media by tagging #UTampaGrad and @uoftampa. Photos and videos, as appropriate, will be shared across the University's platforms (Instagram, Snapchat, Facebook, Twitter, TikTok) and in the commencement social feed for the Class of 2020 on the May Commencement website.
Search "UTampa" on Instagram and Snapchat to find GIFs available for graduates.
#UTampaGrad