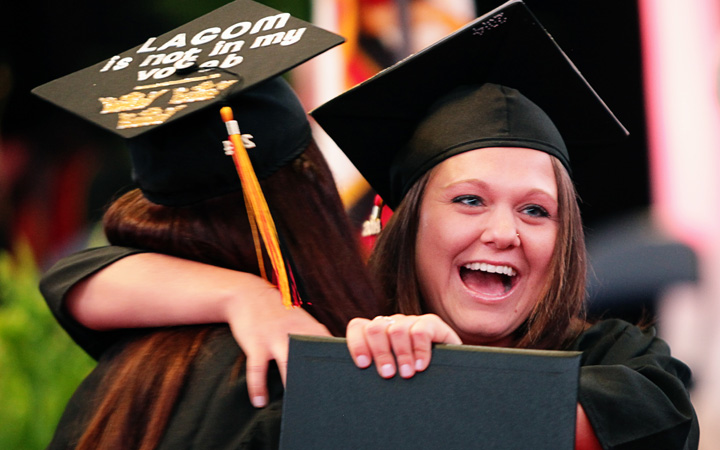 Congratulations, Spartans!
After years of challenging and rewarding work, you are going to earn your degree! What an important milestone!
December 2021 Commencement
With the announcement of the University returning to full in-person instruction for the Fall 2021 academic term, it is anticipated the December commencement ceremony will be held in-person on Friday, Dec. 17, at the Expo Hall at the Florida State Fairgrounds. All alumni who completed their degree during the pandemic are invited back to participate in this ceremony. Alumni who would like to participate in the in-person ceremony must complete the registration form by Tuesday, Oct. 26. Additional ceremonial information will be available beginning Monday, Sept. 20.
Submit your application for December graduation by the Oct. 26 deadline.
Oct. 26 is the application deadline to be included in the commencement program. Late and incomplete submissions will not be accepted after this deadline.
To submit an application, follow these three steps:
Select the Academics Icon in Workday;
Navigate to the Graduation Tab to begin the application;
Submit the application by the deadline to be included in the December commencement program.
Have questions about completing the two-part application? Workday guides are available to assist you while completing the application. Select the guide below that best aligns with the task you are working on:
Having issues while viewing the application? Attempt the following steps prior to seeking assistance:
Ensure you are using Google Chrome to access the application.
Clear your cache. Instructions for clearing your cache.
Class of 2021, take UT's annual First Destination survey!
The First Destination Survey is a survey for graduating students to share their plans upon graduation, including employment, location, salary and future education. The information allows UT to share the wonderful accomplishments of UT's graduates with the UT community, accrediting bodies and publications. Take the survey here!
For additional information, visit First Destination Graduate Info and Survey.
Questions?
Please contact Orientation and Family Engagement at commencement@ut.edu or (813) 257-1999.
---
---

Students and family members are encouraged to submit photos through social media by tagging #UTampaGrad and @uoftampa. Photos and videos, as appropriate, will be shared across the University's platforms (Instagram, Snapchat, Facebook, Twitter, TikTok) and in the commencement social feed for the Class of 2020 on the May Commencement website.
Search "UTampa" on Instagram and Snapchat to find GIFs available for graduates.
#UTampaGrad