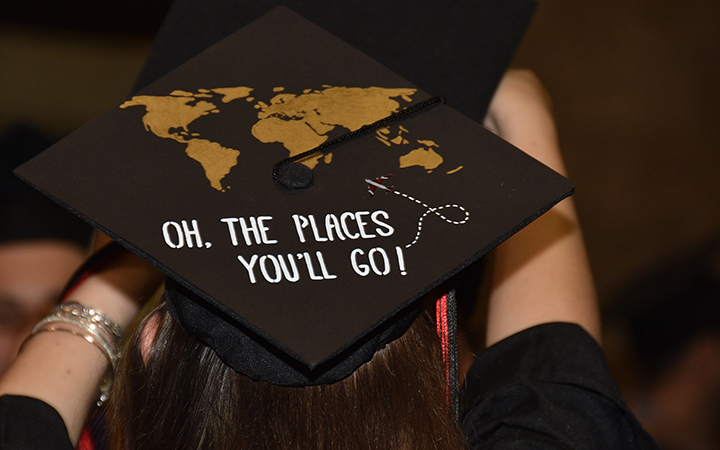 December Virtual Commencement 2020
Saturday, Dec. 5, 2020, 11 a.m.
The University of Tampa recognizes that commencement represents an important celebration of our graduates' academic journey. Unfortunately, with the increase of COVID-19 cases, it is uncertain how long the pandemic will continue to impact our university community. While the safety of our campus community and guests is our top priority, this does not undermine understanding the importance of celebrating the accomplishment of those who will earn their graduate and undergraduate degrees this calendar year.
Despite these challenges, the university has made it a priority to honor and celebrate our students and their families. We will honor our graduates with a virtual December commencement ceremony scheduled for Dec. 5. The ceremony will include remarks by President Vaughn, Board of Trustees, and special messages by the academic deans.
To help our graduates and families celebrate this accomplishment around the world, each graduate will be sent their academic regalia and diploma cover. Commencement programs and a graduation gift designed to celebrate this milestone will be sent to the graduating class.
Finally, we understand that a special part of the commencement ceremony is walking across the stage while hearing your name read by University administration. Therefore, in the event we are able to host an in-person ceremony in May, December 2020 graduates will be invited to participate in the May 2021 Commencement ceremony. The ceremony is scheduled for Saturday, May 8 at the Florida State Fairgrounds, Expo Hall. The commencement ceremonies will honor our May 2020, August 2020, and December 2020 graduates in addition to our May 2021 graduates. Students who would like to participate in the May ceremony should submit the registration form by March 26, 2021.
Additional information regarding the December virtual ceremony will be communicated to December graduates over the coming months through their UT email address. Family and friends are encouraged to visit this webpage often for additional information.
---