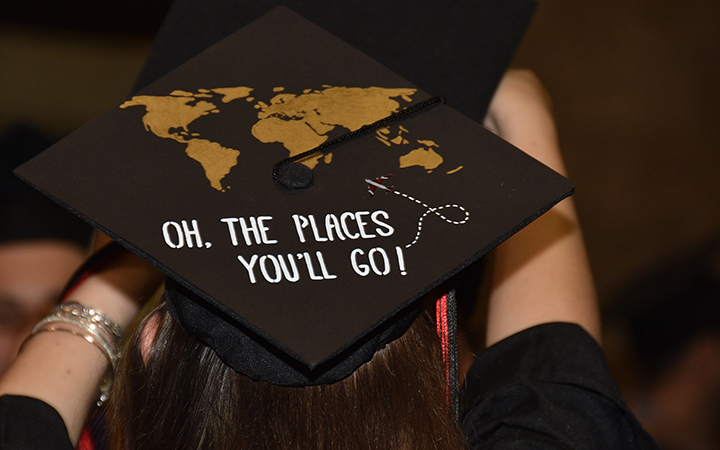 December 2021 Commencement
Congratulations, UT Spartan! After years of challenging and rewarding work, you will earn your degree. With the announcement of the University returning to full in-person instruction for the Fall 2021 academic term, it is anticipated the December commencement ceremony will be held in-person on Friday, Dec. 17, 9:30 a.m. at the Expo Hall at the Florida State Fairgrounds. Please follow this step-by-step guide to ensure you are set to graduate on time and/or participate in the commencement ceremony.
Spartan Shield Healthy and Safety Guidelines
All graduates and their guests are required to wear a mask at all times, regardless of vaccination status, upon entering the Expo Hall. Failure to abide by this policy may result in the individual being asked to leave the ceremony, regardless of whether they are a graduating student or guest.
Step 1: Apply to graduate on Workday no later than Tuesday, Oct. 26. - CLOSED
This step in the application process is now closed. Please check the Graduation List under Resources to confirm your name is present and your application to graduate has been processed. If you have any questions regarding your status please reach out to diplomas@ut.edu.
Step 2: Apply to attend the ceremony through the Commencement Application, no later than Thursday, Dec. 9 - CLOSED
This application to participate in the commencement ceremony at the Florida State Fairgrounds on Friday, Dec. 17, is now closed. If you would like to participate in the ceremony as a walk-in please plan to arrive at 8 a.m. to fill out the necessary paperwork. Please note, you still must pick up your cap and gown prior to the ceremony.
Step 3: Pre-order your cap and gown no later than Friday, Oct. 22. - CLOSED
Caps and gowns are free to all UT graduates. Pre-order is now closed. If you did not pre-order your graduation regalia undergrad/bachelor's (cap, gown, tassel) or graduate/master's (cap, gown, tassel and hood) please see step four.
Step 4: Pick up your cap, gown and honor cords from the University Bookstore by Thursday, Dec. 16.
Visit the first floor of the bookstore before 6 p.m. on Thursday, Dec. 16 to pick up your academic regalia for the ceremony! Please note, Academic regalia will not be available for on-site pick up at the Commencement ceremony.
Alumni Impacted by the Pandemic
All Alumni who completed their degree during the pandemic were required to complete the commencement application by Tuesday, Oct 26. Currently, no exceptions can be made for late submissions.
Hotel Information
There are a variety of hotels close to The University of Tampa campus. For the 2021 December commencement, the University is partnering with the Hilton Tampa Downtown, 211 N. Tampa St., to serve as our host hotel. Special rates will apply for our UT families. Reservations must be made by Nov. 16, 2021.
Find additional hotels located close to the UT campus. Families should make reservations directly with the hotel.
---
---
Resources
---

From the last few weeks on campus to the virtual celebration, follow graduates as they share their commencement experience on social media.