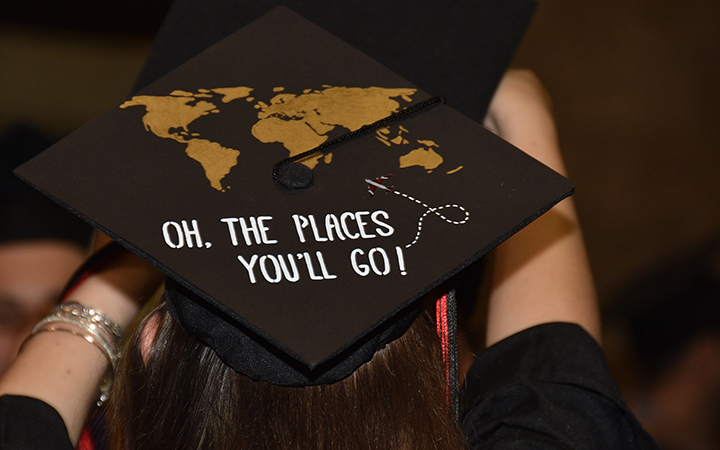 December 2021 Commencement
Congratulations, UT Spartan! After years of challenging and rewarding work, you will earn your degree. With the announcement of the University returning to full in-person instruction for the Fall 2021 academic term, it is anticipated the December commencement ceremony will be held in-person on Friday, Dec. 17, at the Expo Hall at the Florida State Fairgrounds. Please follow this step-by-step guide to ensure you are set to graduate on time and/or participate in the commencement ceremony.
Step 1: Apply to graduate on Workday no later than Tuesday, Oct. 26.
Need help? Follow this step-by-step guide. For additional assistance with this portion of the process please email diplomas@ut.edu.
Step 2: Apply to attend the ceremony through the Commencement Application, no later than Thursday, Dec. 9.
This application includes the option to apply to speak at commencement. If you wish to apply to speak at commencement, you must complete the application by Sunday, Oct. 3, at 11:59 p.m. for the committee to review. For additional assistance with this portion of the process please email commencement@ut.edu.
Step 3: Pre-order your cap and gown on Oct. 12.
Visit the the bookstore on Oct. 12 from 11a.m. to 3p.m. to pre-order your regalia.
Step 4: Pick up your cap, gown, and honor cords from Nov. 30

—

Dec. 3.
Visit the second floor of the bookstore during their normal business hours to collect your regalia and other items.
Alumni Impacted by the Pandemic
All alumni who completed their degree during the pandemic are invited back to participate in this ceremony. Alumni who would like to participate in the in-person ceremony must complete the registration form by Tuesday, Oct. 26. Additional ceremonial information will be available beginning Monday, Sept. 20.
Join the University Bookstore and Herff Jones for the December 2021 Grad Fair on Oct. 12 from 11a.m. to 3p.m.
We know you've missed out on a lot this semester, and we want to help. Herff Jones is proud to offer discounts on graduation packages, including personalized graduation announcements, certificates of appreciation and class rings! Visit Herff Jones online to order everything you need to celebrate your graduation from the convenience of your home, and your order will be shipped directly to you.
Hotel Information
There are a variety of hotels close to The University of Tampa campus. For the 2021 December commencement, the University is partnering with the Hilton Tampa Downtown, 211 N. Tampa St., to serve as our host hotel. Special rates will apply for our UT families.
In order to obtain the special UT rate please book online. Guests can also call the hotel directly at (813) 204-3000 to make their reservations. Please make sure to provide our group name, UT Winter Commencement, when making the reservation. Reservations must be made by Nov. 16, 2021.
Find additional hotels located close to the UT campus. Families should make reservations directly with the hotel.
---
---
Resources
---

From the last few weeks on campus to the virtual celebration, follow graduates as they share their commencement experience on social media.
#UTampaGrad