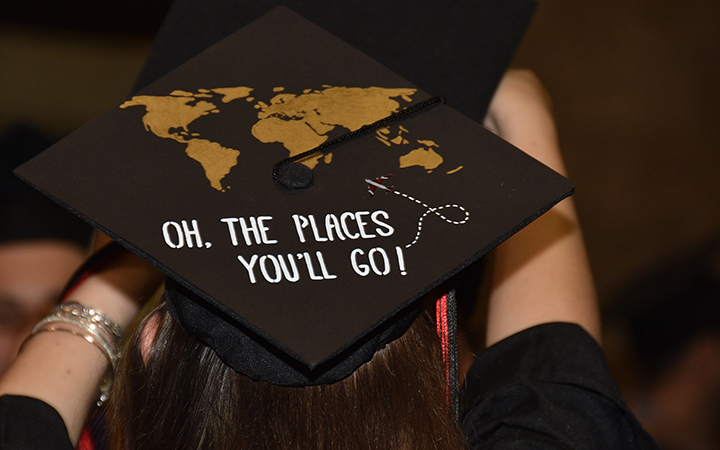 December Virtual Commencement 2020
Saturday, Dec. 5, 2020, 11 a.m.
December 2020 Virtual Commencement Event
The University of Tampa recognizes that commencement represents an important celebration of our graduates' academic journey. Unfortunately, with the increase of COVID-19 cases, it is uncertain how long the pandemic will continue to impact our University community. While the safety of our campus community and guests is our top priority, this does not undermine understanding the importance of celebrating the accomplishment of those who will earn their graduate and undergraduate degrees this calendar year.
Despite these challenges, the University has made it a priority to honor and celebrate our students and their families. We will honor our graduates with a virtual December commencement ceremony scheduled for Dec. 5. The ceremony will include remarks by President Ron Vaughn, the Board of Trustees and special messages by the commencement keynote speaker and December Class of 2020 student speakers.
We understand that a special part of the commencement ceremony is walking across the stage while hearing your name read by University administration. Therefore, in the event we are able to host an in-person ceremony in May, December 2020 graduates will be invited to participate in the May 2021 Commencement ceremony. The ceremony is scheduled for Saturday, May 8, at the Florida State Fairgrounds, Expo Hall. The commencement ceremonies will honor our May 2020, August 2020 and December 2020 graduates, in addition to our May 2021 graduates. Students who would like to participate in the May 2021 ceremony should submit the registration form by March 26, 2021.
Graduates, Leave Your Mark! Apply to Speak at December Virtual Commencement
Applications are now available in the Orientation and Family Engagement Engage portal for students to speak at the December virtual commencement ceremony. Students interested in applying need to submit their application by Sunday, Oct. 18, at 11:59 p.m.
Join the University Bookstore and Herff Jones for the December 2020 Virtual Grad Fair
We know you've missed out on a lot this semester, and we want to help. Herff Jones is proud to offer discounts on graduation packages, including personalized graduation announcements, certificates of appreciation and class rings! Visit Herff Jones online to order everything you need to celebrate your graduation from the convenience of your home, and your order will be shipped directly to you.
December 2020 Senior Send-Off
Register to stop by the University Bookstore Nov. 9—13 to pick up your Grad Kit and shop for your new alumni items! Each Grad Kit will contain your academic regalia, including hoods for those graduating with their master's degree, diploma cover, honor cords (for those who have met the academic requirements) and UT gifts designed especially for you! Be sure to shop our Grad Celebration display for new alumni items, grad bears, diploma frames and so much more. *Please note: Students do not need to pre-order their academic regalia.
Students can pick up their Grad Kits Nov. 9—12 from 9 a.m. to 5:30 p.m. and Nov. 13 from 9 a.m. to 3:30 p.m during their registered, 15-minute time slot. When you arrive to pick up your kit, please use the second-floor entrance of the University Bookstore, located by the Vaughn Computer Center. Graduating students who were approved for remote learning and reside outside of the Tampa Bay area can submit a request form for your Grad Kit to be sent to you. In order to ensure you receive your academic regalia prior to the Dec. 5 virtual commencement ceremony, all requests must be received by Friday, Nov. 6.
---
---
Resources
---

From the last few weeks on campus to the virtual celebration, follow graduates as they share their commencement experience on social media.
#UTampaGrad